Aramis
| Les Trois Mousquetaires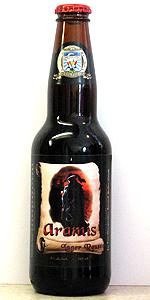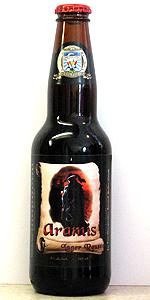 BEER INFO
Brewed by:
Les Trois Mousquetaires
Quebec
,
Canada
lestroismousquetaires.ca
Style:
American Amber / Red Lager
Alcohol by volume (ABV):
5.00%
Availability:
Year-round
Notes / Commercial Description:
No notes at this time.
Added by Tim2000 on 06-20-2005
This beer is retired; no longer brewed.
HISTOGRAM
Ratings: 13 | Reviews: 10
Reviews by Quej:
3.7
/5
rDev
+7.2%
look: 3.5 | smell: 3.5 | taste: 3.5 | feel: 3.5 | overall: 4.5
A - The beer was a dark transparent red with a low cream-coloured puffy head.
S - Hemp immediately floods the nose, accompanied by the smell of raw flowers and bitter hops. This beer smells very malty and quite a bit like rough unsmoked marijuana.
T - Once again hemp is the first and most noticeable taste along with thick matliness. There is a strong leafy taste, with lots of earthy tones which create a rather sharp bitterness. The aftertaste is short and clean, but bitter and hoppy and even contains some sour fruity notes of green apple.
M - This beer is rather rough and thick, and feels almost like chewing on wet leaves in the fall.
D - This beer has great drinkability. Its refreshing hoppiness and thirstquenching bitterness make it easy order more of. Definitely high sessionability.
Note: I got this on-tap at Benelux in Montreal, as the Lager Rousse.
882 characters
More User Reviews:

3.2
/5
rDev
-7.2%
look: 3 | smell: 3 | taste: 3.5 | feel: 3 | overall: 3
Bottle: Poured a deep amber color lager with a medium slightly off-white foamy head with better then average retention. Aroma of caramel malt is pretty enticing. Taste of sweet caramel malt is not complex but really well done and quite enjoyable. Body is about average and nice level of carbonation. This brewery is really improving in the last couple of months and can't wait to try some of their other beers.
411 characters
3.55
/5
rDev
+2.9%
look: 3.5 | smell: 3.5 | taste: 3.5 | feel: 4 | overall: 3.5
3.46
/5
rDev
+0.3%
look: 2 | smell: 3.5 | taste: 3.5 | feel: 4 | overall: 3.5
Nearly no head, even at the beginning of the pour. There is continual bubbles surfacing but they pop within seconds. Good orange-amber color, clear.
Rustic aroma of crystal malts. Nutty.
Darker malt flavors are the predominant tastes here. Quite dry. The nuttiness is also present but far lighter than the smell would indicate. Full bodied with admirable carbonation. While the hop is light, it is also making a balancing contribution.
Other than the appearance, this makes for a fine, very dry amber.
504 characters
3.63
/5
rDev
+5.2%
look: 4 | smell: 3.5 | taste: 3.5 | feel: 3.5 | overall: 4
341 ml bottle. Notched bottled on 12/06.
A- Nice red-amber colour. Yellow-beige head that is nice and foamy. Clear filtered look. Very appetizing.
S- Caramel malt. Touch of hops. Pear. Would be better if stronger.
T- Slightly sweet. Caramel. Well balanced hops. A bit weak overall, but pleasant in a light easygoing way.
MF- Crisp, clean feel of a filtered lager. Pleasntly light while retaining beeriness. Not quite full bodied enough for me.
D- Easygoing, refreshing beer with a pleasant taste. Character too mild, but still enjoyable.
552 characters
3.03
/5
rDev
-12.2%
look: 3.5 | smell: 3 | taste: 3 | feel: 3 | overall: 3
Poured a cloudy deep amber color with moderate off-white creamy head.
Very attractive lacing.
Smell is significant for bready, fruity malt, with a light glue-like note in the background??
Taste also demonstrates bready malt, with a moderate dryness at the ending.
Average at best. Some very strange taste sensations in play here.
329 characters

3.58
/5
rDev
+3.8%
look: 3.5 | smell: 3 | taste: 4 | feel: 3.5 | overall: 3.5
Bottle: put a copper-red lager in the flute with a 1 finger frothy tan cap. Light carbonation. Good lacing. Aroma subdued but you get spices, sweet bread and some herbs. Mouthfeel is slick with a medium body. Flavor is defined by a sweet caramel toffee maltiness and some dried fruit and nut tones from yeast byproducts... then that is equally balanced off with a lush herbal-pine hop mixture. Finish gets slightly bitter with a great bready sweet aftertaste. I think what the brewer was after here was a genuine traditional Vienna style and he got half way there with the choice of malts and yeast but the hops are too prevelent to make this a true Vienna...and that is too bad because I like this beer for its great malt profile however with the higher hop bittering it comes off more like a light Munich dark than a Vienna. A Vienna should be sweeter in the finish with the hops more attenuated...still a good drink by any standard though.
942 characters
3.94
/5
rDev
+14.2%
look: 3 | smell: 4 | taste: 4 | feel: 4 | overall: 4
This was poured into a pint glass from the bottle. It has a clear, medium amber color with a decent head that dissipates but has a well retained lacing. The aroma is dominated by toasted malt. The taste is initially has a strong toasted malt character but is followed by a nice strong hoppy finish that balances the beer out. It has a medium body with moderate carbonation.
Overall this is a very good American-style amber lager. It has the toasted malt character with a good hop balance.
489 characters

2.64
/5
rDev
-23.5%
look: 4 | smell: 2.5 | taste: 2.5 | feel: 3 | overall: 2.5
bouteille brune de 341ml.
bière de couleur orangée, elle est trouble, la mousse est très durable et jaunâtre. nez aigre avec un peu de caramel, la bouche est rafraichissante, un peu aigre, finale fraiche. rien de vraiment spécial. les produits de spécialités de cette brasserie sont très bons mais les produits courants le sont moins, dommage.
352 characters
3.9
/5
rDev
+13%
look: 4 | smell: 4 | taste: 3.5 | feel: 5 | overall: 4
341 mL brown bottle, under 2 months old.
Pours a deep amber colour with a thick head that leaves a lingering collar.
Malty aroma, slightly roasted with caramel notes.
Sweet, with a big sugary, caramel malt profile. Hops are fairly indistinct, just leaving a general impression of bitterness as the sweetness fades into the faintly grainy, astringent aftertaste. Carbonation is moderate and the beer feels creamy and full-bodied.
I get the impression that there are very few Québec microbreweries interested in producing lagers and next to none are available bottled. This is an excellent effort by Les Trois Mousquetaires and adds a bit of variety to the usual selection.
684 characters
3.22
/5
rDev
-6.7%
look: 3 | smell: 3.5 | taste: 3 | feel: 3 | overall: 3.5
Light copper in colour with a medium amount of carbonation. The aromas are mainly caramel malts, with a bit of herbal hops and a somewhat drying, sulfury, lagerish kick on the back end. Flavors are those of caramel and toasted malts with a bit of husky grains creaping in on the finish. Very Vienna like to say the least. Overall, solid and drinkable, but unspectacular.
370 characters
Aramis from Les Trois Mousquetaires
Beer rating:
3.45
out of
5
with
13
ratings