Rousse
| Les Trois Mousquetaires
BA SCORE
83
good
12
Reviews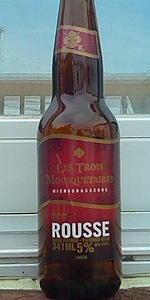 BEER INFO
Brewed by:
Les Trois Mousquetaires
Quebec
,
Canada
lestroismousquetaires.ca
Style:
Vienna Lager
Alcohol by volume (ABV):
5.00%
Availability:
Year-round
Notes / Commercial Description:
No notes at this time.
Added by papat444 on 08-23-2008
Reviews: 12 | Ratings: 23

3.08
/5
rDev
-15.2%
look: 3 | smell: 2.5 | taste: 3.5 | feel: 3 | overall: 3
341ml bottle poured into a pint glass
Appearance - after pouring, the beer is a red/amber colour with a large size fizzy beige head. The had dissipated very quickly. I can see an average amount of carbonation, and there doesn't seem to be any lacing at all.
Smell - Probably not a good thing, but the first thing notice is vinegar like scent. Checked the freshness date, and we're still good.. Also some toasted malts and hops.
Taste & Mouth - The beer has a lot of carbonation on tongue. Thankfully it tastes better than it smells. I can taste the toasted malts and a caramel sweetness, followed by the bitterness of the hops. Also some notes of pine and a peppery spice mix.
Drink - Once again I am disappointed in the Les Trois Mousquetaires.
749 characters
4
/5
rDev
+10.2%
look: 4 | smell: 4 | taste: 4 | feel: 4 | overall: 4
Picked up a 12oz bottle in Montreal.
Wonderful copper pour with a finger of off-white head that exhibited good retention and left some streaks of lace on the glass. Malt-forward nose has bread, nut and caramel, but there's also some steely and grassy hops underneath to provide balance.
Pretty neat flavour is a touch hoppier than I expected from the nose, which is usually fine, but in this case I would have preferred it a little more subdued as the malt backing is excellent and the hops really don't deserve to have an equal billing. A burst of caramel, bread, chocolate, earth and mineral combines with a light woodiness to create an impressive flavour. The hops bring a herbal and lightly grassy character with a surprising bite. Medium mouthfeel and carbonation.
As a lager I doubt it will ever get the plaudits that an ale would, but this is nicely made, interesting and highly drinkable. Its not up to the level of their signature series, but neither is it far off. Great stuff, and well worth trying, especially if your a fan of malty lagers.
1,055 characters

3.52
/5
rDev
-3%
look: 3 | smell: 3.5 | taste: 3.5 | feel: 3 | overall: 4
Bottle:
put a copper-red lager in the flute with a 1 finger frothy tan cap. Light carbonation. Good lacing.
Aroma subdued but you get spices, sweet bread and some herbs. Mouthfeel is slick with a medium body.
Flavor is defined by a sweet caramel toffee maltiness and some dried fruit and nut tones from yeast byproducts... then that is equally balanced off with a lush herbal-pine hop mixture. Finish gets slightly bitter with a great bready sweet aftertaste.
I think what the brewer was after here was a genuine traditional Vienna style and he got half way there with the choice of malts and yeast but the hops are too prevalent to make this a true Vienna...and that is too bad because I like this beer for its great malt profile however with the higher hop bittering it comes off more like a light Munich dark than a Vienna. A Vienna should be sweeter in the finish with the hops more attenuated...still a good drink by any standard though.
950 characters
3.73
/5
rDev
+2.8%
look: 3.5 | smell: 3 | taste: 4 | feel: 4 | overall: 4
A - Pours a thin layer of bubbly head, which very quickly dissipates and leaves no lacing. Nice clear copper brown with a red hue and a little visible carbonation.
S - Rather light scent, bit of hops on the nose. Sweet chocolate malts also present.
T - Almost a smoked / woody flavour to it. Not overly strong flavour, and finishes a little on the bitter side. The chocolate malts are present and a bit of citrus hops are blended as well. Nicely balanced.
M - Very light, not overly carbonated and goes down very smooth.
D - By no means a blow-you-away red lager, but a tasty one worthy of trying. One of the better beers from their mixer pack for sure.
657 characters
3.86
/5
rDev
+6.3%
look: 4.5 | smell: 3.5 | taste: 4 | feel: 3.5 | overall: 4
Poured into a lager glass.
A brilliant ruby-copper hue, about a 1/2 of head with great staying power. Lots of flecky lacing.
Nose is malty with notes of hops and caramel.
Starts off with a malty, caramel flavour and finishes earthy and slightly bitter. Very subtle notes of cherry or peach. Bitterness lingers. Took me about five sips to get into it, but now I'm digging this one.
Mouthfeel is slightly watery, with light carbonation.
An enjoyable brew, just about the right complexity. Would make for a great session brew.
529 characters
3.78
/5
rDev
+4.1%
look: 3.5 | smell: 3 | taste: 4 | feel: 3.5 | overall: 4.5
341ml bottle poured into a Trois Mousquetaires glass.
A : Nice red color, a little head that do not stays through. Not much bubbles.
S : Caramel, some malt, the smell is not so strong.
T : A little bit sweet from the caramel taste, malty, light taste.
M : Enjoyable
D : Really easy to drink, I would make this a session beer.
333 characters

3.15
/5
rDev
-13.2%
look: 3.5 | smell: 3.5 | taste: 3 | feel: 3 | overall: 3
3rd of four beers from this brewer's variety pack.
Roasted dark toffee malts dominate the nose, leaving the faint candied fruits a distant 2nd.
Tough one to pin down. Weak and watery flavours, the real taste doesn't kick in until after 3-4 steamboats(seconds)Then the toasted malts come through quite bold and flavour-rich.
Decent mouthfeel, the weak wateriness of the front end detracts a lot from the over all feel.
Not this brewer's best effort...i give it a meh.
470 characters

4
/5
rDev
+10.2%
look: 4 | smell: 4 | taste: 4 | feel: 4 | overall: 4
from a mixed pack
poured into a pint,
belongs to a homemade hamburger
Appearance: clear amber, small head, low carbonation
Smell: malty, sweet like caramel
Taste: a bit nutty,caramel, malty, taste is good and clear, this is a decent rousse.
mouthfeel, quite friendly with low carboantion
so the taste is more upfront, so its nice
overall: drinkability is good, its easy to drink and it taste good, get along my hamburger very well. tasty with a good body.
462 characters

4.09
/5
rDev
+12.7%
look: 3.5 | smell: 4.5 | taste: 4 | feel: 4 | overall: 4
341ml bottle poured into pint glass dec21 2009
A clear red leaning towards maroon with a fast falling thumbs worth of head that left lace where it existed
S slightly nutty chocolate with some caramel and a little bread, fairly complex for a red
T not a bad thing that this mimics the smell it's quite good and would have gotten a 4.25 if possible
M a little flat but thick enough to please
D a solid beer with no major flaws and well worth trying
a good example of the style and yet another beer from this brewer that's well worth drinking
550 characters

3.23
/5
rDev
-11%
look: 4 | smell: 3.5 | taste: 3 | feel: 3.5 | overall: 3
The 3rd of 4 different styles from the Les Trois Mousquetaires variety pack. Pours out an impressive ruby brown with a bright clarity. Short frothy off-whit head that casually lingers on.
Chewy, bready toffee malt nose with some fig and raisin notes as well.
The flavour is okay, but very faint until already well into the aftertaste, almost like a late bloomer that reaches intensity over time. Bready brown sugar and raisins, sweet and sticky texture, fairly one-dimensional.
Smooth texture in the mouthfeel with a good presence of carbonation on the finish to help break up the monotony of the flavour.
Unfortunate, as this is a fairly forgettable amber that seemed to have potential at first, but whispers too much to be heard properly. The aftertaste is satisfying at least.
783 characters

4.2
/5
rDev
+15.7%
look: 4.5 | smell: 4.5 | taste: 4 | feel: 3.5 | overall: 4.5
Tasted on May 1st, 2009.
Appearance: Amber color, very nice looking with a nice head.
Smell: Mainly malts with some trace of caramel. The malt smell is very rich.
Tasted: Malt taste and the beer feels full bodied in the mouth however, it feels like a lager. This is a very refreshing amber lager.
Drinkability: Very easy to drink and very thirst quenching.
A must have in my fridge.
384 characters
3.57
/5
rDev
-1.7%
look: 4 | smell: 4.5 | taste: 3 | feel: 3.5 | overall: 3.5
My 50th review!
This beer replaces Aramis, which is now retired.
Poured from a 341ml. bottle.
Appearance: Pours a nice amber-red body, kind of like cherry wood with a generous 3-finger head.
Smell: Malt, caramel (burnt?) with some toffee and a tiny bit sweet. Very good aroma!
Taste: Smooth and malty but not too much. Bitterness is present near the end but that's pretty much it. A bit of a let down after a very nice aroma.
Mouthfeel: Slightly better, has a dry feel to it. Some not-overly coarse malt with a certain spicy finish. Some caramel buried in there with a touch of bitterness.
Drinkability: Not too bad. I wouldn't reach for another in the same session but once in a while sounds about right.
Overall: I let this one warm up a bit but found flavors were a little muted? Maybe better to drink it colder. Appearance and smell were right up there but the taste didn't quite deliver for me. Not bad by any stretch but nothing great either. It is a well brewed beer but it didn't do it for me. You decide!
1,021 characters
Rousse from Les Trois Mousquetaires
3.63
out of
5
based on
23
ratings.