Diabolique

Bullfrog Brewery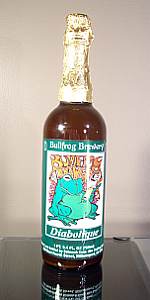 Rate It
Beer Geek Stats
| Print Shelf Talker
Style:

ABV:

7.75%

Score:

Avg:

3.89

| pDev:

10.54%

Reviews:

11

Ratings:

From:

Avail:

Rotating/Seasonal

Wants

Gots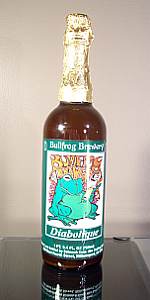 Notes:
KrautAficionado from Pennsylvania
3.62
/5
rDev
-6.9%
look: 3 | smell: 3.5 | taste: 3.5 | feel: 4 | overall: 4
roduces a huge cork pop accompanied by a flash of white smoke. Nice! Pours turbid deep golden toward orange with a huge, fluffy 4-finger, vert loud, boisterous head that seems to say, "You can;t handle the Diabolique, punk!" Nose is bready rock sugary malt, spicy yeast, florals, apricotty fruit, and hopcit. Tastes rock malty, fruity, spicy yeasty, with backup floral and peppery notes. Palate is very lively, on the dry side, with spucy peppery, yeasty, and fruit throughout. The head stays through the repour, and forms marvelous shapes reminiscent of La Chouffe Houbbelein
Jul 16, 2011
mikesgroove from South Carolina
4.45
/5
rDev
+14.4%
look: 4.5 | smell: 4.5 | taste: 4.5 | feel: 4 | overall: 4.5
golden amber with a nice amount of hazziness to it. An enormous head of white foam lifted up to a height of around three inches before settling down to a full inch of white and sticky foam that clung to the glass the rest of the session, nice carbonation streaking up from the inside.
The aroma was very solid. Nice light fruit notes, with a very well hidden Brett profile. Light grains and a touch of a fresh grass like hoppiness sneaking in as it warmed up. Light and delicate flavor with a crispness that was very nice. Clean with little in the way of funk showing up here. Light grains and some peach and pear/apple notes that were followed up nicely with the slightest amount of sour flavor, just enough to let you know it was there. Smooth and mellow with a light feel that was well carbonated and easy to drink.
Jun 17, 2011

Deuane from Pennsylvania
4.1
/5
rDev
+5.4%
look: 4 | smell: 4 | taste: 4 | feel: 4 | overall: 4.5
A-Slightly hazed orange kissed golden yellow with a thick, fluffy white head that slowly reduces to a thin cap and leaves nice lacing.
S-Spicy Belgian yeast zip with underlying biscuit sweetness, touch of apple and pear and some candi sugar notes.
T-Apple/pear fruit combo up front with a white pepper and candi sugar zing following. Light earthy hop notes mingle with biscuit malt in the drying finish.
M-Medium-light bodied fairly sharp and crisp with a nice zip and good lingering flavours.
D-With plenty of flavour and a light feel this one goes down very easily. This is the type of brew that has nothing shining individually but the sum of the parts makes for a very nice beer.
Apr 04, 2010
DefenCorps from Oregon
3.46
/5
rDev
-11.1%
look: 4.5 | smell: 3.5 | taste: 3.5 | feel: 3.5 | overall: 3
Thank you, Nathan.
Light orange with a dense off-white head with excellent retention and lacing, this beer is quite gorgeous. The nose is sweet and buttery with honey and mild floral character. The sweetness is overpowering and it's clear this beer is oxidized. The palate confirms this, opening sweet and oxidized with honey, golden raisins and some butter. Sweet on the finish with a lingering butteriness, this is decent. Medium in body with a moderately high level of carbonation, this is OK, but not something I drank too much of.
Feb 25, 2010

Thorpe429 from Illinois
4.35
/5
rDev
+11.8%
look: 4 | smell: 4 | taste: 4.5 | feel: 4.5 | overall: 4.5
A: Pours a light golden with a nice white head with a little bit of lacing.
S: Lots of sweet Belgian malt and some nice yeast with a bit of spice. The oak adds a really nice touch.
T: Lots of spice and creaminess along with a bit of tartness. The oak adds a whole character of its own, and has me really enjoying this beer.
M: Medium bodied with generous carbonation.
D: Very nice...another high quality brew from the folks in Williamsport.
Feb 17, 2010
akorsak from Pennsylvania
4
/5
rDev
+2.8%
look: 4 | smell: 4 | taste: 4 | feel: 4 | overall: 4
A 750 mL foil-wrapped C&C bottle. Purchased at the brewpub a year and a half ago.
A: The ale is well-carbonated, popping loudly and slowly attempting to overflow out of the glass. If not for the pour into a snifter, the billowy, fluffy white head would have gradually seeped out of the bottle. The big head is slow to recede, leaving thick lace in its wake. The ale is golden with more of an orange hue. A slight haze runs through the glass, clouding over the ale a bit.
S: The nose is Belgian sweet, laiden with candi sugars, pale fruits (apples and pears) and a dash of pepper.
T: The latent fruit flavors take over the first part of each sip with a sweet sugary presence. Behind the fruits, which seem to spring from the yeast, a flash of peppery heat and earthy hops make an appearance. The earthines of the hops doesn't really stand out but it is there. Candi sugars stand out the longer a sip is allowed to sit on my tongue. Anisey flavors pop up in the finish.
M: The mouthfeel doesn't have the zip that I expected based on the carbonation. That lack of bubbles allows the sweet yeasty by-products and candi sugars to last for a good spell of time.
D: The booziness isn't evident, well hidden behind the wall of Belgian flavors. A nice beer to spend a couple hours with.
Dec 19, 2009
tpd975 from Florida
3.85
/5
rDev
-1%
look: 3.5 | smell: 3.5 | taste: 4 | feel: 4 | overall: 4
Thanks to JW77 for the share.
A: Pours a light cloudy yellow hue. Small fizzy white head leaves no real retention or lace on the glass.
S: Nice sweet aromas mostly. Lots of ripe apple and a blend of spice. Light notes of yeast as well.
T: Sweet summer fruit, and spice for sure. The yeast is there along with a subtle tartness to go along with it. Not too darn bad.
M: On the lighter side of medium. Zippy carbonation a bit of a dry peppery finish.
D: Pretty good.
Oct 31, 2009
AtlasBrew from Pennsylvania
4.3
/5
rDev
+10.5%
look: 4 | smell: 4 | taste: 4.5 | feel: 4 | overall: 4.5
Diabolique (8% ABV)
Color: Burnt orange, cloudy with a white fluffy head
Aroma: Fruity and biscuity, not much hop aroma
Flavor: Biscuity, fruity and sweet all at once up front followed by a malty flavor that's a bit toasty. Very mild bitterness-a little spicy though. Finishes semi-dry with very low bitterness. It hides its alcohol volume very well.
Overall: Good, but dangerous! Very sessionable...i like it! Mmmmm!!!!
May 06, 2009
hopdog from Pennsylvania
3.88
/5
rDev
-0.3%
look: 4 | smell: 3.5 | taste: 4 | feel: 4 | overall: 4
Sampled from Growler.
Poured a medium and clear orange color with an averaged sized white head. Fruity aromas with citrus, yeast, and caramel. Tastes of fruits, caramel, bananas, and citrus. Some lighter spiciness in there too. Light alcohol in the finish.
Notes from: 10/9/06
Jan 12, 2009

Billolick from New York
4.36
/5
rDev
+12.1%
look: 5 | smell: 4 | taste: 4.5 | feel: 4 | overall: 4.5
Belgian style bomber, caged/corked/gold foiled..w/o freshness/vintage info....thanks for the gift Pebkac! Pours hazed light apricot, under a huge, fluffy light tan head, that shows superior staying power and also morphs to the ever exciting "merainge" stage of head development. Then leaves gobs of thick sticky lace. Soap, coriander and spice in the nose. Simply yummy Belgian style ale. Yeast, spice, slight alcohol note. Fruity and pleasant. Notes of lime, white pepper, tonic, gin, Belgian yeasty goodness. Belgian lovers go find some and enjoy. I wonder how available this one in the local area. I will endeavor to find out as this one is well worth seeking out
Aug 05, 2008
weeare138 from Pennsylvania
3.68
/5
rDev
-5.4%
look: 4.5 | smell: 4 | taste: 3.5 | feel: 3.5 | overall: 3.5
Thanks to KRAMER17801 for sharing this growler...
Appears a hazy, orange toned amber with a 2 finger fluffy white head that seems to stick around forever. Tons of scattered lacing is left around the glass.
Smell is of sugary lemon, orange, creamy vanilla, and caramel.
Taste is of the mentioned aromas with a heart of light, fruity citrus that bounces along the palate.
Mouthfeel is medium bodied, citrusy, spicy, with light caramel touching the tongue before the swallow.
Oct 13, 2006
Diabolique from Bullfrog Brewery
Beer rating:
85
out of
100
with
17
ratings