El Diablo
| Bullfrog Brewery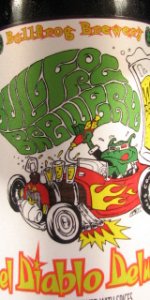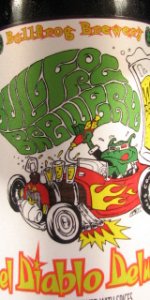 BEER INFO
Brewed by:
Bullfrog Brewery
Pennsylvania
,
United States
bullfrogbrewery.com
Style:
Belgian Strong Pale Ale
Alcohol by volume (ABV):
7.40%
Availability:
Rotating
Notes / Commercial Description:
No notes at this time.
Added by Kegatron on 01-31-2010
HISTOGRAM
Ratings: 13 | Reviews: 10


4.12
/5
rDev
+2%
look: 4 | smell: 4.5 | taste: 4 | feel: 4 | overall: 4
yellow, very cloudy with a big white frothy head, Great retention left the head around for most of the glass. Lots of sticky lace driped down the flass and left rings on the sides. Great visible carbonation could be seen bubbling throughout.
Smell was very intresting. Quite lively aroma with hints of sweet fruits, lemon and a touch of sugar. Bananas, figs, and pears could also be picked up as well as a touch of grapes as it warmed. First impression of the flavor was to be honest a bit of a shock. There was something in it I could not place right away, some other reviews have touched on a saltiness, and at first I thought it did have that too, but there was this other underlying flavor which I kept trying to pin down. Finally settled on something of a sweet lemon cake or tangerine and orange combination. Very pleasant and very sweet flavor, never had tasted it before in this style, quite intresting. very smooth delievery and great carbonation gave it a very lively feeling on the palate.
1,001 characters

3.68
/5
rDev
-8.9%
look: 4 | smell: 3.5 | taste: 3.5 | feel: 4 | overall: 4
This beer was poured out and gave off a dark golden color, The head was thin and left behind just a little bit of scattered lacing. The smell of the beer had a big nose full of Belgian yeast, some floral aspects and some hops on the nose. The taste of the beer was soft and slightly fruity upfront which faded into something a little more spicy. The mouthfeel was smooth and fairly well carbonated. Overall I thought it was a pretty good Belgian style ale.
456 characters
4
/5
rDev
-1%
look: 4 | smell: 4 | taste: 4 | feel: 4 | overall: 4
Review from notes taken on 9/15/10. On tap at Al's.
Served in a snifter, this brew appears a brownish orange color that is very cloudy. Less than a finger of white head sits atop this brew and receeds quickly. Trace amounts of leggy, patchy lace is left on the glass where the head previously came into contact.
The aroma includes some spices like belgian phenols, yeast, citrus character like coriander and orange peel. Slight bit of cloves and an all around familiar scent that reminds me of indications of other bullfrog offerings. Perhaps this is their house touch with a fruity tangy sweetness.
Tasting this brew includes everything noted in the nose. Lightly bitter from the hops and well balanced with all the fruity character of orange, spices and clove. The alcohol is well hidden at first but as it progresses becomes more evident with a supporting flavor that accents the other tastes. Once this brew hits warmer temperatures, it has a very forward "house" taste of bullfrog.
Medium bodied brew with a moderate level of carbonation. A very pleasant take on the style. A long lingering spiced flavor mingled with hops lasts in the mouth. Overall, well done and quite drinkable. I usually give most belgians a try and move on to something else, this is one to order again.
1,285 characters

3.85
/5
rDev
-4.7%
look: 4 | smell: 4 | taste: 4 | feel: 3.5 | overall: 3.5
Growler shared by drabmuh at a small tasting I hosted last weekend. Thanks Matt!
A: This beer appears a pale orange / yellow color. There is approximately one of inch of white, bubbly head that sticks around for several minutes, leaving a few traces of lacing on the glass.
S: The aroma instantly indicates that this beer is brewed in the Belgian style, with notes of heavy spices, tea, grass.
T: The absolute first thing I notice is the overwhelming barrage of spices assaulting my palate. Wow. The spices themselves taste fine, but sometimes less is more, as is the case here. There is a mild fruitiness to the beer. I detect a faint hop bitterness, mostly toward the finish. There's a fair amount of complexity to the beer, and the flavors are pleasant, even if too forward in some aspects.
M: Overly spiced, medium bodied with high carbonation.
D: A decent brew. I'm glad I had the chance to try it, but it wasn't among my favorites of the style.
956 characters

3.95
/5
rDev
-2.2%
look: 4 | smell: 4 | taste: 4 | feel: 3.5 | overall: 4
Growler sent to me by Deuane shared at a recent small tasting. Beer is yellow and clear, dark yellow, with a decent big white head of small and medium bubbles that leaves some lacing on the glass. Carbonation held up nice in the growler.
Aroma is spicy, kind of like thin hops or almost a spicy tea like aroma. Interesting, its a little bready / estery like a nice Belgian. Smells pretty good.
Beer is kind of thin with a nice spicy bitterness at the end of the beer that finishes a little dry. Its mildly sweet up front. I'm not sure what I was expecting from this but I'm getting kind of saison complexity of spices in this beer. The yeast character is less obvious in the palate than it was in the nose, there is a lot going on here. It mostly comes together into a single beer thought but overall, its an OK beer. Glad I got it. Still need to make it to Bullfrog sometime soon but I doubt I'll be ordering this one again.
927 characters

3.85
/5
rDev
-4.7%
look: 3.5 | smell: 3.5 | taste: 4 | feel: 4 | overall: 4
From 09/25/10 notes. Got to try at a small tasting. Big thanks to drabmuh for this one.
a - Pours a murky amber color with light carbonation and little head.
s - Smells of citrus, fruity malts, pears, spices, oak, yeast, and a tiny bit of something weird that smells like mint.
t - Tastes of citrus, orange, grapefruit, fruity malts, and oak.
m - Medium body and moderate carbonation.
d - A pretty good Belgian pale ale. Definitely some Belgian yeast and spice in the smell and taste. I'm glad I got to try this one and would try it again sometime.
553 characters

4.45
/5
rDev
+10.1%
look: 4.5 | smell: 4.5 | taste: 4.5 | feel: 4 | overall: 4.5
A - One fingers worthy of pure white head quickly fades leaving a thin veil of delicate creamy lacing... A glowing hazed honey color... Still... Some carbonation can be jostled when rocked back and forth... Good bits of lacing along with a slight film cling to the side of the glass... Uber inviting...
S - Wheat... Loaded with spice and herbs... Mild begian yeast... Pear... Apple...
T - Wow, this one is loaded with an abundance of complexity... Mint... Assorted herbs... Honey... Pear... Apples... A unique mild but effective hop bitterness... Some mild buggle gum on the finish...
M - Medium bodied... Slight twinge of carbonation... Sleek... Smooth... Dense... Ever so slightly chewy... Becomes more lush and more creamy as it warms closer to room temperature...
D - Utterly unique and refreshing... A wonderful example of both complexity and balance...
864 characters
4.12
/5
rDev
+2%
look: 4 | smell: 4.5 | taste: 4 | feel: 4 | overall: 4
a: unibroue tulip, the beer is a yeast hazed orange-amber in color, one-finger white head with good retention and lace
s: fruity pale malt nose, apple, white grape, slight tropical edge with some cooked pineapple, tangerine, Belgian yeasts providing delicate spice, some white pepper, oaky vanilla notes that really come out after warming, mildly hopped with grassy citrus
m: carbonation on the low end and delicate, with a body on the full side of medium, smooth
t: big pale malt body, sweet but not unbalanced, lots of light colored fruits, white grape, green apple, yeasty with an obvious but restrained spice, not much vanilla for me, but there's a nice dry oakiness in the finish with an aged hop flavor and appropriate bitterness that closes things out nicely, very good
d: no problem here, the full growler presents something of a challenge - but that's no surprise, this is a quality Belgian and an accurate representation of the style
picked up a growler at the brewery to pair with the NC State WOLFPACK football opener, seems as though it may have lost a little carbonation since being containerized just 3 days ago - pretty sure they didn't use a filling hose?
1,177 characters

4.45
/5
rDev
+10.1%
look: 4 | smell: 4 | taste: 4.5 | feel: 4.5 | overall: 5
A-Deep, dark orange copper with a medium bright white head that reduced to a thin cap and left nice streaky lace.
S-Sweet vanilla, oak dryness and a nice floral spiciness. Notes of biscuit malts and some bouncy, soft fruit notes in the background.
T-Bitter orange rind citrus zip with toasted biscuit up front with accenting notes of sweet vanilla, dry oak and a bright floral spiciness.
M- Medium bodied and actually quite smooth before ending sharp and dry. Nice lingering flavours.
D-Lots of flavour and easy drinking, This Duvel like tribute is a mighty fine drinking brew. This one is right up my alley....one I could enjoy all night long.
650 characters

4.5
/5
rDev
+11.4%
look: 4.5 | smell: 4.5 | taste: 4.5 | feel: 4.5 | overall: 4.5
On tap @ the Bullfrog on 1/30/10. Served in a cervoise. The board listed this as a a Belgian-inspired Golden Ale aged on French oak chips.
Pours a deep and hazy burnt orange, topped with about a finger of bright-white creamy froth. This stays very rich around the edges, with a fantastic flareup to it, leaving some a good bit of thick foamy lacing down the sides of the glass. The aroma is sweet and smoky smelling in the nose, with a good bit of floral spice giving this a freshly airy, yet still vibrant feel to it. I'm getting a good bit of smooth vanilla accents from the oak chips as well, along with very light woodiness.
The taste is toasted breads and zesty orange citrus, with a bit more of a mellow feel to the hops. I'm still getting a rather lively spice presence here though, as well as more of a woody feel then I did in the aroma. Some gentle tannins hang on the edges of this, with a flush of vanilla swoops along the back and adds not only some extra sweetness but also some welcoming smoothness to the profile. The finish is still very dry and spicy, parching the mouth and readying it for the next sip. The mouthfeel is medium bodied (feels just about right for 7%) but this is still very mellow and easy, with just a bit of sharpness from the spice and hops. There is some light warmth present but this is just overall ridiculously easy feeling in the mouth. I shot through this glass in no time flat and I could definitely see one getting into a bit of trouble with this because of it's deceptive ABV.
Wow, this turned out nice, coming off like a glass of Duvel but with a smooth woody vanilla character that added to the hugely easy feel (both in the taste and body) that this provided. Crazy flavorful and easy drinking, I could have sipped on multiple glasses of this all day. Kudos to Terry on another great new addition to the already stellar lineup here!
1,888 characters
El Diablo from Bullfrog Brewery
Beer rating:
4.04
out of
5
with
13
ratings