Hog Haus Brewing Company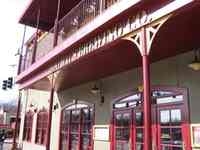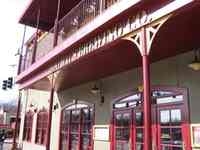 Brewery, Bar, Eatery, Beer-to-go
430 W Dickson St
Fayetteville
,
Arkansas
, 72701-5107
United States
// CLOSED //
Notes: Closed 11/18
wisecracka from Arkansas
4.53
/5
rDev
+24.1%
vibe: 4 | quality: 4.5 | service: 4.5 | selection: 5 | food: 4
atomosphere:
Atmosphere is good. This isn't a bar, this is a restaurant with biergarten decorum. There is a beautiful oak bar with comfy stools. Also, there are only tables which enhance the rustic coziness of the place. The balcony offers a great view of downtown Fayetteville; the best time is right at sunset on a warm night with a good beer. As you go upstairs, you get to see the brewery in its tiny, magnificent glory.
quality:
In a way this one is tough. I'm from the area so I appreciate what the place has done for local beer culture (e.g. homebrewer's of NWA meet there everymonth). I'll try to be objective, maybe even overly critical.
The brews don't tend to stand out as something awesome. You're not dealing with something as extreme as a maharaja, as well made as a old rasputin, or as out there as doggie style pale. What your are dealing with are beers that beat the average. Some even beat the hell out of the average (IPA, java porter, red ale, a lot of the seasonals), there are also some that I hate (the wheats... big time). There are also times, albeit rare, where an "oops" beer rears it's ugly head (last winter's anniversary ale). This is to be expected as no brewmaster is perfect and this one tries hard to make his beers memorable.
To put it short (too late)... This place kinda reminds me of Sam Adams: there's a great brew for everybody, but nobody will like all the brews there. OH! also, they have a really good root bear for the kids so everyone at the table can have something special.
Service:
Service here is great. If you're anal about how often they come around asking if you need water, then grow up or eat at home. Every time i've gone to this establishment i've been greeted by a friendly staff. I usually sit at the bar and the bartenders are surprisingly knowledgeable about beer in general. A huge reason that I rate the service so high is that they will give you free shots of beer as samples if you are uncertain about want you want. It's 5 cents per sample, but they rarely charge for it. My first time there, the bartender must've let me try at least 6 shots of beer so I could find out which one I liked the most, he also gave me a lot of advice about styles and tastes I should expect. biggest downside is they get slow, but it's a popular place and i'm not there to get in and get out. Although I went there with a school club last year with 10+ members and they were very attentive, so I guess it's a case by case basis.
Just to tell a small story about the service: I remember a guy who would refill my glass free of charge, occasionally, when I was running low (he's now in graduate school at some premier institution). Or when my buddy was going through a bad breakup, the bartender collaborated with us and gave the 5 people in our group a shots of IPA and root beer. It was hilarious and really picked up his day. If you take the time to talk, you'll get something out of it.
Selection:
Speaks for itself, I think. You have 8 year-round brews (9 year-round drinks if the root beer, which is really good, is included) and there will always be 1-3 seasonals. They have also began collaborations with local homebrewers. One such brew, the big mother ale, was a phenomenal wee heavy styled ale.
here is the link (copy and paste since html tags aren't allowed):
hoghaus.com/new_brews
food: Not the best, but not bad. Definitely not worth the price. Although the sweet potato fries (huge plate that comes with au jou sauce) are delicious, go well with any beer, and are only three dollars. The rest of the menu isn't spectacular though. I only go for the beer myself...
However, every season or so they have the brewmaster's dinner. Basically the chef and brewmaster collaborate on brew/food pairings and then produce a good four course meal that is cheap. I think the price is usually around $30. The food is good and occasionally memorably inventive (like the scout stout float).
Value:
-Food
This is a little difficult. Most of the entree's are expensive, but come with other fixings like fries. As a poor student, I don't think the food is worth it... unless I can splurge (I love the Reuben). The aforementioned cheap plate of sweet potato fries is always a great choice. check the menu on the website. It should be noted that Dickson street has a higher tax rate than the rest of Fayetteville, so the prices are higher than they probably should be...
-Beer:
$3.75 for a 12oz mug of hog haus beer.
$5.25 for a 24oz pilsner of hog haus beer.
You can buy a 32oz stein for $15 dollars. You keep the glass, every time you visit bring it with you and they will fill it for around six dollars.
They also sell 64oz growlers. You have to get it filled when you buy it, it usually costs around $17-20 depending on the brew. Bring it back and get it filled for $12-15 depending on the brew. I think it's a bit steep... but it is nice to bring a little bit of my hometown with me when I head to school.
Apr 01, 2010

russpowell from Arkansas
3.65
/5
rDev 0%
vibe: 3.5 | quality: 3 | service: 4 | selection: 4 | food: 4
Had lunch here today.
The atmosphere was alright, but seemed a bit cliche too me: but the vaulted ceiling, beams & sculpture worked better for me on a second visit (sunnier day)
Some the beers were pretty good like the IPA, Hefe & Coffee Porter, most were just average
Service was friendly & prompt
11 Beers on tap, plus a rootbeer & a few bottled craft offerings. Most were top fermenting with 3 wheat beers including a hefe & wit on offer
Loved the food, good variety & quality. Really enjoyed the shrimp & grits & the seafood omelette
$81 for 2 adults, 2 kids, one sampler tray, 1 beer & a growler, a bit dear all things considered. Having said that I will come back for their grub & hope for better luck on the beer next time
May 25, 2009
mgaddy from Arkansas
3.98
/5
rDev
+9%
vibe: 4.5 | quality: 4 | service: 3.5 | selection: 4 | food: 4.5
This brewery is about a 2 blocks from University of Arkansas campus. So, it's packed on the weekends, but decent during the week.
The atmosphere is awesome, hardwood everywhere, that classic brewpub look. Has a second level with a balcony overlooking Dickson Street, which is super cool.
The Beers selection is good, about 6 or 7 brewed beers; from a wheat to pale ale to stout to porter. They have something for most palettes.
The service is decent. Kinda hit and miss, which is the same with their sister coffee shop up the street.
Their food is really really good. Some of the stuff seems unreasonably expensive, and other stuff is excellent for the price.
I dig this place. Check it out if you're in town.
Nov 12, 2008
Yetiman420 from Ohio
3.93
/5
rDev
+7.7%
vibe: 4.5 | quality: 4 | service: 3.5 | selection: 4 | food: 4
This was stop #255 on my quest to visit every quality independent brewery in North America. Review aside, this is the only game in town and worth the effort to support. Now on to being a critical beer geek....
I stopped in around 7 on a Monday night in the fall. HH is located on a main nightlife strip on the campus of the University of Arkansas. I didn't notice any predominance of students during my visit although it really wasn't that crowded. It's a couple of doors down from Brewski's - a highly rated beer bar.
I sat at the bar and had a bartender who took a while to warm up to. They sell individual samples of 5oz beers for around $2. At first he told me all I could get was the 6 beer sampler. I pointed this out to him and was able to select 4 beers of interest to me - Hefe Wheat, Pale, Red, and the Autumn/Pumpkin. The Hefe/Wheat was the best among the batch and he later informed me it was far and away their most popular beer. The others were very standard to form with no distinguishing characteristics. Good beer that the masses can enjoy but nothing to get too excited about.
I went with a pint of the IPA with my very spicy order of hot wings. The IPA is worth the visit. Low malt profile and tons of bitterness. I didn't notice an overwhelming hop aroma which was ok because I was really enjoying the unbalanced bitterness against the low amount of malt. Nice!
I closed with a sample of the java porter which lacked depth of a good porter to begin with and had a bit too much coffee flavor up front.
The atmosphere was really nice. Lots of exposed wood, tall ceilings and it was obvious that someone put some money into this place. I give plus marks for making it a smoke free environment.
Oct 14, 2008
rugger from Arkansas
4.08
/5
rDev
+11.8%
vibe: 4.5 | quality: 4.5 | service: 3.5 | selection: 4 | food: 4
Update!?!?!?! The new brewer that I mentioned below Bill, is leaving to go back to Colorado, however the new brewer is coming from the Chicago area, we have yet to meet him formally, however he seems to be a good guy as described by Bill. I will post to let you know as soon as I can. Lets do what we can to give him a chance.
Below is my review from just after the Hog Haus opened. They now have a new brewer that knows how to brew. The beers are finally drinkable, and the food has greatly improved. There is a rumor that this brewer is leaving to go back to Colorado, however we can only hope that this is a rumor. Other than that the only complaint I have is the $100 mug club thing that they have. You pay $100 and you get some stuff and then you get happy hour prices all the time. Seems pricy to me.
Anyway..
It is nice having a place to call home..eeerrr....I mean your second home.
First off this is the old Ozark Brewing Company. It is now re-opened with the new name Hog Hause Brewing Company. The ideas behind the first brews were to dumb them way down so that people would drink the beers, however those of us in the know were not pleased and are only willing to go back to see if things have changed. We then learned that the brewer was the problem when they put a russian imperial stout on tap that looked like a muddy porter. You could see through it. We have also learned that they just hired a new brewer from Otter Creek, however his beers are not on tap yet. Hopefully he will be able use hops in his beers to an acceptable level. Other than that my biggest complaint will have to be the price of the food. When they opened my wife and I went to check it out, and we both had burgers and I had two beers and my wife had one. A total of three beers two burgers and a nasty cheese dip and chip appetizer and the bill was $40. By no means is this a brewpub by the ture definition. They did say when they opened that they were going to have an upscale menu, but man that is crazy. I am also hoping that the new brewer will ask a few questions down this line as well. I may get a chance to talk to one of the owners or the brewer due to our homebrew clubs efforts in being a part of what they do. Seeing as how this is currently our only brewpub we can only hope for the best.
Jun 08, 2007

Suds from Missouri
3.78
/5
rDev
+3.6%
vibe: 4.5 | quality: 4 | service: 4 | selection: 3.5 | food: 2.5
This brewpub is located in a downtown section of Fayetteville, surrounded by other taverns and restaurants – near the university. It's easy to find, and parking was easy in adjacent municipal lots. The atmosphere is both refined and inviting, with plenty of dark wood and bricks. Brewing equipment is located on one side of the brewpub, and is not the center of the restaurant.
On my visit I had two beers – An IPA and a seasonal Barleywine. The IPA was well balanced, full favored, and delicious. The seasonal (Santa's Little Helper) was described as a barleywine, and was both rich and potent. It's a strong winter-warmer with a lot more roasted malts than are present in most barleywines. Both beers were solid and enjoyable. The only comments that I have concerning the beer are related to temperature: they should lose the frosted mugs and raise the serving temperature of the beer. Other than that, the beer was outstanding.
Unfortunately, the burger that I ordered was inedible…the center was not just raw, it was still cold. The service staff was friendly and apologetic (giving me my meal for free without my asking). However, the lack of attention by kitchen staff on a simple burger is a cause of concern.
All in all, despite the burger, this was a good brewpub experience: tasty beer and good service. I'd recommend that beer lovers who travel through the area should certainly stop in here for a pint or two.
Dec 01, 2006
BillyD from Mississippi
4.38
/5
rDev
+20%
vibe: 4 | quality: 4.5 | service: 4 | selection: 4.5 | food: 5
My family and I stopped in on our way passing through Fayetteville as a place for us to get a quick bite, and for me to check out the beer. I tried the beer sampler, six 4oz glasses with one of each beer style. I did enjoy the Woodstock Wheat and consider all their beers to be pretty good. The one thing I will rave about however was the signature Hogs Breath Burger. Hands down the best burger I have ever eaten!
Overall good atmosphere, really great food and some decent beers, well worth a visit if in the area.
Oct 10, 2006
sevineyes from Arkansas
3.75
/5
rDev
+2.7%
vibe: 3.5 | quality: 4 | service: 4 | selection: 3 | food: 4.5
Great location in the heart of Fayetteville. Dickson St. has a great atmosphere all by itself and the building that the Hog Haus is in is somewhat of an institution all by itself.
We started with some Moroccan mussels and some shrimp-stuffed jalapenos wrapped in bacon served with some crisp red onions. The appetizers were not overcooked as a lot of seafood can too often be.
Dinner was salmon topped with gouda and a variety of mushrooms and fish and chips. The mushroom-salmon dish was very textural and complementary throughout. The fish and chips were excellent. Their wheat beer was part of the breading ingredients and very much in the flavor profile expected.
Desert was bread pudding in a rich chocolate topping.
The atmosphere is nice and casual for either lunches or dinners. Close to the universtiy, there's a good cross-section of society from the region.
Overall, the only complaint I could even think of was that the waiter asked if we were ready for our check twice.
I felt the food was reasonably priced for what it was. We walked away for about $50 a piece. Considering the meal and six beers I really can't complain about the price.
Mar 03, 2006
beerhandy from Oklahoma
2.63
/5
rDev
-27.9%
vibe: 3 | quality: 2.5 | service: 2.5 | selection: 3 | food: 2
Visited it this weekend was just going in for some brews but the wife and daughters were starving so we ate and drank.First they were understaffed our waitress was about two tables over her max capacity so it slowed things up a bit.The beers..eeeh the kids tryed the rootbeer ...gross way too much wintergreen and it had
fermented a bit so it was like mouthwash with a twang. Wheat Beer
was oxidised had the smell of honey coated band aids (described as a german wheat with lots of clove and banana ) not really there
no frothy head and seemed way past its prime .sourness was starting to come through. I also asked for a pale which I had to clarify and then asked for hoppy she said the Irish red was hoppy
but I went with the pig tail pale.It was very mild flavored no hop it might be a cream ale again it tasted old and slightly infected.The food was very disapointing for the price.. 1.pizza ...machine made crust, generic sauce, bland cheese 2. kids meal turkey sandwich
served in a frisbee that the kids keep and explains 5.95 price it was very good lots of cheese and a fresh roll 3.buffaloe wings Hot
battered and fried and very mild.Its a Great Building and a great location but they need to work on there quality issues and probably
need to brew smaller batches if fresh beer is to be had.I noticed alot of people drinking macros at the bar why they would bring it in and try to make it is beyond me
Aug 29, 2005
Hog Haus Brewing Company in Fayetteville, AR
Brewery rating:
3.5
out of
5
with
47
ratings