Loco-Motive
| Iron Horse Brewery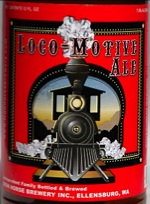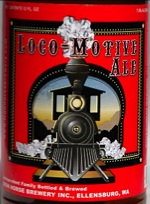 BEER INFO
Brewed by:
Iron Horse Brewery
Washington
,
United States
iron-horse-brewery.com
Style:
American Amber / Red Ale
Alcohol by volume (ABV):
6.00%
Availability:
Year-round
Notes / Commercial Description:
No notes at this time.
Added by BeerAdvocate on 04-13-2005
This beer is retired; no longer brewed.
HISTOGRAM
Ratings: 10 | Reviews: 10
Reviews by idResponse:
2.72
/5
rDev
-29.5%
look: 2 | smell: 2.5 | taste: 3 | feel: 2 | overall: 3
This brew says 7.5% ABV on the label, not the 6.00% that is stated in the BA info.
It pours with little to no head, and retains a very terrible lacing that barely sticks anywhere. It smells like burnt caramel. It tastes like boiled rubber soup. It feels like you just tossed the salad of an alcoholic bum. It's the kind of heavy alcohol farmer brew that Eastern Washington frat boys dare each other to drink on binge nights. I should know, I have plenty of family over there!
Seriously, this is pretty hard for me to drink... I've only had a couple that are worse... I'd rather drink Hurricane Ice :( Sorry guys...
618 characters
More User Reviews:
4.03
/5
rDev
+4.4%
look: 4.5 | smell: 4 | taste: 4 | feel: 4 | overall: 4
Appearance – This one is a lovely clear brownish-amber in color with a lot of depth in the liquid. The head was big, puffy, and clingy.
Smell – The nose here is light caramely toasted malts with a bitter hop compliment. The sweetness is almost liquer-like. Overall it is balanced towards malts, but it is a subtle aroma.
Taste – The sharp, simple malts come out bigger at the taste. There's also a kind of barrel flavor in here that may be even a bit whiskey-ish. The hops are relegated to "almost ran" but offer some bitterness at the finish.
Mouthfeel – This one just is medium-bodied with a light drying bitterness at the very end.
Drinkability – I thought the components of the beer were a bit clumsy but, taken together, made up a terrific, highly-drinkable, malty session ale.
Comments – Thanks to skyhand for getting this bottle in my hot little hands. I had this on-tap at the 2005 Grain on Equinox fest in Seattle and it seemed more balanced with hops back them. I wonder if this bottle has been sitting in a back room at the brewery "maltying up" for a while? Either version though is highly drinkable and just fine by me.
1,158 characters
3.8
/5
rDev
-1.6%
look: 4 | smell: 4 | taste: 3.5 | feel: 4 | overall: 4
It has a hazy red brown body with lots of head. It has a strong aroma of grains and malt. It has sweet melon and somewhat berry like taste. It has bitter aftertaste. There is some small alcohol warmth to this beer. I personally think that the blend of hops that the brewers use is excellent. It has a creamy full feel.
318 characters
4.13
/5
rDev
+7%
look: 4 | smell: 3.5 | taste: 4.5 | feel: 4.5 | overall: 4
Poured a dark amber, slight hue of brown with a thin white/brown head that collared nicely into laciness. Aroma was of malts and a slight hint of hops. Well balanced taste, malts and hops that was mixed well with sweetness and bitterness. Good texture, on the heavy side. Very good session beer, very smooth and tasty. A little on the sweet side.
346 characters
4.2
/5
rDev
+8.8%
look: 4 | smell: 4 | taste: 4.5 | feel: 4 | overall: 4
brownish amber color, with hues of burnt orange and FLOATIES! head turns into a thin film, good lookin beer.
faint aroma of caramelly malts and a hint of herbal hops
caramelly bready malts are very well balanced against a very nice citrus rind hop profile
feels full bodied, medium light cabonation just enough to make it pop
smooth flavor, nice mouthfeeel, cool look
Thanx to rorygilmore for hookin me up with this beer
425 characters

4
/5
rDev
+3.6%
look: 4 | smell: 4 | taste: 4 | feel: 4 | overall: 4
Had this on-tap at The Palace Cafe in Ellensburg. It was served in a frosted glass, so it took a little while for the flavors to come through. On the menu it was billed as "Ellensburg Locomotive." I came away from the meal thinking I had found a new micro, but it seems the restaurant didn't know who they get their beer from!
Came a dark garnet color, with a big, off-white head. Big foamy rings were left in the glass as it made it's way down the insides of my glass.
Smell was of sweet, brown sugary malts, floral hops and a surprising amount of roastiness. Very interesting smelling beer, and not at all what I expected from an amber ale.
Taste was quite complex for an amber, which is a style I usually find to border on boring. The brown sugary and roasty aspects balanced a more assertive hoppiness than is typically found in an amber beer. This is an amber with balls!
This was a thoroughly medium bodied beer. Appropriate level of carbonation.
This was an intriguing beer. If I'd had time to stay and porder another, I'd have asked them to bring me one in an unfrosted glass. But I had to make tracks back for home. I looked fruitlessly for Iron Horse's Brewery (it was probably closed anyway), so this is as close as I have gotten to them so far. I'm curious what takes on other styles they'll make.
1,324 characters
4.26
/5
rDev
+10.4%
look: 3 | smell: 4.5 | taste: 4.5 | feel: 4 | overall: 4
i tried a sample of this last night and had to buy a few a bottles.
pours with little carbenation leaving no head, but the color is a beautifull amber almost brown.
the smell of this beer just makes you want to start drinking it. strong toasted malt smell.
the smell is of caremel and malt but the taste surprise with a good amount of hops, the malt is also very noticable bringing a well balanced but strong taste in both areas.
the mouthfeel is decent not to thick but a little watery.
this beer does have a good hoppy kick to it making it a little less drinkable for some but i like it probably one of my favorite ambers.note my bottle also says 7.5% alc
658 characters
3.75
/5
rDev
-2.8%
look: 4 | smell: 4 | taste: 3.5 | feel: 3.5 | overall: 4
This one was in the cooler at a local lounge. Served in a bottle, poured in to a schooner.
Pours a dark red-brown color and is clear. Produces a rich foamy beige head that is quite resilient, and produced a lot of lacing on the side of the glass.
The smell is fairly strong and smells of hops primarily, floral and fruit scents, with an aroma of sweet malt as well.
The taste is robust, and dominated somewhat by the bitter hop flavor. There is a malt presence, and also a bit of an evergreen flavor like juniper or pine. It has a very rich flavor for an amber, it is almost like a stout.
Mouth feel is medium bodied, not thick, and mildly carbonated.
This is a drinkable beer, and I would certainly have it again. I think the hop flavor may be overdone just a bit for the style, but it is still quite good. I vacation annually in the vicinity of the brewery, so I'll put them on my itinerary next time I head that way.
NOTE: The website says ABV is 6.00% by my bottle says 7.5%.
998 characters
3.65
/5
rDev
-5.4%
look: 3.5 | smell: 3.5 | taste: 3.5 | feel: 4 | overall: 4
Tastes like pumpernickel – nutty, edgy, with a husky, caramel aroma pocked by a few questionable attributes. Loco-Motive most closely resembles a brown ale though it's far stronger than any brown would customarily be (7.5%) and could easily be tagged a red. It is deep russet colored, slightly hazed, and sports a thin head with splotchy lace. Carbonation from the bottle-conditioned 12 oz. bottle is mid-range with a big chewy mouthfeel.
What really does it for me is the finish, which is spicy and compliments the dark molasses bread of the central flavors. The beer warms well, but it's uniformly perplexing. I look forward to trying this on-tap.
Special thanks to skyhand.
689 characters
4.05
/5
rDev
+4.9%
look: 4 | smell: 4 | taste: 4 | feel: 4.5 | overall: 4
It's been stated before, but my bottle also reads 7.5% ABV. Appearance is a misty red amber with a thin head with light trailing lace. Smell has a good wiff of sweet malts with slight bread and dark fruits. Taste is big malty sweet with a good balance of hops with a medium mouthfeel leaving a bitter sweet aftertaste. Not a good session for me, but one I'd try again.
368 characters
Loco-Motive from Iron Horse Brewery
Beer rating:
3.86
out of
5
with
10
ratings