Side-Pocket For A Toad
| Tring Brewery Company Ltd.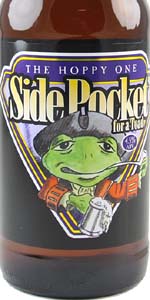 BEER INFO
Brewed by:
Tring Brewery Company Ltd.
England
,
United Kingdom
tringbrewery.co.uk
Style:
English Bitter
Alcohol by volume (ABV):
3.60%
Availability:
Spring
Notes / Commercial Description:
No notes at this time.
Added by wl0307 on 04-17-2006
Ratings: 9 | Reviews: 8
Reviews by MAB:
3.58
/5
rDev
-2.5%
look: 3.5 | smell: 3 | taste: 4 | feel: 3.5 | overall: 3.5
Great label, for starters.
Slightly darker than I expected- closer to copper than gold- but fine for the style.
The label says "The Hoppy One" adnd the promise of Cascade hops had me drooling at the thought. Unfortunately the hops weren't on the nose. And, typical of an English bitter, they weren't that prominent in the taste, either. But the combination sure worked since it was a very tasty brew.
I still prefer my NW USA IPAs and bitters, but this one was pretty darned good.
480 characters
More User Reviews:
3.97
/5
rDev
+8.2%
look: 3.5 | smell: 4 | taste: 4 | feel: 4 | overall: 4
500ml bottle, 4.5% ABV. Apparently this is the 'stronger' version of their regular offering. Mirror world strangeness, indeed.
This beer pours a clear medium golden hue, with one finger of foamy off-white head, which leaves some broken rock bridge lace around the glass in its wake. It smells of sweet, sugary bread dough, and citrus - quite strong and quite appealing. The taste is sweet bready malt, with a dash of caramel, and mildly bitter earthy citrus hops. The carbonation is on the low side, the body medium weight, and deftly smooth. It finishes with a push to the dry, the breadiness and citrus both having a hand in it.
An enjoyable bitter - the use of Cascade hops is interesting, of course, and they lend a much more subtle touch than I'm used to. Still a sessionable ale from my New World perspective, and definitely more useful than the name suggests...
870 characters
3.74
/5
rDev
+1.9%
look: 3.25 | smell: 3.5 | taste: 4 | feel: 3.5 | overall: 3.75
Hand-pulled half-pint in The Crown Inn, Oakengates on 29 Jun 2013.
Nice clean amber body, off-white blanket of foam on top.
Semi-sweet malty molasses, floral hints with a mild citrusy feel in both the nose and taste. Good balance of flavours with the malts just about winning the overall taste stakes giving the beer a slightly sweeter lean than a hop bitterness.
I liked it, and when you consider the alcohol content is only 3.6% ABV the brewer has got a lot of flavours and character into the brew.
503 characters
3.35
/5
rDev
-8.7%
look: 4 | smell: 4 | taste: 3 | feel: 3 | overall: 3.25
Orangey brown colour. Frothy long lasting head. Looks good.
Really nice aroma of citrus hops, fruit and caramelised sugar.
Taste - what a come down. Mushy cardboard and over cooked cabbage.
Insipid mouthful. What went wrong with this one?
238 characters

3.77
/5
rDev
+2.7%
look: 4 | smell: 3.75 | taste: 3.75 | feel: 3.75 | overall: 3.75
4.5%abv
A: Golden bronze with a white head, thin ring of retention leaves a bit of lace.
S: Musty, pear, honey, a little earth & citrus rind.
T: The British yeast really shows: musty with some nice fruityness. Light honey sweetness, grapefruit rind, modest bitterness.
M: Light to moderate body is smooth with an off-dry finish. Perhaps a bit sweet.
O: Pleasant enough, but nothing special.
395 characters

4
/5
rDev
+9%
look: 4 | smell: 4 | taste: 4 | feel: 4 | overall: 4
on cask at the Windmill (Wetherspoon), Standsted Airport.
Pours shining gold with a dense sparkler carpet of white head that rings. Lemon, hay and grass nose. Malts are sourdough toast with a funky lactic edge. Hops are nettle tea and lemon boiled sweet. Dry finish and a grapefruit rind linger. Light body, soft and round.
Should this have a sparkler? The tap was reversed with Black Ice and you never know at Wetherspoons...
Strong hops, both bitterness and flavor, in a very easy drinker.
494 characters

4.15
/5
rDev
+13.1%
look: 4 | smell: 4 | taste: 4 | feel: 4.5 | overall: 4.5
500ml bottle poured into pint glass 4.5% not the 3.6 I see above
A clear golden yellow with lots of bubbles of all sizes feeding a finger of off white foam that retains for a few minuets and leaves a fair bit of random lace
S toffee and bready citrus, simple but good
T a little herbal hops on top of what I smell with a little citric rind, faint metallic notes work well for it pretty big flavors for 4.5%
M some body to it and its got a mild bite too, I'm impressed by the length of the finish on this one, flavors linger fairly strong and yet it's quite refreshing
O 500ml bottle gone before I made it this deep in the review, that should say enough, oh did I mention this would sink like a ship all day without getting board
I could drink this again for sure, I'm getting more excited for a well flavored low booze brew these days then the big fuck off DIPA's and RIS's I've been grooving on for so long, perhaps my livers drawing its line in the sand
963 characters
3.53
/5
rDev
-3.8%
look: 4 | smell: 3.5 | taste: 3.5 | feel: 3.5 | overall: 3.5
The third beer tasted, by half-pint, at the Land of Liberty's Easter Beerfest., 13/04/06. Served by a handpump.
A: dark straw colour, coming with a fluffy beer head and low carbonation.
S: sweetened orange hops along with more flowery+floral hints of Goldings rest on a mildly sweet malty base. Smelling very fresh and the hop entry is the main key to the pleasant aroma.
T: floral hoppyness dominates the palate, leading towards a lingering bitter, dryish and "crisp" aftertaste. Slightly sour maltiness sustains quietly at the back of the palate, along with a lingering hop aroma hovering all over the mouth--the hoppyness "feels" better than the taste (if that makes sense?!).
M&D: overall, a fresh, light-bodied, floral hoppy, very drinkable traditional bitter.
771 characters
Side-Pocket For A Toad from Tring Brewery Company Ltd.
3.67
out of
5
based on
9
ratings.