L'amère à Boire

L'Amère à Boire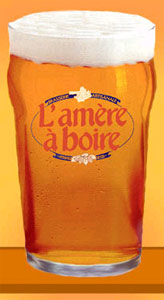 Write a Review
Beer Geek Stats:
| Print Shelf Talker
Style:

ABV:

5%

Score:

Avg:

3.82

| pDev:

12.04%

Reviews:

12

Ratings:

From:

Avail:

Rotating

Wants

Gots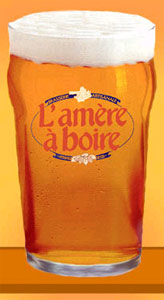 Notes: L'amère à boire is a typical English beer. Its orange and red hue gives it a luminous quality. The nose reveals a delicate floral aroma and the taste is sharp and bitter coupled with a delicately fruity flavour.

The eponymous beer is refermented in the cask, hops are added cold and it is served with a hydraulic pump, as it would be at pubs in England. The result is a beer that is smooth and aromatic, with a taste that is perfect for those who appreciate the flavour of hops.
Reviews: 12 | Ratings: 22
3.44
/5
rDev
-9.9%
look: 3.5 | smell: 3.25 | taste: 3.5 | feel: 3.5 | overall: 3.5
Cask at L'Amère à Boire, Montréal, QC, Canada
A: The beer is clear dark amber in color and has no visible carbonation. It poured with a quarter finger high beige head that never completely faded away.
S: Light aromas of pale and caramel malts are present in the nose along with hints of floral hops.
T: The taste has flavors of pale malts with notes of floral hops and hints of caramel and toffee. There is a slight amount of bitterness.
M: It feels light- to medium-bodied on the palate and has a low to moderate amount of carbonation.
O: This beer is easy to drink and has a nice balance between the pale malts and floral hops.
Serving type: cask
654 characters
3.86
/5
rDev
+1%
look: 4 | smell: 3.5 | taste: 4 | feel: 3.75 | overall: 4
Had this on tap at L'amère à Boire while on vacation in Montreal with fellow beer drinker JLindros.
A - Poured into a pint glass a nice clear amber with a solid one finger creamy head that leave light lacing.
S - Aromas of caramel, touch of toffee, light hops, slightly earthy. Very English.
T - Taste is closer to the nose, but not as subdued, good light malts but a nice earthy lightly bitter hop note. Finish stays with the earthy clean hops.
M - Mouthfeel is next to no carbonation, but, then again it is a cask so that's pretty standard. It does work well with the bitterness though.
O - Overall this beer was really tasty, nice hop notes, quite pleasant.
Serving Type: Cask
691 characters
3.88
/5
rDev
+1.6%
look: 4 | smell: 3.5 | taste: 4 | feel: 4 | overall: 4
as much an amber as a pale ale to me, but that seems to be a theme in quebec so who knows. the pour is a sexy clear bronze color, hinting at red in the light, with 2 solid inches of thick frothy suds that last the whole glass. the nose indicates a balanced brew, with equal parts light amber and pale malts and delicate pine family hops. the combination is beautiful. this is a very good beer, if a bit mellow. there is a certain crispness to this that i am not used to in the style, which i find quite pleasurable. the hand pull seems to do wonders for this beer. the malts are relaxed and not sweet at all, the hops are absolutely present, but not in your face at all. the finish is amazingly clean, and the mouthfeel is fantastic with a less than medium body and a creamy texture provided by the cask. this was the best beer at this brewery, which was a really neat spot. be sure to stop in on st-denis next time you visit montreal. it was a cool place to hang and all the beers were clever and well crafted on a very small system.
1,034 characters
3.66
/5
rDev
-4.2%
look: 4.5 | smell: 3.5 | taste: 4 | feel: 3.5 | overall: 3
Serving: hand-pulled 350mL(?) in a tulip glass.
Appearance: clear, deep amber red tone with a generous one finger stark white head. Fantastic lacing all the way to the last sip. These beers receive the royal treatment in the form of beer-clean glassware!
Aroma: Fruity aromas, but surprising notes fresh biscuit in the nose. Hop present but far from pronounced.
Taste: the biscuit tones as well as caramel come through in the initial taste, but disappear behind sweet fruitiness. The sweetness is quickly leveled out by the hop notes, although they were muted in their own right and hard to discern for any specific characteristics.
Mouthfeel: A bit more carbonated than expected, rolling bubbles on the tongue that sparkle.
Drinkability: there's an argument somewhere for this as a session beer, but in comparison to other L'amère à Boire offerings that have a richer taste and a deeper level of complexity, I'd opt for trying new flavours over sessioning this one.
973 characters
4.2
/5
rDev
+9.9%
look: 4.5 | smell: 4.5 | taste: 4 | feel: 4.5 | overall: 4
Cask ale out of a beer engine is always a treat. This pint poured a little hazy, medium amber, with a dense, cream coloured cap. It had great head retention and left a thick layer of foam on the glass as the beer disappeared. The aroma was hoppy, grassy with light citrus, floral perfume, but overall fairly mild. Soft, yet solid, bitterness with a mild sweetness up front, oranges and tangerines, grapefruit, a bit of hop spice in the finish. Medium to light bodied with low carbonation. Fairly dry and very smooth, well attenuated. Great texture for a cask ale. Well balanced and tasty. Hops are clearly being showcased here, but are never harsh.
648 characters
2.68
/5
rDev
-29.8%
look: 3 | smell: 2.5 | taste: 2.5 | feel: 3 | overall: 3
one pint from the cask right at the brewpub.
A: classic copper-golden coulour, nice foamy white head. a lots of head for a cask conditionned ale.
S: nice hop aroma, some fruity ester, lots of fruits
T: nice hops savor, nice cask temperature,
M: medium-bodied beer
D: nice session beer, too much esters for the style.
318 characters
3.92
/5
rDev
+2.6%
look: 4 | smell: 4.5 | taste: 3.5 | feel: 4 | overall: 4
A: Cloudy amber with a full finger of fluffy head. Leaves a decent amount of lacing.
S: Very fruity, typical of cask beers. Reminds me of pineapple juice. Requires a good swirl to bring forward but definately the best character of this beer.
T: Typical taste of cask beers, slightly fruity, mild bitterness that was a bit disappointing. The bitterness does linger on for a while but it just seems too tame.
M: Little to no carbonation, once again, typical of cask. Very very smooth with a medium body.
D: Easy to drink, there's nothing intense here.
Overall, this was enjoyable but if it could be kicked up a notch in the taste department, I would have enjoyed much more.
676 characters
3.92
/5
rDev
+2.6%
look: 3.5 | smell: 4 | taste: 3.5 | feel: 3.5 | overall: 5
An eponymous beer for this bar, but despite some good cask flavours and body it struggles to hold up against the rest of the lineup. Amber pour with a frothy white head, that capped quickly and left a little lacing. Hearty cask aroma with lightly fruity malts and distant hop notes. Carmel and fruit in the taste with a light floral touch - not as hoppy as I expected. Typical cask body and mouthfeel. Serviceable, and definitely sessionable, but as I said, compared to the other offerings this is at the lower end of the brewery's offerings.
542 characters
4
/5
rDev
+4.7%
look: 4 | smell: 4 | taste: 4 | feel: 4 | overall: 4
Served right off the Beer engine, in a pint glass, of course. The waitress asked if I understood that this was a real ale before she brought it to me. I guess she must have gotten many complaints from light fizzy lager drinkers!
Appearance: Opaque, dark orange, with that big bubble bath head that died down quickly.
Smell: Fresh apple, with a light Goldings hop finish.
Taste: Very light carbonation, with very good malty feel with lingering bittereness that sticks on the side of your tongue.
Really good stuff, and a great example of the style, that you unfortunately can't find too easily here in Montréal.
624 characters
3.23
/5
rDev
-15.4%
look: 3.5 | smell: 3 | taste: 3.5 | feel: 3 | overall: 3
In my notes I have: fairly standard. Pour when presented was a cloudy amber. Head thinned out fairly quickly. I detected some grassy hop notes in the aroma. Taste was mild and sweet. Uses Fuggles and East Kent Goldings, along with Marris Otter, Crystal and Caramel malts.
271 characters

4.83
/5
rDev
+26.4%
look: 5 | smell: 4.5 | taste: 5 | feel: 4.5 | overall: 5
A super creamy, CAMRA approved pint of real ale. This cask-conditioned beauty was presented to me with the beautiful cascade of Real Ale. The colour was a light reddish peach with a nice fuzzy white top. The aromas were very fruity, malty, and hoppy. The taste...Fruity, Hoppy, and delicious! This was my favorite beer at this brewpub for a reason. The cask version of this is incredible! The mouthfeel was super creamy, and the drinkability was just a perfect 5...
Cheers!
-F
478 characters

4
/5
rDev
+4.7%
look: 4 | smell: 4 | taste: 4 | feel: 4 | overall: 4
Another unusual offering to find in Montreal, this English Style Pale is well balanced. Employs Fuggle and East Kent Golding hops, balanced with a subtley sweet caramel malt flavor. The hop bitterness levels are low and the malt sweetness at times overpowers the hops.
270 characters
L'amère à Boire from L'Amère à Boire
Beer rating:
83
out of
100
with
22
ratings