Organic Pale Ale
| Goose Island Beer Co.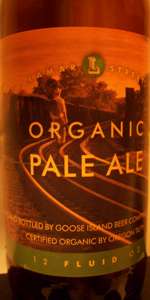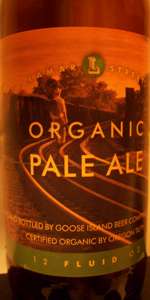 BEER INFO
Brewed by:
Goose Island Beer Co.
Illinois
,
United States
gooseisland.com
Style:
American Pale Ale (APA)
Alcohol by volume (ABV):
not listed
Availability:
Year-round
Notes / Commercial Description:
No notes at this time.
Added by beeragent on 02-10-2007
This beer is retired; no longer brewed.
HISTOGRAM
Ratings: 14 | Reviews: 13
Reviews by PaleAlien2:
2.81
/5
rDev
-4.4%
look: 4 | smell: 3 | taste: 2.5 | feel: 2.5 | overall: 3
A: Rich golden in color with a one-finger head that retains quite nicely. A great looking beer.
S: Kind of a spicy, bready aroma. None of the citrus smells that I love in American ales.
T: Where are the hops?! They just aren't there. Finishes completely flat. The beer just drops off, like walking into an empty elevator shaft.
M: A little thin-bodied. And doesn't finish as dry as I would normally like from a Pale Ale.
D: Not a fan. Kind of sorry I bought a six-pack. Maybe I can pawn the other five off on a tree-hugging friend who loves all things organic. Just kidding.
579 characters
More User Reviews:

3.47
/5
rDev
+18%
look: 3 | smell: 3.5 | taste: 3.5 | feel: 3.5 | overall: 3.5
Pours out a copper color, with the thin head leaving minimal lacing as it dissipates. Par for the course, basically.
Aroma is light, tea-like, and sugary. Somehow makes me think of the smell of a cotton-candy machine, but with a touch of bready malt.
Flavor-wise, this pale ale is predominantly on the sweeter side, balanced by ample doughy malts and lighter fruity hops. Together with the mouthfeel, which is soft and gentle (despite crispy carbonation), this is like the angel-food cake of beer: mellow, sweet and delicate...simple and uncomplicated...likeable.
Hard to be super-passionate about, but it's good and manages to exert its own unique character...for a pale ale, that's tough to do these days.
710 characters
2.88
/5
rDev
-2%
look: 3 | smell: 2.5 | taste: 3 | feel: 3 | overall: 3
OK so this beer gives a faded orange with brown haziness and very little white head and no retention. The smell is slight sweet hops and a sweet malt character that reminds me only of caramel and toffee.
Glug glug glug
The taste is kind of sweet with a pithy bitterness that's almost nonexistent. The real flavor is caramel and a light toffee like taste. The mouth feel is fine enough, all things considered. This APA is really English and kind of meek in its composition, but still better than BMC and this batch has gone a little past its shelf like, but I could understand why.
583 characters

1.46
/5
rDev
-50.3%
look: 3 | smell: 2 | taste: 1 | feel: 2 | overall: 1
12 oz bottle with a best by of 09/03/10. Pours a surprisingly hazy dark gold color with a fairly nice cap of beige foam. Retention is about average, as is the lacing.
Smells like honey-drizzled Special K cereal with a minimalistic addition of hops just to make sure it actually IS a beer. Not that it smells bad, but I expect more lupulin from a pale ale. Sweet caramel popcorn can only go so far...
Taste is heavy on the caramel buttered popcorn, diacetyl problem anyone? Really fits in better as an amber ale than a pale. It is neither pale colored, nor has any semblance of hop presence. This beer sucks balls. Who cares if it is organic if it tastes like shit? I expect much better from Goose Island than this travesty. Not quite a drain pour, but pretty damn close.
772 characters
3.5
/5
rDev
+19%
look: 3.5 | smell: 3.5 | taste: 3.5 | feel: 3.5 | overall: 3.5
Appearance: Hazy copper color, with a modest white head, slight carbonation, and abundant, fine lacing.
Aroma: Rather sweet caramel aroma, with a fairly sharp herbal hop aroma.
Taste: Sweet caramel at the open, followed by a mild wave of herbal hops, finishes sweet with a mild, lingering herbal hop bitterness. As others have noticed, the hops are more British than American in character.
Mouth feel: Smooth, full, and rather pleasant.
Drinkability/notes: Pleasant and understated, moderate in character, not over-the-top, but pleasant and drinkable.
Notes: Labeled as "Lamar Street Organic Pale Ale".
607 characters
3.15
/5
rDev
+7.1%
look: 3 | smell: 3 | taste: 3 | feel: 2.5 | overall: 4
Golden amber color with a small head and a tiny lace.
The aroma was floral,grains and caramel.
The taste started off a bit sweet then I tasted the malts and the mild hops along with a spicy tone and some bread hints.
The feel was odd.Thin and light body with medium carbonation and a good balance.Very dry finish.
Notes: Not your typical APA,and despite that very good drinkability. The finish let me down,but other than that I felt it was o.k. Would I buy it again ?
truth is I am not really sure,certainly will not go crazy looking for it.
544 characters

3.45
/5
rDev
+17.3%
look: 3 | smell: 3 | taste: 3.5 | feel: 3.5 | overall: 4
I had never heard of this beer before, so I picked one up to review. Poured from a 12oz. bottle, into a pint glass. The beer poured a light straw, settling to a hazy orange, forming a 1/4 inch head, that quickly faded. Light lacing all the way down the glass. Light citrus hops aroma. Taste is of light hops, nice citrus flavor, with an equal amount of malt. A nice balance IMHO. Light mouthfeel. Very smooth finish. Overall, a very light and smooth APA. Definitely a session beer.
481 characters

2.86
/5
rDev
-2.7%
look: 3.5 | smell: 2.5 | taste: 2.5 | feel: 3.5 | overall: 3.5
Color is light golden along the bottom, closer to orange up top, but not very dark at all. White head is alright; pretty good staying power but the lacing is really weak.
Speaking of which, the nose is as clean as any lager. A touch of sweet, pale malt, and only a hint of hops: some pepper I notice.
The flavor is quite bland, an uneventfully consumed brew made a little worse than it should have been by an unusual combination of dirt and DMS that I usually associate with skunked American macros. The hops are definitely present, just not doing much of anything. I'm about to drop in a tea bag full of hops...
Okay mouthfeel, nothing too wrong, although pretty nondescript again. It's a little hard to come up with phrases to apply to this beer, since it's so non-memorable. I guess all I can say is, don't bother.
822 characters

3.44
/5
rDev
+17%
look: 3 | smell: 4 | taste: 3 | feel: 3 | overall: 4
Bottle Inspection: Branded as Lamar St. Organic Pale Ale, best by 06/30/07 (sampled late on 09/08/07, but it is a new arrival to Texas), Notes that it is certified by Oregon Tilth (wth is THAT?) but no US Organic seal.
Aroma: Lightly musty but in a good way, earthy hop, light rain water aspect that I associate with organic brews.
Appearance: Amber gold with light haze. A very thin white cover lasts fairly long but no real lace.
Flavor: Firm tea flavor with dried orange peel. All the hops seem earthy and British, give me little of what I normally expect in an APA, I think this is much more of an English Pale Ale.
Mouthfeel: Low carbonation helps drinkability, mild pucker on the finish.
Overall Impression: Easy drinking, this could be a nice session beer. Definitely on the British side of Pale Ale. I was happy to drink this.
Thanks to Pegasus for the sample
874 characters
3.28
/5
rDev
+11.6%
look: 4.5 | smell: 4 | taste: 2.5 | feel: 3.5 | overall: 3.5
Noticed some lonely bottles and picked them up. Looked like good easy drinking. Best by date of 10/5/08.
A - Poured into a pint glass. Head is quite good and lacing is intricate and very well-formed. Typical attractive medium-amber pale ale body. Looks great in the glass.
S - Simple but effective. Sweet tea-cake malt, and a light, sweetly floral hop.
T - After the attractive appearance and aroma, now I know why this has not been rated higher. It's not exactly a conformist American Pale Ale...I almost want to say that it is all too balanced to be an APA; it's more of an ESB. The floral hops are there providing some nice flavor, but the malt backing has a sweet sugar-cookie taste that doesn't rend this to style. That said, I dig it, but if we are rating according to style, it isn't really what it purports to be, so I'll knock it down a few notches in the most important category.
F - Has a resiny, slightly sticky feel. I feel the hops a bit more than I taste them, if that makes any sense. Interesting feel for a pale.
D - It's not going to be anyone's idea of an American pale ale, as it is too balanced and sweet, but it's certainly drinkable to my taste. I won't turn one down.
1,196 characters
2.92
/5
rDev
-0.7%
look: 4 | smell: 2 | taste: 3 | feel: 3 | overall: 3.5
Picked this up last week down at the Whole Foods on Houston St. and the Bowery in New York City. I was looking for another beer, and ended up getting this since they were out of what I was seeking, and none of Goose Island products are available here in Jersey. As much as I love the GI beers that I've drank in the midwest, this is a bit of a letdown for me. Yes, it's a pale ale, but that's being a bit generous...
The pour looked very promising, as this brew had a wonderful, glowing amber hue to it and a head that was average in size, if not in it's duration. There was absolutely, positively NO aroma to this whatsoever, and the mouthfeel isn't very far behind it. There's some liight citrus here and a bit of tea, like another reviewer found, but the flavor isn't appealing or long lasting, and the aftertaste is that of a metallic nature - very sharp and shallow. There aren't any pine, deep citrus, or cascade-hop flavors that I normally associate with APA's, and this was a pretty shallow beer to drink. It's even a bit malty if I take my time with each sip, but is that one wants when drinking a brew of this style?
I'm not sure what the % ABV is, but this seems to be a *fairly* decent session beer. Goose Island, if you're listening, I'd go out to the midwest again to see Minor League Baseball and taste #23's beer again, but this needs a rework. It's to be commended for being organic, but that's about where it ends. Give me some depth and hops - I know ya can do it!
1,487 characters

2.74
/5
rDev
-6.8%
look: 3 | smell: 4 | taste: 2 | feel: 2 | overall: 3
Orange-copper color. A little hazy.
Poured into a pint glass. Two fingers of thin, foamy head.
Smell isn't bad. A little hoppy, a little sweet malt.
Flavor is lacking. Thin. Watery apricots on the front end. Malt on the rear. Barely any hops at all.
Mouthfeel is also thin. Carbonation dissipated quickly and beer seems flat.
Unimpressive. Expected a lot more from a Goose Island brew.
393 characters
2.19
/5
rDev
-25.5%
look: 3.5 | smell: 2 | taste: 2 | feel: 3 | overall: 2
Bright tangelo with clover honey trim. A few steady streams of bubbles feed the underside of an acceptable looking chunk of manila colored foam that leaves a tattered necklace of lace as it begins to deflate. No surprises here (in either direction).
The aroma is curiously lacking. I had hoped to be able to tell if American hops or English hops have been used (since I couldn't find that information anywhere), but no such luck. This bottle is still more than three months from its 'best if consumed by' date, so age can't be a factor. Where the hell are the hops?
I didn't see the words 'Goose Island Beer Company' on the label until several minutes ago. At that point, my guarded expectations turned to high expectations. My first mouthful of Organic Pale Ale takes me all the way back down to dashed expectations and 'don't expect much'. Is this the same brewery that's responsible for Goose Island IPA and Stockyard Oatmeal Stout?
I'm reluctant to blame the organic nature of the beer, but, dammit, I've had too many organic ales that have had this same vegetal, clay-like flavor underpinning whatever else is going on. Are we sure that pesticides weren't used? Maybe they should have been. This might be the most hop-deficient APA that I've ever had. I think someone was either asleep or was using the head when it came time to add the little green cones to the kettle.
The mouthfeel, although a trifle thin, isn't too bad. I'm trying my damnedest to factor out the disagreeable flavor in order to focus on the mouthfeel, but I'm not having much luck. The amount and feel of the carbonation is neither a positive nor a negative.
Organic Pale Ale is one of the most disappointing APAs in recent memory. Or not so recent. It's a good thing that Goose Island appears on the label in easily missed small print. If I was them, I'd remove it entirely. I'd then get to work making the major changes that are needed to turn around what is, by far, the worst GI product to have ever entered my glass.
2,003 characters
Organic Pale Ale from Goose Island Beer Co.
Beer rating:
2.94
out of
5
with
14
ratings