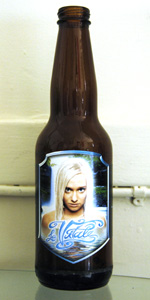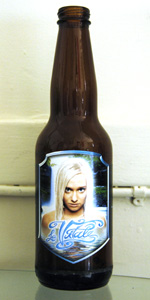 BEER INFO
Brewed by:
Le Grimoire
Quebec
,
Canada
brasseriegrimoire.com
Style:
American Pale Ale (APA)
Alcohol by volume (ABV):
5.00%
Availability:
Year-round
Notes / Commercial Description:
No notes at this time.
Added by Tim2000 on 12-22-2006
HISTOGRAM
Ratings: 11 | Reviews: 8
Reviews by Molson2000:
More User Reviews:
2.81
/5
rDev
+16.6%
look: 3.5 | smell: 2.5 | taste: 3 | feel: 3 | overall: 2.5
Ehhh...So this smells like Budweiser. I got a second opinion on this one as well to confirm, indeed, something like budweiser. Also way too carbonated and no real outstanding flavor profile either. I picked this up while in Quebec without doing my homework ahead of time, fail.
277 characters
1.5
/5
rDev
-37.8%
look: 1.5 | smell: 1.5 | taste: 1.5 | feel: 1.5 | overall: 1.5
Bottle: Poured a dirty blonde color ale with a huge white ale with great retention and great lacing. Aroma of weird grainy taste is not really enjoyable and no hops were discernable. Taste is also a mix between some astringent grainy malt with very little other characteristics discernable. Even thought the brewery is not known for the best offering this has to be one of the worst.
383 characters
2.85
/5
rDev
+18.3%
look: 3 | smell: 3 | taste: 3 | feel: 2.5 | overall: 2.5
Bottle- A deep gold pour is topped with a thick white froth. Mild fruity aromas, a bit grassy, grainy, some yeast. Sweet grainy flavour profile is balanced with mild bittering grassy hops. White plum and a bit of yeast too. Creamy and thin finish, light body.
259 characters
2.42
/5
rDev
+0.4%
look: 2 | smell: 2.5 | taste: 2.5 | feel: 3 | overall: 2
The ale is clear light yellow, has a low white head that leaves no lacing and has small curtains.
Smelling of egg and boiled vegetables.
Tasting of sweetish white bread, some tea and boiled carrots.
Little carbonation, a fresh texture and a medium body.
Could maybe be an alternate lawn mower beer, if cold enough.
318 characters
3
/5
rDev
+24.5%
look: 3 | smell: 3 | taste: 3 | feel: 3 | overall: 3
2.61
/5
rDev
+8.3%
look: 3.5 | smell: 2.5 | taste: 2.5 | feel: 3 | overall: 2.5
Appearance: Poured into a clean, room temp pint mug, it produced the thickest head I have ever seen. A big billowing monster that filled the mug before I had half the beer poured. I let it settle and poured the rest of the beer in small stages. Colour is cloudy dark straw yellow with little peppery floaties throughout. The lacing was constant throughout the drinking.
Smell: Hard to find through the foam, but after it settled, I detected a sharp sour lemon, hops, grassy aroma. My nose isn't keen enough to pick out others.
Taste is astringent, sour citrus, wheat, pepper and grassy.
Mouthfeel is fizzy, thin, dry. Medium light body.
This is not a favourite, but not a sink pour. The lable has a sexy picture of a blue-eyed blonde girl. And a 9 line poem about the fountain of youth. The best part of this beer is the label for my collection.
846 characters
3.06
/5
rDev
+27%
look: 4 | smell: 3 | taste: 3 | feel: 3 | overall: 3
Underfilled 341ml bottle sent to me by matt via CanBIF3. Thanks! Poured into a pint glass. Sexy label!
Pours with a 3/4 inch head, medium carbonation, lots of lace. Unfiltered with some floating yeast chunks. Looks almost like a witbier, blond and white with some golden straw colouring. It looks nice but certainly not like an APA if that's what it is. Nose isn't saying APA to me either. There's some peppery spice, coriander, clove, and almost cheesy barnyard note with some cellar mustiness. Not mindblowing, and there's certainly little if any hops to be detected, just a bit of earthiness.
When this beer hit my palate it was one of the most confusing experiences of my life. It's almost like a homebrew experiment, not a legitimate stab at an American Pale Ale. Here's what I'm tasting and you tell me if it makes any sense: First off is a distinct smokiness, not as strong as a rauchbier, say, but it's definitely there. Some lemony sourness, most definitely wheat in the malt, some pepper, clove, granny smith apples, cheese. Earthy notes about, along with that barnyard element that showed itself in the nose. Smoky/sour cheese with a bit of a metallic twang in the aftertaste and pretty dry. Carbonation isn't obnoxious, and the body is medium-light.
I'm at a loss of how to review this. As an APA it gets 1's across the board because that's not what it is. As a homebrew it would get 4's for being a fun mashup. I'm going somewhere in between.
If I would have tasted this blindfolded I'd have guessed Saison, Witbier, Hefeweizen or Rauchbier (ok mybe not Rauchbier). The right answer is all of the above.
1,630 characters
1.34
/5
rDev
-44.4%
look: 3 | smell: 1.5 | taste: 1 | feel: 2 | overall: 1
bouteille brune de 341ml.
belle présentation !
elle se présente sous une couleur blé, elle a des particules en suspension,
nez peu invitant de médicament (iode) et goût tout aussi peu agréable de médicament. probablement du à une infection lors du brassage. mauvaise bière.
285 characters
2.19
/5
rDev
-9.1%
look: 4 | smell: 2.5 | taste: 2 | feel: 1.5 | overall: 2
Sampled on-tap at the brewpub.
Straw yellow brew with a decent white cap. Some lacing.
Aroma is faintly grainy.
Taste is quite sweet and grainy with hardly any hops. No alcohol is detectable. Watery with moderate carbonation.
This beer is the definition of bland.
275 characters
Vitale from Le Grimoire
Beer rating:
2.41
out of
5
with
11
ratings