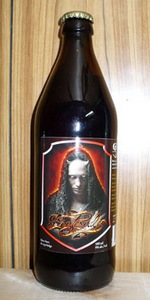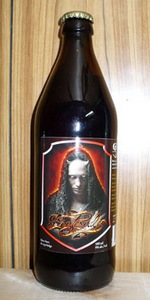 BEER INFO
Brewed by:
Le Grimoire
Quebec
,
Canada
brasseriegrimoire.com
Style:
Belgian Strong Dark Ale
Alcohol by volume (ABV):
9.00%
Availability:
Rotating
Notes / Commercial Description:
No notes at this time.
Added by Quej on 03-02-2008
HISTOGRAM
Ratings: 8 | Reviews: 6
Reviews by Quej:
2.28
/5
rDev
-10.2%
look: 3 | smell: 2.5 | taste: 2 | feel: 3 | overall: 2
A - Came in a giant 6L contraption with its own tap. Looked a Dark orangey brown with so much frothy head it boiled over on to the table like a gradeschool science project.
S - Tinny scent of canned corn and some dark malts with a tinge of sour yeastiness.
T - Tastes of metal and copper, with alcohol and lots of yeast. A fairly long aftertaste quite drying from the %ABV. Not many strong flavours and some odd medicinal ones to boot.
M - Rather watery considering how foamy it was.
D - Had a hard time finishing a pint. Good thing we were 12 people finishing this giant monster of a vessel.
597 characters
More User Reviews:
2.91
/5
rDev
+14.6%
look: 4 | smell: 3 | taste: 3 | feel: 2.5 | overall: 2.5
Thanks Phy21ca for the extra. Pours dark brown with lots of white head that leaves abundant white lace. Yeasty but also boozy aroma, creamy mouthfeel. Sour taste, cushioned by the mouthfeel, but still sour that sours and dries the mouth. Still some cherry and dark fruit there. Burns as it goes down.
300 characters
2.6
/5
rDev
+2.4%
look: 2.5 | smell: 2.5 | taste: 2.5 | feel: 2.5 | overall: 3
Bottle: Poured a clear light brown color ale with a large foamy head with good retention and no lacing. Taste is a weird mix between a Belgian ale base with some dry fruits and some sweet malt note which is probably potent own its own with some dry bitter US grown hops with no floral notes. The mix is not the greatest for sure. Medium filtrated body with some good carbonation and no apparent alcohol. Not the worst from this sometime suspect brewery but definitely a failed experiment.
488 characters

2.15
/5
rDev
-15.4%
look: 4.5 | smell: 2 | taste: 1.5 | feel: 1 | overall: 3.5
A: very nice dark orange/red ale. Very nice creamy and big head that lasts a long long time. Beautiful beer.
S: Really weird acid taste making me think of some kind of fruit beer. Nothing representative at all for the style. Also, it really isn't smelling anything else.
T: A little bit sweet (caramel) and that's bout it. I really had the feeling of drinking pop water with just a little bit of caramel. It really doesn't taste like any other beer of the style.
M: Watery and exaggeratedly high carbonation. Nothing good to say.
D: It tastes nothing, so it is easy to drink. But it is soo frustrating!
606 characters

3.24
/5
rDev
+27.6%
look: 3 | smell: 3.25 | taste: 3.25 | feel: 3.25 | overall: 3.25
Beer bottle (50 cl.) purchased from La Cervoiserie, and tasted in 2014.
Appearance : copper dark amber color, with a small tan foam head.
Smell : roasted mail aromas.
Taste & mouthfeel : watery, with alcohol presence in finish.
Overall : an average beer in the Belgian style Strong Ale.
287 characters
3.15
/5
rDev
+24%
look: 3.5 | smell: 1 | taste: 4 | feel: 3 | overall: 4
Well... I see that the reviewers that preceded me both agree : This beer sucks... But I found out that it is to my liking actualy.
On appearance, it looks like a mix between Canada Dry and Pepsi, good dark color and a golden aura. I've seen worst in great beers so it's not on that you'll solely judge a beer.
Smell... Geez, that's was a surprise: almost like cider or a vinegar or even a wine gone bad... I hesitate to even taste it... If it tastes anywhere near that smell, I'll order some fries to dip them in...
Taste: What a surprise!!! Not a iota of bitter or acid taste associated with vinegar. Actualy, it's quite sweet. A hint of caramel is present too... Not disapointing at all.
Mouthfeel: Carbonation is not very present in the final stages so it's rater flat. Nonetheless, it's ok.
Drinkability: No problem on that part. You can actualy get drunk with that beverage. It's that good...
903 characters
Infernale from Le Grimoire
Beer rating:
2.54
out of
5
with
8
ratings