Sterling Premium Pils
| Upland Brewing Company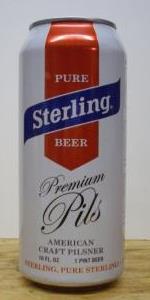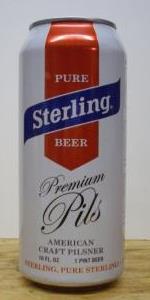 BEER INFO
Brewed by:
Upland Brewing Company
Indiana
,
United States
uplandbeer.com
Style:
Czech Pilsener
Alcohol by volume (ABV):
not listed
Availability:
Year-round
Notes / Commercial Description:
No notes at this time.
Added by Retroman40 on 12-26-2013
HISTOGRAM
Ratings: 12 | Reviews: 7
Reviews by secondtooth:

3.68
/5
rDev
+5.7%
look: 3.5 | smell: 3.5 | taste: 3.75 | feel: 3.75 | overall: 3.75
This is a re-tooling and reinvention of the classic Louisville KY/Evansville IN "working class" adjunct lager beer, now from a craftier direction.
Pours from the ingenious flip-top pint can/drinking vessel into my glass a light golden with a thick head of white carbonation. Lace is spoke-like. Not bad.
Aroma is typically grainy malts. I get some corn and wheat. Again, typical and certainly not repellant.
Taste is naturally heaviest on the grains and malts -- but with a slight citrus hops bitterness at the finish. Really, this one won't wow anybody, but it's a damned solid pilsner and one that I'll gladly enjoy again.
627 characters
More User Reviews:

3.6
/5
rDev
+3.4%
look: 3.5 | smell: 3.5 | taste: 3.75 | feel: 3.5 | overall: 3.5
Sterling is an old brand from the Evansville Brewing Co and later G. Heileman. It didn't have the best of reputation in the past. Fortunately this reboot is nothing like the original.
A - Pours a straw color; very clear. Good one finger head that falls down to a long lasting thin head.
S - Hint of citrus along with some grain/malt. Very light overall.
T- Almost a "tangy" taste. Good malt start with an almost citrus like finish.
M - Very "thick" for a lighter beer. Good carbonation helps balance out the malt and hops.
O - This beer meets the definition for a Czech style pilsner. It comes in a can that the whole top comes off making it very easy to pour without too much air getting into the stream. I really like this beer and hope it stays around.
760 characters
3.12
/5
rDev
-10.3%
look: 3.25 | smell: 3 | taste: 3 | feel: 3.5 | overall: 3.25
Golden color yields a bright white yet fizzy head. Nothing but light cereal grains in the nose. The flavor is clean and crisp but one dimensional with a malty grain. The feel is rather smooth, very crisp but not overly carbonated. This is a decent thirst quencher but certainly not a craft beer geeks beer.
306 characters
3.53
/5
rDev
+1.4%
look: 4 | smell: 3.5 | taste: 3.5 | feel: 3.5 | overall: 3.5
A: Pours a crystal clear medium yellow in color with significant amounts of active visible carbonation quickly rising from the bottom of the glass and a hint of golden yellow highlights. The beer has a two finger tall dense foamy white head that slowly reduces to a very thick film covering the entire surface of the beer and a thick ring at the edges of the glass. Light amounts of lacing are observed.
S: Moderate aromas of grainy malts with a light amount of sweetness. Hints of grassy and herbal hops.
T: Upfront there are moderate flavors of grainy malts with a light amount of sweetness and a touch of pilsener malts. There is a very light amount of light fruit (apple) and a light amount of grassy + herbal hops which imparts a light amount of bitterness which fades pretty quickly.
M: Just shy of medium bodied with moderate amounts of carbonation. Crisp.
O: Not anything exciting but a very decent beer to drink. Crisp and refreshing. Would be a nice beer for mowing the lawn of grilling.
1,001 characters
3.24
/5
rDev
-6.9%
look: 3.5 | smell: 3.25 | taste: 3.25 | feel: 3 | overall: 3.25
When you hear "Sterling", you hear an echo of your dad's voice- one that brags about the quality that should succeed that of the bland Industrial lagers of the time. But after its defunct heyday, what does this reinvigorated spirit do in today's craft beer market?
The German-style lager pours with an elegant golden-straw appearance that simply gleams in the glass. Its steady streams of carbonation ensures a racy exuberance to fuel its creamy head. Speckled lace trails in the beer's wake and the beer fades. It's fine looking lager that does its work, but with out any real standout qualities.
Its aromas are partly-malty and partly grainy as the scent of fresh baking breads and damp husk rusticity suggests both earth and sweetness. Its light honeysuckle, apple and lemon add as much of a sulfur note as its does of fruit. Herbal components of lemongrass, straw and fresh-cut grass add to the beer's Germanic roots.
To taste, the rush of bread and grain sweetness meets and light starchy taste to ensure an old-world taste with modern day softness. The beer is pleasant with a blend of the starchy sweetness seemingly of baguette and pasta but the earthen elements of husk and spicy hops create a dialogue that balances out wonderfully. Lemon, apple and light matchstick sulfur give a crispness to the beer to signal its comfortable closure.
Its body is crisp, clean and only mildly astringent. It has some rough grain elements that limit its drinkability. Yet its "scrubbing" character proves to be lightly abrasive but is lightened by its expressive carbonation. A lot of back-and-forth happens as the beer dives into a minty-warm finish.
Sterling Lager is the standard lager that can always satisfy the thirst but will never create any element of intrigue or excitement. Its a comfortable taste that will satisfy the thirst at any summertime ballpark or picnic. It simply fits like a glove for all of us. But don't expect it to win over the staunch craft beer connoisseur.
1,986 characters



4
/5
rDev
+14.9%
look: 4 | smell: 4 | taste: 4 | feel: 4 | overall: 4
This is arguably the best pilsner that most people will ever have the joy of trying. The taste is unusually complex for a pilsner. In my mind, it all has all of the enjoyable qualities of a pilsner and none of the bad ones.
225 characters

3.05
/5
rDev
-12.4%
Pours a chill hazed lemon with a fruity white head. Aroma is crackery grain and metallic notes. There's a touch of floral, peppery, earthy hops. Flavor is grainy, lemony, and slightly sweet, which was unexpected. Earthy, minerally hops linger in the aftertaste. The sweetness didn't belong, and it's not as crisp as I'd prefer. Becomes earthy and metallic.
356 characters
Sterling Premium Pils from Upland Brewing Company
Beer rating:
3.48
out of
5
with
12
ratings