Fauerbach Amber Lager
| Fauerbach Brewing Company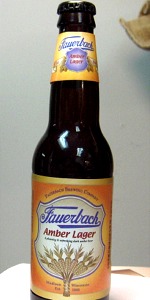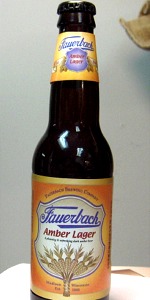 BEER INFO
Brewed by:
Fauerbach Brewing Company
Wisconsin
,
United States
fauerbachbrewery.com
Style:
Vienna Lager
Alcohol by volume (ABV):
not listed
Availability:
Year-round
Notes / Commercial Description:
No notes at this time.
Added by cokes on 09-08-2005
HISTOGRAM
Ratings: 12 | Reviews: 12
Reviews by beveragecaptain:
3.8
/5
rDev
+13.8%
look: 4 | smell: 4 | taste: 3.5 | feel: 4 | overall: 4
12 ounce bottle. Fauerbach Amber pours out a brilliant amber color topped with half an inch of foam that quickly fades to a thin layer. The aroma is caramel, grain, and apples. It's a smell I very much associate with the Fall season. Sweet caramel flavor with some herbal, spicy characteristics. There's a lot of fruit flavor for a lager. The finish is dry and spicy. The only problem with this beer is a slightly stale flavor, although I believe this beer to be quite fresh. Medium mouthfeel. Drinkability is good. Overall, this is agood amber lager.
551 characters
More User Reviews:
3.31
/5
rDev
-0.9%
look: 4 | smell: 3 | taste: 3 | feel: 3.5 | overall: 4
Very similar to tap Leinie's Red.
Lots of Brown sugar and corn syrup. Pretty Sweet.
The flavor improves slightly as it warms and the beers grows slightly more caramely.
Very nice, deep red-amber color.
Medium bodied. Slightly grassy.
Very drinkable and an easy beer for non-BA types to enjoy.
307 characters
3.53
/5
rDev
+5.7%
look: 4 | smell: 3.5 | taste: 3.5 | feel: 3.5 | overall: 3.5
Contracted by Gray's for the newly resurrected Fauerbach Brewery out of Madison.
Pours a clear and deepening scarlet copper with a study mound of sepia on top.
Scented sweetly, all wafer cookies, fudge-caramel candies, and straight brown sugar.
And, tastewise, it begins analogously. Caramel corn, and Kit Kats, and nougat, dashed with a fleeting sense of fudge. Sweetness lingers in a lightly scored brown sugar essense, as it drifts through an otherwise clean and clear middle. Hopping is downplayed, but minor grassy inflections provide some dryness, though this remains sugary through the swallow.
Medium bodied with a guilding, residual thickness. Drinkable, for sure, in short runs at least.
This based on a (so-called) area classic, and is probably best viewed as a Dark Macro Lager. There is definitely corn here, and it is generally geared too sweet. But it is drinkable, and has some roots in the Münchner style of dark lagers.
944 characters
3.15
/5
rDev
-5.7%
look: 3 | smell: 3 | taste: 3 | feel: 3.5 | overall: 3.5
$2 micro bottle night at the Come Back In.
Pours a standard amber-lager light amber, minimal khaki head. Nose is biscuit-y malts, floral hop and apple ester. Flavor is your standard amber lager recipe: start with doughy, caramel malt, add a dash of hop bitterness and splash of apple-skin/fruity ester to taste. Mouthfeel is slick and chewy yet drinkable with bubbly carbonation. I have never been wowed by any amber beer, lager or ale. They tend to be the most boring beer a brewery makes. I have not had any other Fauerbach brews, but I would bet this is a safe assumption. Not bad, not great, it's beer....NEXT.
617 characters
3.48
/5
rDev
+4.2%
look: 3.5 | smell: 3 | taste: 3.5 | feel: 3.5 | overall: 4
12oz single, Steve's-University Ave
Website indicates this stuff became available today even though I bought it 2 days ago...brewery has been closed for 40 years. Website calls it a vienna style amber
appearance: pours a clear dark amber-mahogany, small amount of white foam forms with very little lacing...clean and clear but uneventful looking
smell: a little grainy, sweet caramel malt, grassy and herbal...plenty of apple sweetness
taste: uneventful but not a bad amber...taste is a little watery...sweet caramel apple malts, slightly spiced hops...apple, pear...plenty of dark grain
mouthfeel: medium body, adequate carbonation
drinkability: only in madison do the run down college bars offer local alternatives...if this joins the spotted cow, fat squirrel, sprecher amber, and capital amber of the world it should do well for itself
857 characters
3.06
/5
rDev
-8.4%
look: 3.5 | smell: 2.5 | taste: 3 | feel: 3.5 | overall: 3.5
My dad came down for the Indiana Microbrew Festival and paid for use of the guest room with some beer from Fauerbach Brewing. I had never heard of this brewery before I was handed a bottle each of their Amber and Export beers. A quick look around their website indicates they have been brewing for 121 years now and are located in Madison, WI. But the bottle itself states that the beer is brewed and bottled by Gray's Brewing in Janesville, WI. Well I have had Gray's before at a Wisconsin microbrew festival held yearly in Chilton, WI, so I figured this was a good sign.
So I cracked the bottle of Fauerbach Amber tonight and it poured a fairly dark reddish brown with about a finger's worth of cream colored head. Within moments that head was dissipating quickly and there was really no lacing to be found on the glass. The aroma seemed just a bit musty and actually reminded me more of what I would expect from a canned beer then a bottle, but then a subtle nuttiness emerged. I am still fighting off the remnants of a summer cold, so I don't really trust my judgement on how the aroma of this beer really was.
Taste on the other hand has been working fine. And this beer definitely had some nut flavors mingling around with a mild bitterness from the hops. I actually got a fairly strong citrus presence towards the end of a swig, more like lemon then anything else. This gave the beer an overall dry and semi-bitter finish, but not at all unpleasant. For as dark as the beer was, this has a nice light body and is surprisingly refreshing.
All in all I enjoyed this beer, but I won't be making any special trips to Chicago to buy any, which is as close as it is distributed to Naptown. Depending on the cost of a sixer, this would make a pretty nice session beer.
1,772 characters
2.61
/5
rDev
-21.9%
look: 3.5 | smell: 2.5 | taste: 2.5 | feel: 3 | overall: 2.5
Says brewed by Gray's on the label, but also says Amber lager, which the other BA Fauerbach listing didn't. From the reviews, I'm guessing these are the same beer.
Deep amber with a good dash of red. Fine beige head settles to a thin, incomplete cap.
Nose is sweet crystal malt, with a tinge of burnt caramel. Touch of bready malt comes through as it warms. Not very complex, and a bit cloying.
Thankfully not as sweet in the mouth as the nose promises. It's medium bodied, with diffuse sweet caramelly malt notes. There is a touch of burnt sugar as well. Tastes as if someone watered down the nose by about 50%.
Mouthfeel is fine, doing nothing to noticeably add or detract from the experience. Pretty one dimensional, and that dimension happens to be one not favored by this taster.
796 characters
3.58
/5
rDev
+7.2%
look: 4 | smell: 3.5 | taste: 3.5 | feel: 4 | overall: 3.5
Pours a clear, amber color. 3/4 inch head of an off-white color. Great retention and decent lacing. Smells of hops, yeast, sweet malt, and toffee. Fits the style of a Vienna Lager. Mouth feel is smooth and slightly thick with an average carbonation level. Tastes of yeast, sweet malt, toffee, and hops. Overall, a decent vienna that is just a little too sweet.
360 characters
3.47
/5
rDev
+3.9%
look: 3 | smell: 3.5 | taste: 3.5 | feel: 3.5 | overall: 3.5
A - Poured out a clear, pale, amber color with a very small, thin, foamy head. It left no lace.
S - It smelled of caramel and malt. Not much else. It wasn't a great smell but it wasn't offensive either.
T - It tasted fairly malty with caramel notes and mild grassiness. There were also some barley and grain flavors.
M - It was crisp and sharp. A light bodied beer.
D - This is an okay vienna lager. Not the best but very drinkable.
436 characters

2.88
/5
rDev
-13.8%
look: 3 | smell: 2.5 | taste: 3 | feel: 3 | overall: 3
Pours deep amber with a slight head and slight lacing. Smells of malts and apricots, and light hops. Finishes well with smooth aftertaste. Good flavor just not a lot of flavor. Good for a lager.
Purchased at Steve's liquors in Madison, WI. On my DLD travels
258 characters
3.55
/5
rDev
+6.3%
look: 3.5 | smell: 3.5 | taste: 3.5 | feel: 3 | overall: 4
Dark bronzed orange with tangerine peel edges. So much for the 'dark amber beer' that the label advertises. The cap is lightly toasted oatmeal in color and has enough firmness to remain at a few fingers for a few minutes. Very little lace. I don't drink this style often enough to know if this is a representative appearance or not.
The nose is solid with no real missteps as far as I'm concerned. I expected a generously toasted grain-like nose and that is exactly what I got. Mildly spicy, mildly musky, probably Euro hops are underplayed while still making a valuable contribution. Not bad, not bad at all.
This is decent beer that plays by the style rules without even hinting at coloring outside the lines. The flavor is reminiscent of brown bread toast sprinked with tea leaves. In some respects, it tastes like an especially malty English pale ale or a not-that-bitter English bitter. Good use of hops in terms of flavor though.
It's also sweeter than expected; so much so that sweet and bitter are present in roughly equal proportions. Whether that degree of balance is usual in a Vienna Lager, I couldn't say for sure. This is a rather simple beer, but is definitely a flavorful one that is unlikely to offend anyone who actually appreciates the flavor of malt and hops in his beer.
I'm on the fence about the body. It's big enough and firm enough for the style, but feels a little lackluster in the mouth due to a suboptimal degree of carbonation. That isn't usually a problem for me, but in this case a doubling of the bubbling would go a long way toward increasing mouth interest.
Does the Fauerbach Brewery even exist? The website claims that the brewery is currently 'celebrating its 119th year of brewing', so it must. Amber Lager is the only beer listed under the Fauerbach heading while the label clearly states that it's brewed by Gray Brewing Company. The only other Fauerbach beer in the database is listed under the Gray BC heading. Confusion reigns.
Fauerbach Amber Lager is a creditable version of the style. Great Lakes Eliot Ness has nothing to worry about (it's still 'untouchable' as the best Vienna Lager in existence), but this barely distributed Wisconsin craft beer is still a worthwhile purchase.
2,246 characters
3.61
/5
rDev
+8.1%
look: 4 | smell: 3 | taste: 4 | feel: 3.5 | overall: 3.5
Appearance: Pours a clear, gem-quality amber body topped by a small, white head that bubbles out fairly quickly.
Smell: Aroma of toasted barley and a spicy, floral hop character.
Taste: Toasty maltiness, a hint of a grain, and a touch of sugary, caramel sweetness. Spicy, floral hop character remains light, as is any hop bitterness. Lightly sweetish finish.
Mouthfeel: Medium-thin body. Medium carbonation.
Drinkability: Sure, it's no GL Eliot Ness, but it's good enough for a little, unassuming amber lager.
513 characters
Fauerbach Amber Lager from Fauerbach Brewing Company
Beer rating:
3.34
out of
5
with
12
ratings