Destiny Brewing Company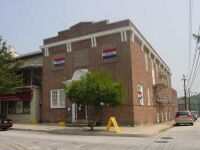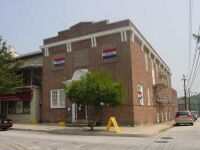 Brewery, Eatery
119 South Main Street
Phoenixville
,
Pennsylvania
, 19460
United States
// CLOSED //
Notes:
4.3
/5
rDev
+14.7%
vibe: 4 | quality: 4.5 | service: 5 | selection: 3.5
Nice little (big) place in the basement level of a multi-unit building in the heart of Phoenixville. Walk through the main entrance, turn left and go down the stairs. Walk through the doors and straigtht ahead is the bar several yards in front with a bunch of cocktal tables in-between. Behind the bar is the brewing equipment.
As I sat down I handed over my free beer glass coupon. The place was pretty empty (it was 4PM) and the bartender immediately asked what I wanted. I ordered the Sweet Stout and it was quite tasty. I'm not a huge fan of the style, but since there was no Belgian stlye offering, that was my second choice before the Pale Ale. I sat next to a beer enthusiast who had his notebook out and was writing notes. We shared some conversation and overall I enjoyed the experience. After two stouts, I called it a day and when the bartender said "two dollars please" I almost fell out of my chair.
I haven't been there on a Friday night, but their lack of food service definitely detracts from the place. Also, they while they had a good representation of the various beer styles, they lack a big beer style that will grab an enthusiast's attention, and give them a lot of exposure on a site like BA. I wouldn't have gone out of my way to visit this place had it not been in Phoenixville. Plus, with Iron Hill coming, their job will be a bit harder (or easier...?). It will be a good place to visit when going "hopping" in Phoenixville.
Good luck Guys.
1,470 characters

3.94
/5
rDev
+5.1%
vibe: 3.5 | quality: 4 | service: 4 | selection: 4
Finally, I made it to Destiny to try the beers and see what all the fuss is about. Well here goes: Destiny is easy to find just off of 23 W and hang an immediate Right up Main. I found late night parking directly out front on Texas Hold 'em Thursday Night. Destiny has an instant "Guys Club" feel as you tug open the doors and see the hanging sign that directs you to the downstairs brewpub. Interior, Destiny is a spacious one room psuedo-netherworld of breweriana memorabilia of kegs and tap handles galore! I sort of felt like a gangster in the Noble Experiment. Maybe Destiny should title a year round brew Temperance Pale Ale. Anywho...All brewing equipment is exposed to one's viewing pleasure behind the far bar. Destiny has two pool tables and three video games near the entrance. If you enjoy pool like me, the table closest to the door is in a bad position to get in good shots but there is a mini-stick to get the tight shots in. Also, for what its worth, the place was full of Texas Hold 'em players at four tables. Also cool was the t.v. that showed SlyFox commercials.
Service? Hmmm... well I walked up to the bar and was given what I ordered. That's good to me! I tipped a buck a beer with my tokens that you get for the three beers fo $10 deal.
Beer selection was kinda neat. At least it diverged somewhat away from the same old song and dance. There was a big Winter Warmer, Dry Stout, Sweet Stout, Pale, IPA, Golden, Light, and one other. Beers were easily drinkable and tasty.
Could you take your Mother here? I'd say No. It's a guys club feel, but a girlfriend would dig it. Sorta like a cool underground vibe.
Last call: Destiny has solid promise. If they keep up their impressive variety and offer one killer brew like General Lafayette Phantom or SlyFox's 113, this place will become entrenched on the map. Looing forward to another visit to re-evaluate.
1,892 characters
2.93
/5
rDev
-21.9%
vibe: 3 | quality: 1.5 | service: 4 | selection: 3.5
Destiny is right in my backyard and I just went there for the first time recently. I don't know what took me so long, but I wish I waited longer. I was quite disappointed with my experience. First the grill is closed for another week and a half so no food is available right now. I order a round and the service is good and the beer prices are reasonable ($3.50 for a pint $10.00 for 3), which includes all beers even the 7.5% Holiday ale, which I had. The beer was overwhelming on the clove making it not the best holiday ale I've ever had, but it shows promise. Subsequent beers go down from there. The stout was almost watery, the IPA had very little bitterness for supposedly having 70 IBUs, and the ESB was sickening sweet. There really wasn't a beer I liked that I tried. I can't say I'll be making it back until they learn how to balance there beers better. For supposedly being a place for great session beers, there was nothing I would want to even drink a full pint of. Oh well, at least there is the Sly Fox even closer to my house and we will have Iron Hill opening soon.
1,083 characters
3.78
/5
rDev
+0.8%
vibe: 4.5 | quality: 3.5 | service: 4 | selection: 3.5 | food: 4
Beers for $1.50 during happy hours (4-6 weeknights), and $2.50 after six on weeknights.
Now that I have your attention, let me clear up a misconception that has swirled around this place: Destiny serves food. You can order from a long menu of pub grub that includes burgers, wings, and other usual suspects as well as some nice BBQ options like pulled pork sandwiches and ribs. It's true that the food comes from the Moose Lodge joint upstairs, which is a separately-owned business, but whaddya care who owns what? You order through your Destiny bartender and sit in your seat until the food is placed in front of you.
Destiny's pumpkin ale may be the best I've had in the style. Put it in a steel cage with Dogfish Head's great Punkin', and I'm not sure who would win. I also had the Red Rye, which had a nice presence of rye malt and a pleasant spice kick. The IPA was more of a pale ale; it was amber with moderate hops. I enjoyed it, but I think that most breweries would label this one a regular pale, reserving the IPA label for a brew that was hoppier and had a higher ABV.
Destiny is going for session beers. The highest ABV of any beer on tap was 5.5%, and a few were below five. As Destiny's Pumpkin Ale demonstrates, you can produce great beer with this (self-imposed?) restriction on you, although typically the beers you brew will be smooth, well-made, and highly drinkable, but not necessarily bursting with flavor. This isn't a bad thing. The place is cool (read on below), the beer is cheap, and the ABVs enable you to drink a lot of them. So the result of this strategy is that you'll drink enjoyable beer, hang out with friends for a couple of hours, and walk (not crawl) out of the place without wondering why your wallet is so thin.
[Edit: On my second visit, I tried the Cola Beer, the Amber Smoked, and the Holiday Beer. The Cola used actual cola syrup in the brewing process, and it's basically a malternative. The holiday was spiced like chai tea, and it even had some of the gentle creaminess of chai. Not very drinkable, but interesting. The Amber Smoked was pretty good. The smoked flavors provided accents to a relatively smooth and balanced brew.]
The place is in a basement (don't worry, it's clean and the ceilings are about 15-feet high) and looks like an old speakeasy or classic neighborhod barroom. Breweriana is the dominant decorative theme. There are empty kegs and brewer-branded mirrors along the right wall, with a huge row of decorative taps along the left wall. Also along the left wall, there is a chalkboard for each beer on tap, listing its name, gravity, IBUs, and ABV, and providing a brief description of the taste. There's even some industrial equipment far behind the bar to give it an authentic vibe. The music, when it's played, is at a moderate volume, and the lights are slightly on the bright side by bar standards. There are two pools tables, a few tables where you can sit, and a three-sided bar with about 18 stools.
The bartender was knowledgeable, quick with a drink, and was really easy to talk to. Like I said before, the place looks like it could be a classic barroom, and the bartender's attitude made me feel like a regular from around the corner, even on my first visit.
[Edit: The bartender on my second visit was cool and prompt, but loses some points for incorrectly answering a customer's question about IBUs and specific gravity--he got the definitions backward between the two.]
I hope you check out this place. Sure, it's in the neighborhood of Sly Fox and (soon) Iron Hill, but it's a cool place to drink a few good brews, particularly on weekday nights, when it's a little quieter and the beers are really affordable.
3,719 characters

3.5
/5
rDev
-6.7%
vibe: 3.5 | quality: 3.5 | service: 3.5 | selection: 3.5
Stopped by for the first time during my eastern PA brewpub trip on a nice fall weekend. Not hard to find at all. When we walked in I missed the sign that pointed downstairs for the brewpub so I was confused when seeing the the restaurant and no beers available. The waitress pointed us in the right direction.
Upon entering the basement level, it looked some old college hangouts I used to venture into with two pool tables, dart boards, TVs, and plenty of breweriana. The line of tap handles that line the walls were pretty unique. A large U-shaped bar with plenty of stools can handle a good size crowd.
There were six beers on tap, a golden ale, IPA, pale ale, red rye, wheat, and a stout. I had a pint of the IPA which was decent but not overwhelming, and a small sample of the pale ale which was decent too.
I did not sample any food, and on a late afternoon on a Saturday I expected a few more patrons than the few that were there. The waitresses looked quite bored, but the guy working the bar was enthusiastic but spent plenty of time cleaning up in the back.
I will check this place out again in a while, but with all the good brewpubs in the area, this place needs to step it up a bit to get into the league of Sly Fox, Iron Hill, and Victory.
1,267 characters
4.04
/5
rDev
+7.7%
vibe: 4.5 | quality: 3.5 | service: 4.5 | selection: 4
Destiny has come a long way since it's opening. The downstairs (which is really all I am reviewing) is decorated with two pool tables, a huge bar, and a ton of beer paraphanalia on the walls (tap handles, empty kegs, logo'd serving trays). I thought the downstairs atmosphere was very cool. There was a wide variety of beer on tap (8 or so I think) and one cask. Bartenders were nice and pretty helpful although they led with we have a number of different kinds of light beer...we told them good, get us the exact opposite of that. The IPA was pretty solid and most of the rest of the beer needs some work. It just wasn't memorable from a beer standpoint, but I am sure over the coming months the recipes will continue to be tweaked...or at least I hope they will. Caters a bit too much to the average joe in terms of beer, I think there is a middle ground here that they should be shooting for in order to be successful in the long term. If not, get there quick because Iron Hill is coming and could wipe these guys off the Phoenixville map.
1,042 characters
3.84
/5
rDev
+2.4%
vibe: 4 | quality: 3.5 | service: 4.5 | selection: 3.5
The brew pub is down in the basement of an old brick building, formally the Moose Club. A small game room is to your left, with a couple arcade games. A couple more steps and you're in the pub. 2 pool tables to your left, some tables and chairs to your right. Plenty of stools line the walls with your typical beer shelf running along the wall. High ceilings, currently open, shows the floor joists and some pipes etc. Don't know if they plan on closing that in, I kinda like it that way. Straight ahead is the bar. Sort of a 3 sided affair forming a square, the 4th side, the back is an open wall that once walled off the small back room which now contains the brew kettle etc. Brew collectables adorn the place from top to bottom and all the walls. Brewery mirrors, posters, signs, old kegs up high on an elevated shelf (windows way up there as well at foot level to the street above), and a long line of tap handles running along the one wall. 2 TVs on the corners of that back open wall, a juke box, 2? dart boards. A nice, old school pub feel to it.
When I went, I believe they had 5-6 brews on. Pale, Strong ale, brown ale, some sort of a light ale, a Cola ale (?) and a cask conditioned stout. The brown was poured through a sparkler, very creamy. Kinda of a cool touch. I've had 4 of Emerson's (the brewer) beers so far. All have been very drinkable with no real faults. I love the fact that they have the engine, 2 in fact, although only one had a beer on at the time.
I love the room. The kinda place to set up camp for a while, down in the cool basement, on a hot summer day and drink some English style ales. The beers I think are somewhat one dimensional so far and seem to lean towards your basics, but they just opened, so I am confident they will improve quickly, not to suggest they are not already good, because they are, indeed, solid.
1,861 characters
3.7
/5
rDev
-1.3%
vibe: 4 | quality: 4 | service: 4 | selection: 3 | food: 3.5
I wouldn't have reviewed this place if it wasn't good, being all new and everything, but it was good, so I did!
This was the old Moose Lodge in Phoenixville. Must have been pretty run down when it was bought. Still looks a little rough at spots. You enter at street level, and climb a few steps to go up to the eatery, or turn left to go down to the brewpub.
My buddy and I got there @ noon, when they were just opening up. There was a leak in one of the beer lines, and beer was on the floor. Typical startup shit. We had lunch upstairs, deli type stuff, which was good. A steady stream of locals came in for lunch takeout while we were there.
Then we went down to see the pub. Two pool tables (cool!) and seating at tables and the bar for @ 50. A CD jukebox was on the wall. with two TV's for sports and stuff. The decor is beer related breweriana type things, like tap handles and beer trays and coasters, pretty neat. The owner, Emerson Haines, and his wife Patti, were easy to talk to and knowledgeable. There was a place for live music in one corner.
The beers were clean and good. I won't review them for a few months, until they are settled in, but his stuff is definitely quaffable. I recommend this place for a visit, and I think you will enjoy yourself if you do.
The only thing to complain about would be the selection of beers, which was short because, as Emerson said, he is having trouble keeping up with inventory. That has to be a good thing, selling too much beer!!
1,501 characters
Destiny Brewing Company in Phoenixville, PA
Brewery rating:
0
out of
5
with
0
ratings