Le Brasse-Temps (Mons) / Microbrasserie Le Brasse-Temps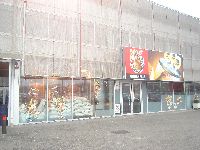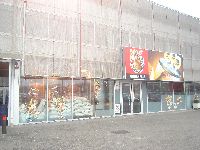 Brewery, Bar, Eatery
Complexe Imagix, Zoning Des Grand Prés
Mons
, 7000
Belgium
+32 (0)65 84 94 14 |
map
brassetemps.be
Notes:
TheLongBeachBum from California
2.61
/5
rDev 0%
vibe: 2.5 | quality: 2 | service: 3 | selection: 3
After a tour of the Distillerie de Biercée and a boozy "infused beer" session in the Grange Des Belges (see BeerFly), we headed back into Mons for the second stop of the day, a Brewery Tour of the local Brewpub; Le Brasse-Temps (Mons).
Dubuissons Second Brewpub started production in March 2003. Located in an Entertainments Complex which is next to a Shopping Mall on the outskirts of Mons, it is signposted and reasonably easy to find by Car, or Coach as was the case for us. On the same lines as the First Dubuisson Brewpub, and having visited the Le Brasse-Temps (Louvain-La-Neuve) way back in late March 2002, I had reasonable hopes for the "Sister" Brewpub in Mons, especially as Mons was also our home for the 14th Annual Wakefield CAMRA 2006 Easter Belgium Trip.
Well it all got off to a bad start; the location alone is one that is far from appealing. Granted the drizzly grey afternoon did not do much to accentuate the positive, but the Brasse-Temps in Mons is situated in a very drab Shopping Mall that has all the appeal of a visit to the Dentist. The exterior is fully glazed, in front of which appears to be a series of see-through screen type things that cover all but the ground floor. The avatar I posted looks wishy-washy, but it's the best picture of four that I took!! This place is about as photogenic as a dead Camel in a Sandstorm. Only pictures of the Trolls painted on the windows reminded me that I wasn't in a 1960's Comprehensive School back in England.
The entrance is hidden in the all glass frontage and identified by the large sign above the door and some pointing Trolls. Inside, the Brewery is to your left, the usual super-fancy highly polished Copper Mash Tun centre-piece and lots of shiny Stainless Steel tanks surrounded by neatly stacked sacks of ingredients. The bar is to your right and runs down with its back to the windowed frontage. Wooden chairs and high tables litter the front whilst there is more traditional seating area in the back area. Restrooms are at the far end, clean and tidy too.
Beer List is split into two halves…
<Les Bières de la Brasserie Dubuissoin>
Bush Ambrée 12% and Bush Blonde 10% are both available on draft, which is unusual. Prices ranged (for the 12%) from €1,50 for a 12,5cl sample, €2,70 for a 25cl glass, €4,80 for a 50cl goblet, €9,10 for a 1 litre Botte (boot) or even up to €23,90 for a massive 3 litre Girafe. The 10% was a little cheaper. Bottles of the 13% Bush Prestige were also available for €15,90.
<Nos Bières Brassées sur place>
La Cuvee des Trolls (a 7% Amber Ale), L'Ambrasse-Temps (a 5.5% Belgian Pale Ale), La Brasse-Temps Cerises (a Pale Ale with Cherries at 5.0%), La Blanche de Ste Waudru (a Wit at 4.5%) and a recent addition La Brasse-Temps Citron (a Lemon infused Blonde Ale at 5.0%).
The first group of beers comes straight from the parent Dubuisson Brewery in Pipaix-Leuze, the second listing is for the local Brewpub offerings, though it should be noted that we were told that the Cuvee des Trolls is actually from Dubuisson, and not from the Brewpub! Samplers of all are available, which I opted for. The Dubuisson brewed brews are served from the tap and they are far more palatable and clearly outshine the home-brewed offerings which were thin, insipid and extremely bland. La Cuvee des Trolls was thin and biscuity - L'Ambrasse-Temps reminded me of weak tea without the leaves - La Brasse-Temps Cerises was Amstel Light with cherry cough drops - La Blanche de Ste Waudru was Wit-less and the newly unveiled La Brasse-Temps Citron is a great home for your unused Lemsips! In short, comparing the Dubuisson brews to the local brewed ones is akin to comparing John F Kennedy to George W Bush in a public speaking contest. The Brewpub beers should maybe be branded 'Pussy' beers in order to distinguish them from the Dubuisson 'Bush' ones.
It has all the architectural merit of a run-down drug ridden Council Estate in the lower Gorbals in Glasgow. Thankfully the interior is a little more pub-like than the Brasse-Temps in Louvain-La-Neuve, one redeeming feature I guess, but that's it. The quality of the home brewed beers is exceptionally poor, laughable almost, they are all too thin, bland and served far too cold.
There is a frequent and totally free Bus Service from Mons Train Station to/from this Shopping Mall, but as far as I am aware none of our party of 30 returned here during our weekend. Less than impressive, leave this one for the thirsty Shoppers, Cinema Goers, Workers from the nearby Industrial Estate and Students from the Université De Mons next door.
Two Thumbs Down.
Last Visit: Saturday 15th April, 2006.
May 09, 2006
Le Brasse-Temps (Mons) / Microbrasserie Le Brasse-Temps in Mons, Belgium
Brewery rating:
0
out of
5
with
0
ratings