Tumaltuous Rare
| Minneapolis Town Hall Brewery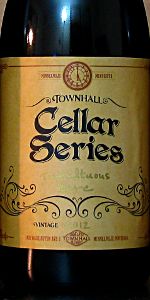 BEER INFO
Brewed by:
Minneapolis Town Hall Brewery
Minnesota
,
United States
townhallbrewery.com
Style:
Wheatwine
Alcohol by volume (ABV):
not listed
Availability:
Limited (brewed once)
Notes / Commercial Description:
Tumaltuous aged in an Eagle Rare whiskey barrel.
Added by maximum12 on 02-25-2012
This beer is retired; no longer brewed.
Reviews: 15 | Ratings: 52

4.12
/5
rDev
+4.3%
look: 4 | smell: 4.5 | taste: 4 | feel: 4 | overall: 4
750ml bottle info a snifter
A: Pours hazy golden yellow with a white head that fades to a ring and leaves some lacing on the glass.
S: The nose is full of sweet wheat and vanilla along with some hops and a bit of toffee.
T: The taste follows the nose with maybe a touch more hops but the barrel is not as prevalent as I'd expect.
M: Feel is about par for the style. Medium bodied and crisp.
O: Was really looking forward to this one and while it was tasty I was expecting a bit more.
492 characters

3.41
/5
rDev
-13.7%
look: 4 | smell: 3 | taste: 3.5 | feel: 3.5 | overall: 3.5
Reviewed from notes from our Town Hall tasting. 2012 vintage poured from a750ml bottle. Amber in color with a thin frothy head to it. Nice lacing to it.
The barrel flavors are pretty reserved in it. I get more of a hoppy bitterness to it with the wheat malts playing a pretty big role as well. I get some notes of apricots to it as well. It's a decent enough smelling wheat wine but the barrel aging didn't seem to add anything besides some brown sugar sweetness, which didn't seem to compliment the wheat malts all that well.
I get a little more of a oak and vanilla out of the barrel aging in the taste. Wheat malts are bold and good for the style. The finish thankfully brings out some bitter hops helping to balance it out a little. The barrel aging was disappointing in it though.
The mouthfeel was on the thinner side with moderate carbonation. Overall, it was somewhat of a disappointing beer given that I had high expectations. The barrel flavor was very light and what was there just didn't compliment the wheat malts very well. The sweetness of the bourbon and wheat malts together just didn't work all that well for me. It was a decent beer, but not an outstanding one.
1,185 characters

4.1
/5
rDev
+3.8%
look: 4 | smell: 4 | taste: 4 | feel: 4 | overall: 4.5
The pour is a hazed orange color with an off-white head. Sweet caramel, toffee, brown sugar, and honey. Good bourbon aroma, plenty of vanilla, and some oak. Actually a touch of hops in the background. Sweet sugar/malt flavors dominate. Heavy on the caramel, toffee, and brown sugar. As with the nose, lots of bourbon and vanilla with a light oak flavor.
353 characters

2.55
/5
rDev
-35.4%
look: 3.5 | smell: 3.5 | taste: 2 | feel: 3 | overall: 2
7/7/2012
Bottle shared by Andrew. Thanks!
A: Orangish yellow with a fizzy white head. Nice color.
S: A blast of bourbon and alcohol fumes. Brown sugar blends with vanilla and caramel.
T: Harsh and boozy. It makes my mouth hurt. Barrel phenolics, vanilla, caramel, bourbon, and more booze. Moderate earthy bitterness. Brash and boozy finish.
M: Medium body with upper low carbonation. Thin and hot.
Overall: Some nice barrel notes but pretty harsh and boozy. A nice follow-up to an infected bottle of Czar Jack.
516 characters

2.94
/5
rDev
-25.6%
look: 4 | smell: 2.5 | taste: 3 | feel: 3 | overall: 3
Clear pale amber body topped a thin head that dissipates quickly. Smells primarily of booze and sugary malt. Toffee, bourbon, a little coconut. Alcohol is dominant and harsh. Palate is a little better; still extremely boozy and sharp with a slightly thin body, but it has some decent flavors of caramel, pear and red apple. Finishes oaky, tannic, very boozy. This one was a bit messy compared to the others in the series.
421 characters

3.8
/5
rDev
-3.8%
look: 4 | smell: 4 | taste: 3.5 | feel: 4 | overall: 4
Thanks AsianZero!
A - Pours a orange/yellow color, white head, spotty lace.
S - Bourbon, sugary sweetness, coconut, fruity, oak. A decent mix of sweetness, booze, and oak. Not quite as good as the versions I've had before, but still a decent nose.
T - Burnt sugary malts, caramel, fruity sweetness, booze, oak. Just about spot-on with the nose, although perhaps a bit more booze and sweetness while the oak takes a back seat. The finish is fruity sweetness and bourbon.
M - Medium to full body, light carbonation, creamy finish.
O - A nice BA treatment from TH, but didn't really blow me out of the water. I'm a fan of the style, and I think the right amount of barrel can do a Wheatwine some good, which I think this did. I would have again, but wouldn't go crazy trading for it.
785 characters

3.96
/5
rDev
+0.3%
look: 4.5 | smell: 3.5 | taste: 4 | feel: 4.5 | overall: 4
Bottle supplied by Mike (AgentZero). Served in a Captain Lawrence tulip.
A - Big white foam settles to a big-bubbled cap, thick collar, and spotty lace. Lightly hazed golden body.
S - Lots of barrel and whiskey presence (like the rest of these MTH releases). Underneath there's some fruity yeast, wheat and bready malts, and a touch of stone fruit.
T - Taste is more balanced, with caramel, wheat, fruity notes, honey, and other typical wheatwine flavors. There's a good amount of whiskey and barrel, but it's fairly well-integrated.
M - Medium-full body, toasty and dry texture, tannic finish, medium-low carbonation. Well-hidden alcohol, which seems to be consistent across this lineup.
D - I don't generally like wheatwines, but this was fairly enjoyable and slowly won me over as it warmed up. In any case, it had the best balance, integration, and subtlety of the new releases.
887 characters

4.47
/5
rDev
+13.2%
look: 4 | smell: 4.5 | taste: 4.5 | feel: 4.5 | overall: 4.5
ABV? Served in a 10 oz chalice like glass. Expectedly hazy with a small off white head that refuses to go away. Aroma is loads of bourbon and malt upfront, with some wheat making thorough. Later on it starts to smell a lot more wheat-y. I can tell right away that this is going to be very very smooth.
Has plenty of dates, figs and dried apricot notes in aroma and especially in the taste; and an excellent bourbon character. Faint tartness, from wheat I assume. Layers upon layers of harmonious notes... every whiff and every sip is a delight.
Not too bitter, not too sweet and definitely not too tart, this is not an intense beer by any means... just an incredibly balanced, complex, and smooth strong ale that I am very glad to have had. Love it!
look: 4 | smell: 4.5 | taste: 4.5 | feel: 4.5 | overall: 4.5
815 characters

4.42
/5
rDev
+11.9%
look: 4 | smell: 4.5 | taste: 4.5 | feel: 4 | overall: 4.5
Pours a beige head. Color is a hazed dull golden orange. 
Aroma: lots of warming bourbon and oak. Vanilla and citrus fruits. Orange and wheat. Some spice. A lot of bready malts. 
Aroma: so much bourbon. The eagle rare shines nicely here. Lots of oak and vanilla. Big wheat and bready malt profile. I get a little orange peel and spice here but the bourbon takes it over.
Mf: warming and smooth. Mf b. mc. Ends dry.
O: this was a very nice beer but the barrels took over this beer a little too much. I did enjoy the barrel flavors however. Solid stuff. 
559 characters
4.1
/5
rDev
+3.8%
look: 4 | smell: 4 | taste: 4.5 | feel: 3 | overall: 4
Appearance: Arrives with a very cloudy honey color; the cap was fairly impressive and laced the glass
Smell: Bread and Bourbon, with hints of caramel and some hops
Taste: Rather sweet, up front, with the bready wheat and caramel dominating the front end until the Bourbon takes over; citrus arrives, mid-palate, with a bit of herbal flavors adding complexity
Mouthfeel: Medium to full body with low carbonation; rather chewy and flabby
Overall: While the flavors are interesting, the flabby mouthfeel makes this one less interesting than the other barrel-aged beers on tap this week at Town Hall
599 characters

4.92
/5
rDev
+24.6%
look: 4.5 | smell: 5 | taste: 5 | feel: 4.5 | overall: 5
Barrel aged tap version. Says that it is aged in eagle rare whisky barrels.
A: Has a opaque orange appearance with minimal white head.
S: Strong bourbon aroma with. This is mainly all my nose can perceive though I can sense that there is some sweetness here.
T: Caramel sweetness with strong bourbon flavor. I don't know my bourbon well so I can't give a good critique of the bourbon itself but this does seem to pick up more of the oak tannins from the barrel as opposed to other BA beers I've had. I can't taste any flavoring hops but I do pick up some bitterness on the back of the tongue after 4 or 5 sips.
M: Smooth like the whisky barrels its aged in. There is some alc. burn here but its pleasant and helps to round out the flavors.
O: I love wheatwine! Especially this one! Keep cranking out these great beers Mr. Hoops!
833 characters
4.45
/5
rDev
+12.7%
look: 4 | smell: 4 | taste: 4.5 | feel: 4.5 | overall: 5
On tap at the brewpub. Poured into a 10 oz. Chalice glass.
Appearance: A very cloudy amber orange/gold with a moderate amount of bubbles and a decent one finger of white head that sticks for a while and fades into a thin layer. Decent lacing on the glass.
Smell: A big aroma of bourbon jumps out with some oak and vanilla. Sweet wheat grains and pale malts with hints of caramel. Also some nice hints of citrus orange along with some earthy hops in the background. Bourbon and wheat stand out the most here.
Taste: Starts fairly sweet with a nice taste of wheat grains and sweet malts along with some citrus orange. Midway down the bourbon takes over and stays through the finish. Nice notes of vanilla and oak. Light hints of herbal hops towards the finish. The bourbon and wheat blends really well.
Mouthfeel: Medium bodied with a moderate carbonation. Somewhat sticky. Very smooth with very little alcohol felt.
Overall: A very solid barrel aged beer. The bourbon flavors and wheat grains blend perfectly. Not too sweet or boozy.
Serving type: on-tap
1,059 characters

4.21
/5
rDev
+6.6%
look: 4.5 | smell: 3.5 | taste: 4.5 | feel: 4 | overall: 4.5
On-tap at the brewpub. Since Czar Jack wasn't pouring, I consoled myself with this.
Smell is a bit boozy, rather grainy, and slightly sweet. A hint of dark fruit and a touch of bourbon. Lots of subtle aromas dancing around, but surprisingly faint for a big barrel-aged beer.
Robust golden honey wheat flavor, followed by a smooth bourbon lift in the back end. Pleasantly grainy, with a lots of light fluffy wheat. A bit of cherry in the background. The bourbon flavor blends really well with the rest of the beer, complementing rather than overpowering it. Not boozy at all here.
Mouthfeel is medium-heavy, weighty but not syrupy, with a smooth soft finish. Nice medium carbonation.
Very tasty. A mellow, sweet wheatwine with lots of mid-palate flavor. This is a flavorful, potent beer, and really well integrated. Their two 2012 beers aged in Eagle Rare barrels (this and Buffalo Bock) have been quite good.
Side note: don't know why Town Hall's been pouring their barrel-aged beers so cold. Had to let it warm up for a while, then it was much more enjoyable.
1,065 characters
3.68
/5
rDev
-6.8%
look: 2 | smell: 4 | taste: 4 | feel: 3 | overall: 3.5
Had on tap as part of barrel week at TH. My first experience with a wheat wine.
A-Hazy and a really ugly ruddy brown with a ring of white. Not a pretty brew.
S-Sweet aromas of honey and vanilla dominate. Hints of alcohol.
T-Similar to smell lots of sweetness carried with a significant malt bill. Definitely a little different from a barley wine but still in the same realm given the overall experience.
M-Light bodied with a medium/high carbonation zing. Alcohol is somewhat noticeable but not overwhelming.
O-Definitely a sipper, heavy on the palate after a few drinks. The sweetness with flavors of honey vanilla and wheat come through nicely.
651 characters

3.8
/5
rDev
-3.8%
look: 3.5 | smell: 3.5 | taste: 4 | feel: 3.5 | overall: 4
On tap at the February 23rd release at Town Hall in a 10 oz. goblet.
Pour is a light, breezy orange/yellow hybrid, very still & quiet. Nose is a slipdash of bourbon, mild sweetness.
Tumaltuous Rare is in rarefied company during the barrel-aged week & doesn't quite live up to its storied brethren of years past. Big bundle of sweet malts, distant caramel, & a big dose of barrel sum this one up; it does get better as it warms, simple but tasty. As with every beer this week, though, ridiculously easy to sip.
Clearly in the minority of homers around the bar (they all found it orgasmic), I found this to be a good, solid effort; love to see more barrel-aged wheatwines in the future. Good beer.
709 characters
Tumaltuous Rare from Minneapolis Town Hall Brewery
3.95
out of
5
based on
52
ratings.