Clootie Dumpling
| Orkney Brewery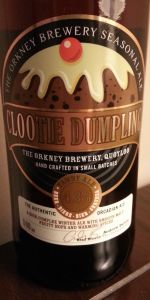 BEER INFO
Brewed by:
Orkney Brewery
Scotland
,
United Kingdom
orkneybrewery.co.uk
Style:
Winter Warmer
Alcohol by volume (ABV):
4.30%
Availability:
Winter
Notes / Commercial Description:
No notes at this time.
Added by BlackHaddock on 12-08-2012
Reviews: 7 | Ratings: 14
Reviews by BlackHaddock:
4.03
/5
rDev
+13.8%
look: 4.5 | smell: 4 | taste: 4 | feel: 4 | overall: 4
Two hand-pulled pints in my local Wetherspoons on 7th Dec 2012.
Found this strange tasting so had a second pint to ensure I'd got it everything correct in my notes.
Amber body with a creamy textured off-white head: the head produced some good lacing on both pints, so the beer was in fine condition.
The nose and taste went something like this: baked Mince Pies laced with cinnamon and cloves, now crumble a ginger nut biscuit over the top and re-bake the Pies. Once you've taken the over cooked Mince Pies out the oven add more cinnamon and a hop leaf or two before soaking in a bucket of alcohol. Put into casks and send to Wetherspoons.
PS: I liked both pints!
675 characters
More User Reviews:
3.62
/5
rDev
+2.3%
look: 4 | smell: 3.75 | taste: 3.5 | feel: 3.75 | overall: 3.5
330ml bottle, day 23 of the 2016 Craft BeerAdvent calendar - this is a placeholder review, because my son's mother is a real piece of work. Be back later to update. Actually, Imma just gonna leave this here now, for posterity's sake.
This beer pours a clear, pale copper amber colour, with two fingers of puffy, loosely foamy, and bubbly off-white head, which leaves some random streaky and splotchy lace around the glass as it slowly ebbs away.
It smells of grainy and biscuity caramel malt, ginger and clove spice, a touch of earthy yeastiness, and some weak leafy, weedy, and floral green hop bitters. The taste is gritty and grainy pale malt, some clove/coriander, black pepper, and ginger spice, indistinct dark orchard fruity notes, and a further leafy, weedy, and wet grassy noble hoppiness.
The carbonation is fairly active in its trilling and piercing frothiness, the body a so-so medium weight, and mostly smooth, with a faint airy creaminess arising as things warm up a tad around here. It finishes off-dry, but very tempered by the gingerbread spiciness.
Overall, this is a decent holiday brew (wintry, yes, via the seasonal spices, but it is in no way a 'warmer', for obvious fucking reasons). I have no bloody idea what a 'Clootie Dumpling' is supposed to be either, and for once, I don't seem to care about finding out. Maybe later.
1,355 characters
3.64
/5
rDev
+2.8%
look: 3.75 | smell: 4 | taste: 3.5 | feel: 3.5 | overall: 3.5


3.1
/5
rDev
-12.4%
look: 3 | smell: 3.5 | taste: 3 | feel: 2.75 | overall: 3
A 4.3% winter warmer? This isn't rich, it's fairly dry. Thankfully the spicing is restrained. Some head on the pour, but no retention. Light biscuit and spice aroma.
167 characters
3.52
/5
rDev
-0.6%
look: 3.75 | smell: 3.5 | taste: 3.5 | feel: 3.5 | overall: 3.5
500ml bottle, poured into glass
Dark copper in color. Spicy aroma -cinnamon, cloves. Taste is slightly sweet, with those spice flavors. Medium bodied.
152 characters
4.1
/5
rDev
+15.8%
look: 4 | smell: 4 | taste: 4.25 | feel: 4 | overall: 4

3.53
/5
rDev
-0.3%
look: 4 | smell: 3.5 | taste: 3.5 | feel: 3.5 | overall: 3.5
3.76
/5
rDev
+6.2%
look: 4 | smell: 3.5 | taste: 3.75 | feel: 3.75 | overall: 4
Day 23 on the 2016 craft beer calendar.
Nice copper colour showing lots of carbonation and one finger off white head with good lacing and retention. 4
A doughy gingerbread smell with a light fruitiness. 3.75
Up front spices with gingerbread combines with a somewhat bitter hops. Much like advertised. 4
Smooth with just the right amount of tingle that goes down nice and leaves enough of an impression. 3.76
Very festive in appearance and carries out the festivities throughout the experience. Not sure about the winter warmer part. Great presentation and great choice to this time in the Advent Calendar.
613 characters
3.11
/5
rDev
-12.1%
look: 4 | smell: 3 | taste: 3.25 | feel: 2.5 | overall: 3
500ml Bottle from Tesco (£1.50):
Caramel amber with a thumb sized, foamy head that is a slightly off-white colour and looks quite thick with good retention and little initial movement.
Malty with some biscuit and earthy hints coming through along with some caramel and background spice. There is some bitterness too and touches of fruit and sugar as well.
Earthy malts and caramel to begin with, followed up by plenty of bitterness and a few light fruits not nothing too noticeable on the front. There is some grain and a touch of spice.
Light-medium bodied, fairly smooth with only a touch of grain but it was a little bland, almost watery in places which was a bit of a disappointment. Carbonation falls somewhere around medium and the finish is a dry, bitter one.
Not a bad beer really and a bit of an improvement on some of the Christmas beers I picked up last year but sadly this one still wasn't really all the memorable in its own right. Just an average beer.
971 characters
3.52
/5
rDev
-0.6%
look: 3.75 | smell: 3.5 | taste: 3.5 | feel: 3.5 | overall: 3.5
3.59
/5
rDev
+1.4%
look: 3.25 | smell: 3.5 | taste: 3.75 | feel: 3.5 | overall: 3.5
From the look of the label, I expect something sweet and cloying.
It isn't. Oh there is sweetness there, but you get a toffee-like, caramel flavor from the malts, and some spicy notes-- maybe ginger or nutmeg?
This was very much a "winter ale", and an enjoyable one. I'd have it again for sure.
294 characters
3.28
/5
rDev
-7.3%
look: 3.5 | smell: 3 | taste: 3.5 | feel: 3 | overall: 3.25
Clootie Dumpling from Orkney Brewery
3.54
out of
5
based on
14
ratings.