Continuum IPA
| Saugatuck Brewing Company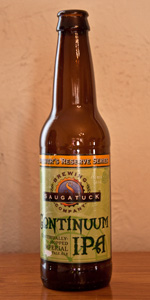 BEER INFO
Brewed by:
Saugatuck Brewing Company
Michigan
,
United States
saugatuckbrewing.com
Style:
American Double / Imperial IPA
Alcohol by volume (ABV):
8.50%
Availability:
Spring
Notes / Commercial Description:
No notes at this time.
Added by StoutHunter on 05-28-2012
Reviews: 11 | Ratings: 70

3.2
/5
rDev
-14.7%
look: 3.5 | smell: 3.5 | taste: 3 | feel: 3.5 | overall: 3
Served in a Trooper shaker pint glass.
So...is this an ever-lasting beer...? Anyway, this stuff pours a clear brass-amber topped by a finger of lightly off-white foam. The nose comprises buttery biscuit, grapefruit zest, and light pine. The taste begins with some mild caramel, which then dovetails into a unimodal curve of resiny bitterness on into the finish. The body is a light-leaning medium, with a light moderate carbonation and a drying finish. Overall, this is a passable IPA, but the resiny character does not do it any favors. I'll likely pass on this one in the future.
588 characters

3.5
/5
rDev
-6.7%
Pours a nice orange color with a light beige , fluffy head.
No over powering aroma detectable, just kinda a little , lighter hop aroma.
Hop bitterness up front , tasty , not overly hoppy, malty , I was expecting a big hop bash, maybe some outstanding hop flavor, continually hopped I guess I expected a lot more from the hop,profile, and 110 ibu's? maybe not-so-much, Hop Stoopid I think is 105, and I def get that.
I would'nt buy this again, but with that being said, I will not dump the rest, might throw one in a trade, if I do it soon enough.
550 characters
4.3
/5
rDev
+14.7%
I wrote a great freakin review of this wonderful super bitter aipa, one of my recent favorites. Unfortunately, the horrible BA redesign lost my work.
Let's just say its bitter and thick and pretty in the glass with a robust, profound aroma. Everything an over the top aipa should be.
In not happy to have to rewrite the review (it was nothing like this), but I want to make sure this excellent brew gets my hearty endorsement.
431 characters

3.89
/5
rDev
+3.7%
look: 4.25 | smell: 4 | taste: 3.75 | feel: 4.25 | overall: 3.75
bottle into duvel glass
appearance: cloudy burnt orange, unfiltered, with a thick 1 finger white head, great head retention
smell: citrus, grapefruit, apple, lemon, floral notes, yeasty
taste: very resinous, earthy hops, malt heavy for a double IPA, you taste the alcohol pretty good. Some caramel, coconut and vanilla undertones, with a bitter warm finish.
mouthfeel: very carbonated and full bodied
overall: A good take on the Imperial IPA but far from my favorite. Would buy again but there are a lot better options in this category, as it is less hoppy and more alcohol and malt heavy than I prefer.
608 characters

3.54
/5
rDev
-5.6%
look: 4 | smell: 3.75 | taste: 3.25 | feel: 4 | overall: 3.5
A: Pours a cloudy medium orange with a good sized and fizzy white head. Head fades fairly quickly but has great retention. Some thick, fluffy lines of lacing are left behind.
S: Sweet grains primarily with some mild citrus fruits kicking in. Not sure how old this one is (no bottle date) but the malt definitely dominates here. Like sniffing candied oranges.
T: A little bit of sharp citrus, oranges and a little grapefruit. Definitely a little "stale though", probably a couple months old. Sweet grains in the middle and into the finish. Brief hint of bitter resinous hops with a little citrus in there. Nice drying lingering orange peel in the finish.
M: Medium bodied, decent carb.
O: Not a bad double IPA but definitely missing some hops. Just kinda plain and meh, nothing really stands out. Not really offensive, just middle-of-the-road.
847 characters
2.93
/5
rDev
-21.9%
look: 4.75 | smell: 3 | taste: 2.75 | feel: 2.75 | overall: 2.75
A - Pours a copperish-gold with a two finger off-white head. Left a good amount of lacing.
S - A huge malt bill up front, followed by some lemon and orange.
T - Pineapple and juicy apple at first, followed by some maltiness. A bit on the bitter side and it tastes kind of flat.
M - Heavy bodied with light to medium carbonation.
O - Overall, reminded me of a slightly better Hop Rocket. I don't think I'd have it again.
423 characters
3.97
/5
rDev
+5.9%
look: 3.5 | smell: 4 | taste: 4 | feel: 4 | overall: 4
Two finger head with poor retention on a murky amber and gold body. Caramel, candied sugar, earthy and herbal hops and orange peel. Flavor is simple and malt forward with caramel, tart orange, wood, pine resin. Medium body and moderate carbonation. Very nice hop character. Malt forward but enough hops to be fairly balanced. The booze are well hidden.
352 characters

3.8
/5
rDev
+1.3%
look: 3.75 | smell: 3.75 | taste: 3.75 | feel: 4.25 | overall: 3.75
A very nice IPA, my second from Saugatuck. Pours a hazy deep golden color and creamy white head. Floral aroma, citrus peels, honey, light pale malts. Flavor follows smell exaclty, lots of citrus peel and lemon, some definite pine, with nice sweet biscuit malt backbone. Good bitterness from the hops. Slick mouthfeel with a slightly dry finish and medium carbonation. Overall a solid DIPA and pretty drinkable.
410 characters
4.04
/5
rDev
+7.7%
look: 3.5 | smell: 4.5 | taste: 4 | feel: 3.5 | overall: 4
Poured from the bottle a cloudy and bright apricot color with a good amount of floaties. One finger of off-white head left sticky lacing behind.
Aroma of tropical fruit, pine, and baby aspirin along with a hint od caramel malts.
The taste was bright with the pine and citrus followed by a caramel malt backbone. Bitter bite to the finish.
Medium bodied and lightly dry with a moderate carbonation.
I really enjoyed this IIPA from Saugatuck Brewing. Nice hop presence with good balance. A must try if given the opportunity.
526 characters

4.33
/5
rDev
+15.5%
look: 4.5 | smell: 4 | taste: 4.5 | feel: 4 | overall: 4.5
12 oz. bottle. 8.5% abv, and 110 IBUs.
Partly cloudy brassy orange body. Tall, thick, long-lasting, light beige head. Great lacing. Lots of hops on the nose. Pine, grapefruit, Scotch tape, melon, and even a little cat pee. Some sugary malt as well.
Bitterness right off the bat. Toasted grains sneak in, but herbal, piny hops are front and center. Sugary fruit malts develop mid-palate. Maybe a little cookie as well. Hop flavors become a little more tropical and citrusy near the finish. Pineapple, mango, melon, and mandarin orange. Finish is dryish and bitter, with lots of lingering grapefruit. Medium-full body. Creamy feel. Another nice Michigan DIPA, and another good beer from Saugatuck.
697 characters

3.68
/5
rDev
-1.9%
look: 4.5 | smell: 4 | taste: 3.5 | feel: 3.5 | overall: 3.5
I got a bottle of Saugatuck's Continuum IPA yesterday for $2.29 at The Lager Mill. Missed out on this at WEB, so I am excited to try this, lets see how it goes. No visible bottling date, it's fresh, just released. Poured from a brown 12oz bottle into a tulip.
A- The label says it's from the Brewer's Reserve Series, a little plain but I like the font. It poured a nice amber color that took on a nice a brighter color when held to the light and was pretty hazy, it had two fingers worth of white head that died down to a thin layer that left lacing rings. This is a very good looking beer, I really like the color.
S- The aroma is dominated by hops, I get lots of nice citrus notes mainly pineapple and grapefruit, there's also a floral and light pine aromas. I get a bit of some bready and pale malt aromas, but not much. This is DIPA has a good aroma that's dominate by hops.
T- The taste is a little similar to the aroma, tons of hops show up at the start with more piney and floral hops showing up with not much citrus, Towards the end I get some some medium sweet pale malts that impart some bready flavors and it had a high amount of bitterness with a piney, floral and bitter aftertaste, not boozy. The taste is ok, but I wish more of the citrus fruits showed up and the bitterness wasn't so powerful.
M- Not that smooth, slightly oily, on the thick side of being medium bodied, with a medium amount of carbonation. Ok, but I wish it was smoother.
Overall I thought this was an ok, beer and a pretty average example of the style. It wasn't that drinkable, one bottle is enough for me. What I liked most about this beer was the look and aroma, they were both nice. What I liked least about this beer was the overpowering bitterness and the hop profile in the taste, more is not always better. I don't think I would buy this again, but I recommend DIPA fans give it a try. In the end this beer was just a little better then OK, but with a little work I think it could be a pretty good beer, but I get what they were going for it just didn't come together the greatest.
2,089 characters
Continuum IPA from Saugatuck Brewing Company
3.75
out of
5
based on
70
ratings.