Wolaver's All-American Ale
| Otter Creek Brewing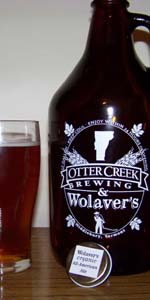 BEER INFO
Brewed by:
Otter Creek Brewing
Vermont
,
United States
ottercreekbrewing.com
Style:
American Amber / Red Ale
Alcohol by volume (ABV):
6.00%
Availability:
Limited (brewed once)
Notes / Commercial Description:
No notes at this time.
Added by Bobzilla on 03-23-2008
This beer is retired; no longer brewed.
Ratings: 11 | Reviews: 9
Reviews by RblWthACoz:
3.5
/5
rDev
-5.7%
look: 3.5 | smell: 3.5 | taste: 3.5 | feel: 3.5 | overall: 3.5
Pours a fully fogged brown with fairly heavy orange hints to it. Nose is super sweet and orange citrus. Flavor is tangy as well. Kind of out of balance really. Seems to be a fair amount of caramel there as well. It's all okay. Just out of balance to me. Feel is a bit sticky on liquid and the carbonation is okay. This is a decent beer. Kind of louder than I would expect from Wolaver's, but it's still okay. A bit too tangy and out of wack on the flavor profile, but nice enough to try I suppose.
497 characters
More User Reviews:

3.75
/5
rDev
+1.1%
look: 3.5 | smell: 3.5 | taste: 4 | feel: 4 | overall: 3.5
12 ouncer with bottling date etched onto the mid section of the bottle. Pours clear orange tinged amber, under a near white head that leaves minimal lace. Faint flowery nose, with a hint of pine hops. Grainy hops dominate upon the old tongue. Pine, fruits and a citric snap close things out. Decent sessioner.
309 characters

3.23
/5
rDev
-12.9%
look: 3.5 | smell: 3 | taste: 3.5 | feel: 3 | overall: 3
Pat Leavy's All American Ale
A: Poured a crystal clear, bright orange with a frothy 2 finger ivory-bone colored head that left a frumpy and splotchy lacing. Retention was good lasting for several minutes while a strong visible carbonation was present at first with large macro sized bubbles clinging to the glass walls, but quickly subsided to a faint whisper.
S: Fresh oranges and anice spicy hopping compliments of the fruggles provide a tropical notes of pineapple jucie that was sweet and tangy.
T: For flavor the spicy hopping opens things up with some tropical fruitiness of pineapples which was sharp and pronounced. Unfortunatley it quickly gave way and the flavor wimpered in the finish. Lemon peels with a soft touch of pine that was pretty much drained out by the fruity nature of the fruggles. The hopping was fresh and flowery while finishing with a slight dry finish. The malting appeared weak overshadowed by a wet lemony hopping. The hops individually would have been really nice but somehow the 3 hops utilized just didn't seem to blend well together. The beer finishes up with a sour country time lemonade finish that lingers long after the drink with a puckering lemon flavor that stays with you. Overall found the hopping to be to extreme in terms of variation and didn't blend well which hurt this.
M: a medium viscosity, slick with a soft carbonation. Ok but really didn't leave an impression. Average.
D: In terms of ingredients this was a true all American ale, unfortunately it didn't fair as well taste wise. A bit unbalanced and found it to be to lemony and fruity at the same time. Sweet, tangy hopping. Think this would have been a lot better if 1 or 2 of the hops were changed or left out. not a bad beer, just a bit strange and one not suited for multiples, which a good ale should be.
1,824 characters
4.1
/5
rDev
+10.5%
look: 4 | smell: 4 | taste: 4 | feel: 4 | overall: 4.5
Bottle date 1/12/09.
Light clear amber with a good two finger white head. Nice hoppy aroma.
Taste is earthy bitter hops and good support from the sweet malts. Bottle lists fuggles, golding, and magnum hops. All organic.
Good mouthfeel and a medium dry finish.
Very drinkable and I'd estimate the abv at about 5%.
312 characters
4.1
/5
rDev
+10.5%
look: 4 | smell: 4 | taste: 4 | feel: 4 | overall: 4.5
Picked this one up at the brewery
-In growler, 3/15/08
C : Amber orange, thin white head. Doesn't stay too long, but settles out to a nice light lace.
S: Brown sugar light fruity smell. Hops are mild and pleasant.
T: Sweet, then bitter, then settles out on the back of the tongue. A nice light malty, biscuit character, with a sweetness not unlike a red ale. Fuggle/Golding hop mix gives this beer a nice mixture of fruit character and slight herbal notes.
M: Smooth, soft with a nice medium level of carbonation. It can be a bit thin however, even with the relative richness of flavor.
D: Better on the chilled side. Its a nice drinkable beer. It doesn't taste that strong, and goes down quite easily.
-good with steak and sweet potatoes!
760 characters
3.68
/5
rDev
-0.8%
look: 4 | smell: 3.5 | taste: 3.5 | feel: 4 | overall: 4
Clear and golden with an orange hue. Nice foamy head and good lace.
The aroma of hops,malts and some barley. A hint of fruit.
The taste was mild sweetness with a mild dose of hops. Toasty malts went down well.
The feel was refreshing with a light body and medium carbonation.
Notes: Very refreshing. A good beer to have.
323 characters
3.68
/5
rDev
-0.8%
look: 4 | smell: 3.5 | taste: 3.5 | feel: 4 | overall: 4
Poured from a 12 oz bottle into a glass mug. Copper in appearance with a sticky foamy froth that clings to the sides.
Smells of bready malt and hopsack.
Caramel malt, herbal tobacco like hop leaf adds a good amount of bitterness. Earthy and a medicinal/mineral flavor is there too.
Mouthfeel is on the light side of medium bodied.
A pretty solid ale here. Has a good hop flavor and is well balanced. Good for a session beer.
428 characters



3.6
/5
rDev
-3%
look: 4 | smell: 4 | taste: 3.5 | feel: 4 | overall: 3
Pours a clear amber with a thin, quickly dissipating white head. Very little lacing.
Smell is dominated by sweet malts with some hops peeking through as well. Nice.
Taste is kind of a disappointment based on the nose. Too malty with no discernible hops to cut the sweetness.
Mouthfeel is light with good carbonation. I could drink more but would not go out of my way to.
HV
377 characters
4.2
/5
rDev
+13.2%
look: 4 | smell: 4 | taste: 4.5 | feel: 4 | overall: 4
My buddy picked up a growler from the brewery the other day.
A - Poured an amber orange with a decent head that quickly faded to a mid size cap. Lacing was decent as well with clinging everywhere.
S - Sweet malt with cascade hops. Very pleasant.
T - Brown sugar and molasses are prominent up front followed by the slight hop bitterness made this a very well balanced brew. They must bottle this beer!
M - Semi sticky with a clean finish. Medium bodied and well carbonated.
D - Highly drinkable, the growler was empty before we knew it. Recommended if you can get it.
571 characters
Wolaver's All-American Ale from Otter Creek Brewing
3.71
out of
5
based on
11
ratings.