Otter Creek World Tour: Helles Alt Ale
| Otter Creek Brewing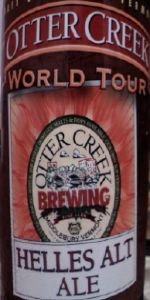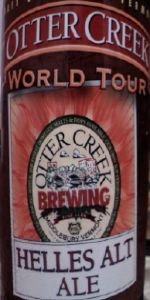 BEER INFO
Brewed by:
Otter Creek Brewing
Vermont
,
United States
ottercreekbrewing.com
Style:
Altbier
Alcohol by volume (ABV):
not listed
Availability:
Limited (brewed once)
Notes / Commercial Description:
No notes at this time.
Added by BeerAdvocate on 05-21-2009
This beer is retired; no longer brewed.
HISTOGRAM
Ratings: 11 | Reviews: 10
Reviews by kingcrowing:
3.98
/5
rDev
+8.2%
look: 4 | smell: 3.5 | taste: 4 | feel: 4 | overall: 4.5
I had this on tap at the Otter Creek Release party in Middlebury, and it was really quite awesome! I'm normally not into lighter beers (Such as the Otter Summer Ale) but this was something quite different, it was slightly darker than your normal summer beer, but it had a nice full body and great taste. It's got a somewhat lower hop profile which is perfect for this type of beer.
It holds a decent head which dies down fairly quickly, and it has a nice aroma, although as a Helles style it's not too strong.
Overall I'd have it again and would recommend it for a nice summer brew.
584 characters
More User Reviews:

2.91
/5
rDev
-20.9%
look: 4 | smell: 3 | taste: 3 | feel: 3.5 | overall: 2
Hazed straw yellow with a tightly bubbled head of white foam that leaves a 1/2 inch cap and settles out slowly.
Very low aroma, dry and crisp with yeast notes, lemon and subtle pepper.
Grassy malt flavor, some lemon and spice, morphs to corn and bready malt, finishes with some hop bitters and pepper. Corn flavors linger.
Dry and crisp mouthfeel, finishes tingly.
Not a bad beer, but seems too light for an alt, feels more like a munich helles or a kolsch.
461 characters

4.15
/5
rDev
+12.8%
look: 4 | smell: 4 | taste: 4 | feel: 4.5 | overall: 4.5
22 oz. world Tout series. You gotta love the touring Otter!
A clear, yellow gold color, soft and fluffy all-white head 2" high, amazing retention and pretty dang sticky.
Musty and dried herbs, sweet malt with honeydew mellon, dry wheat, fresh cut grass, crispy corn yeast, oats, big, sour and earthy! doughy wheat bread.
Ooh, that's a very crispy feel with a simple but lively malt. A nice, lager yeast that is mildly spiced with white pepper and lots of earthy business. Dried corn and wheat in the malt and a rather complex lager yeast that flows together well. The hops are gentle but pleasantly earthy, yes...it all flows.
This is a nice hybrid with limitless drinkablility. One of the best seasonals I've had this summer.
736 characters
3.82
/5
rDev
+3.8%
look: 3 | smell: 3.5 | taste: 4 | feel: 4 | overall: 4
Otter creeks helles alt ale which alt biers traditionally are more like a brown ale drinks like a pils and looks like a pils..(helles is german for light and usually refers to a lager, so this is kind of a fusion beer)
. it's color is golden/straw and it smells of spicy hops and light citrus.
the taste is very refreshing a light lemon flavor with a big spicy kick from all the hops... i just got it in a fresh mix pack of otter's however this beer was definitely made for summertime consumption not fall or winter... very tasty though and drinks very easily.
562 characters


3.78
/5
rDev
+2.7%
look: 4 | smell: 3.5 | taste: 3.5 | feel: 4 | overall: 4.5
The beer pours a pale gold color with a thick frothy white head that slowly fades to lacing. The aroma is decent. It has a light, pale malt scent with a dry, fruity yeast finish. There is a bit of grainy character as well. The taste is decent as well. It consists primarily of pilsner malts and not much else. It's extremely light with a slight German hop bitterness and a faint yeast fruitiness. The mouthfeel is good. It is a low bodied beer with adequate/good carbonation. This is a nice summer brew. It's not the most complex beer you'll ever try, but it's damn drinkable.
576 characters

4.3
/5
rDev
+16.8%
look: 4 | smell: 4 | taste: 4.5 | feel: 4 | overall: 4.5
Pours a golden blond color with a thick, frothy head into my fluted tulip. Nice presentation.
Aroma is full of sweet, grainy malt in the nose. A bit of smokiness is present. Very clean aroma.
Taste is full of sweet, grainy malt with an added touch of hop bitterness in the middle. Bready. Goes down well.
Mouthfeel is full of lingering sweet malt and hops. Very good. A bland but otherwise solid.
A very nice example of the style. I could see myself buying it again. Nice beer to cool off with. Potential lawnmower beer as well.
532 characters

3.42
/5
rDev
-7.1%
look: 3 | smell: 3.5 | taste: 3 | feel: 4 | overall: 4
22 oz. brown bottle. No freshness date or ABV%
A: Pours a clear banana like yellow. Good carbonation with a one finger, bubbly white head. Nice amount of lacing down the glass.
S: Aroma is light. Grains and malt sweetness are strongest with a pecan nut like aroma.
T/M: Mostly grains with a light citrus flavor. Malts are light. The beer is light bodied with good carbonation. Everything seems to be a little watered down. Still very refreshing and easy to drink. The finish is bitter/dry, strong and lingers.
D: A good summer time brew. Refreshing and easy to drink, as it's light bodied and grainy. Could use a bit more hops however.
Cheers!
649 characters
3.18
/5
rDev
-13.6%
look: 4 | smell: 3.5 | taste: 3 | feel: 3 | overall: 3
Poured from the 22oz. bomber into a stange the beer was a medium gold color with three finges of fluffy pure white head. Almost no other signs of carbonation, very still in the glass, and very little lacing throughout the sample.
The nose elicits some grassy aromas with lemon, sweet malt, caramel and a faint floral hoppiness.
The taste is suprisingly light on the palate with a bready maltiness that is semi-sweet on the front of the tounge. The beer finishes off slightly dry and a bit bland. Floral hoppiness in the nose does not really come through in the taste and overall the beer lacks any one flavor that jumps out.
Medium body with a very dry finish.
The beer was enjoyable but not memorable. Certainly not difficult to finish, but it did not leave me wishing I had another bottle nor did I attempt to get another bottle. Overall it was a drinkable beer without an real strong flavors.
899 characters
3.73
/5
rDev
+1.4%
look: 4 | smell: 3.5 | taste: 3.5 | feel: 3.5 | overall: 4.5
Out of a bomber this beer was a cloudy banana yellow/gold color with a good amount of rising carbonation in it. The two finger head of slightly-yellow foam retained well as a cap and left consistent bands of lacing. The aroma was light and clean; dry grains and hops with a pale malt background were as much as I got. The flavors were better defined and a little more sharp than the aroma. I tasted lots of grains especially lager malt and the bitterness of acidic hops. The mouthfeel was foamy and a touch prickly, the carbonation good and the body medium. A good example of the style but just a hint astringent due to the bitter hops; however it would be easy to drink all night.
681 characters
3.72
/5
rDev
+1.1%
look: 4 | smell: 4.5 | taste: 3.5 | feel: 4 | overall: 3
I happened upon this beer in a mix pack from Otter Creek. The mix pack was dated 90 days ago, but I really wanted to try this beer. Helles lagers and alt beers are two of my favorite styles, so I was excited to find out what they would taste like in combination.
Poured a hazy golden yellow with a 1/4" white head that clung to the sides of a tapered Otter Creek pint glass (from a previous 'world tour' bomber pack)
Smelled of grassy and biscuity malts with a backing of what I can only describe as the 'alt smell'. The scent implied that I might experience a hearty alt with a bit of Helles malt as an introduction.
The bright, bready malts dominate at first sip, but eventually the earthy and somewhat 'flat' alt flavor comes through on the finish and lingers a bit. Somewhat different than I had expected from the smell, and a bit unpleasant.
A noticeable level of carbonation and a creamy body entice, however the aged alt flavors coat the pallet potentially adding up to a bit of 'pucker' flavor.
A fairly drinkable beer. The alt-like finish contrasts with the bright and sweet flavors noticed when first taking a sip. After two of these I finally understood what was meant by 'palate fatigue'.
I would love to try this beer fresh or on tap. My sample may be past it's prime. If you have a taste for Helles lagers or alt beers, give this brew a try.
1,362 characters
Otter Creek World Tour: Helles Alt Ale from Otter Creek Brewing
Beer rating:
3.68
out of
5
with
11
ratings