On-On Ale
| Arctic Craft Brewery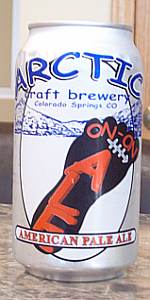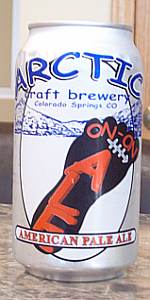 BEER INFO
Brewed by:
Arctic Craft Brewery
Colorado
,
United States
arcticcraftbrewery.com
Style:
American Amber / Red Ale
Alcohol by volume (ABV):
5.40%
Availability:
Year-round
Notes / Commercial Description:
No notes at this time.
Added by russpowell on 11-20-2007
This beer is retired; no longer brewed.
HISTOGRAM
Ratings: 9 | Reviews: 9
Reviews by Beefeater57:
3.15
/5
rDev
+5.4%
look: 3 | smell: 3 | taste: 3 | feel: 3.5 | overall: 3.5
A: Cloudy, muddy brown color that is reddish amber in light. Decent head with little retention.
S: Fresh, clean smell but nothing pops out. I obviously can detect malts, and yeast, but not getting anything distinct. It just smells like beer.
T: Very mild sweetness from the malts. Hop flavors are herbal, slighty grassy. There is a slight nuttiness/biscuit flavor I'm getting from the malts as well. Like the smell, I'm not picking up any strong flavors.
M: Body is borderline thin, but it is smooth.
D: A great beer to drink with pretzels, but not much going on with it. It's drinkable, just not complicated. Would have liked more developed flavors from this one...
670 characters
More User Reviews:
3.19
/5
rDev
+6.7%
look: 2.5 | smell: 3.5 | taste: 3 | feel: 3 | overall: 3.5
Well somebody had to be first to review Arctic's canned offerings, here goes:
Pours caramel/brown with 3+ fingers of tan head. Average lacing & minimal head retention
S: Biscuitty malt & some fruittyness
T: Biscuityy malt, dryness, metallic & herbal hops up front. Slight pear flavor & leafy hops as this warms. Finishes with a bit of brown sugar dryness, pears, apricot & leafy hops
MF: Light/medium bodied with fairly vigirous
carbonation & kind of wet
Drinks alright, but either more malt or hops needed here kind of a boring offering. Seems more English than American in character. Let's see the helles or milk stout in cans next!
640 characters
3.18
/5
rDev
+6.4%
look: 3.5 | smell: 3 | taste: 3 | feel: 3.5 | overall: 3.5
A - Very nice dark copper color. Great Head, did not dissipate too fast.
S - More of a florally smell. Not too strong but there is a presence.
T - Tastes like it smells, florally. Very light hops. Not too much there.
M - A little bit on the bitter side, but stays true all the way through.
D - Could have a few. I like this beer more than others that have rated ot for the fact that it has a high drinkability to it.
420 characters

3.06
/5
rDev
+2.3%
look: 4 | smell: 3 | taste: 3 | feel: 3 | overall: 3
Thanks goes out to russpowell for this brew.
Pours a real nice hazy amber color, nice carbonation, nice one-finger creamy off-white head, which does leave some nice sticky lacing behind. The nose is malty, and sour. The taste is malty, slightly hoppy, very slightly sour, not as much as the scent, with a little bitterness. Medium body. Drinkable, this is not too bad, kinda tasty.
382 characters

3.28
/5
rDev
+9.7%
look: 4.5 | smell: 4 | taste: 3 | feel: 3.5 | overall: 2.5
This is a deceptive beer. It looks awesome, smells good, but tastes very bland and average. I wish they would have tried a little harder on the only beer they openly sell at stores. For seven fifty for a eight pack can you really complain? It's a bargain for the price.
269 characters
2
/5
rDev
-33.1%
look: 2 | smell: 2 | taste: 2 | feel: 2 | overall: 2
Found this in Denver for the first time recently. Pours a muddy amber, thin head. Smell is a bit of hops, and it almost seems to be wheat? Flavor is all over the place, this reminds me of bad homebrew. Definitely not recommended, I'm not sure whats wrong with this one - but I hope the rest of the beers Arctic puts out are better?
331 characters
2.92
/5
rDev
-2.3%
look: 2.5 | smell: 3 | taste: 3 | feel: 2.5 | overall: 3
An average pale ale. Amber color with not much of a head. The nose was a good mixture of bready malts and mild hops. The flavor was subtle, but well balanced. Not too hoppy with some sweet malts. Body lacks quality carbonation. A good drinkable brew though. I guess they use it for beer pong down there.
303 characters
3.15
/5
rDev
+5.4%
look: 3.5 | smell: 3.5 | taste: 3 | feel: 3 | overall: 3
12oz Can
Another thanks goes out to russpowell for sending this can of craft brew my way, thanks Russ! On-on Ale pours surprisingly dark amber with moderate amount of haze. The ecru head grew to two fingers on the pour and receded quickly to a skim coat and collar. A spot or two of lace is left behind s this beer disappears.
The bottle labels this as an American Pale Ale although it looks and smells much more like an amber to me. Toasty grains and slight caramel show more then anything else but there is a slight citric hoppiness. There seems to be a little earthiness or mustiness to this beer that doesn't gel well with the other aromas.
The earthiness is back in the flavor but even more pronounced. The earthiness seems a bit dirty but it does stay in the back and the maltiness quickly pushes it out of the way. Lightly toasted grains and caramel lead the way just like the aroma suggested but there's a surprising citric quality on the finish in the form of orange juice and overripe pineapple. This is a decent brew but that odd earthiness throws me for a loop even though it quickly disappears.
The body of this beer is on the thin side and the carbonation is too biting on the swallow. The aggressive carbonation becomes prickly on the back of the tongue.
This beer has a decent flavor but nothing I would seek out. I could drink a couple in a sitting but one is enough for now. Thanks for the new brew Russ!
1,427 characters
2.97
/5
rDev
-0.7%
look: 2.5 | smell: 3 | taste: 3 | feel: 3 | overall: 3
I tried a pint at the brewery. The color was red/amber with a 1 finger head and OK lacing. The flavor was mildly hoppy but it did not seem fresh and crisp. This brew was just average for me, and I probably won't buy another pint of it again.
Arctic will be distributing this brew in cans soon according to the brewery bartender.
330 characters
On-On Ale from Arctic Craft Brewery
Beer rating:
2.99
out of
5
with
9
ratings