Choc Hops
| Mildura Theatre Brewery Pty Ltd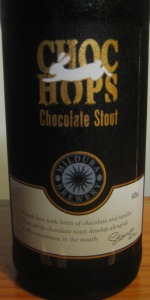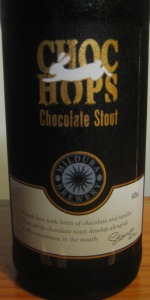 BEER INFO
Brewed by:
Mildura Theatre Brewery Pty Ltd
Australia
mildurabrewery.com.au
Style:
English Stout
Alcohol by volume (ABV):
5.20%
Availability:
Limited (brewed once)
Notes / Commercial Description:
No notes at this time.
Added by mulder1010 on 04-25-2011
This beer is retired; no longer brewed.
HISTOGRAM
Ratings: 14 | Reviews: 9
Reviews by dansmcd:

More User Reviews:
3.65
/5
rDev
+16.6%
look: 4 | smell: 4 | taste: 3.5 | feel: 2.5 | overall: 4
Pours black with a lasting off-white head.
Nose shows milk chocolate, cocoa and roasted malt. Pretty enticing.
Lots more chocolate as a flavour, but there's also a whack of roasty malt underneath.
Body feels a bit watery.
Very drinkable stuff. Lots of chocolate.
266 characters

3.87
/5
rDev
+23.6%
look: 4 | smell: 4.5 | taste: 3.5 | feel: 3.5 | overall: 4
Never reviewed anything on here before but I just had to jump to this beer's defense. The body is satisfyingly dark although the head, or lack thereof leaves something to be desired.
The nose is pretty damn sweet with nostril welcoming aromas of malty chocolate twinned with vanilla and caramel. This is what I expect from something that dares to call itself a chocolate stout.
At first the mouthfeel disappointed me and I can see how it might turn people off this beer. It felt a little too light, but once I got used to it, I found the lack of body suited the more muted tastes and low carb.
As you'd expect chocolate is the initial flavor supported well by the earthy hop notes which follow. Gently bitter the Choc hops finishes dry with a long, not unpleasant, cocoa aftertaste.
This was a great beer on tap for those cold wintry nights and this bottled version comes pretty close. The light body makes them easy to put away if that's your aim...
955 characters

2.11
/5
rDev
-32.6%
look: 3 | smell: 2 | taste: 2 | feel: 2.5 | overall: 2
I can't say this is a stout. It is very watery. Looks great but fails in the essentials. I might have had this a little too cold but even after letting it stand, not much changed. On first pour I got a whiff of some cocoa and hop but was gone before I could get into it more. Taste has basic ingredients like cocoa, coffee and some breadiness but more carob than anything else. There's also a metallic taste which is a bit disturbing. This beer is hopelessly out of balance and the late bitterness kills the potential of the chocolate/cocoa characters. The mouthfeel also fails and the watery body makes it very unstouty. It's not a terrible beer but not worth buying again. A triumph of style over substance.
709 characters
1.85
/5
rDev
-40.9%
look: 2 | smell: 2 | taste: 2 | feel: 1.5 | overall: 1.5
Bought at Mildura Brewery
Fall seasonal
640 ML bottle poured into a globe glass
A-- Poured a dark cola color. Settled black with small tints of red at the top and bottom of the pour. Short lived light milk chocolate colored head that went instantly to film. On swirling get a little bit of a mocha colored head that went back to light milk chocolate colored again.
S-- Milk chocolate, Carmel and vanilla. Get a lot of the East Kent Golding hops in the nose. Very thin and watery nose with just hints of chocolate milk. Really the hops stand out a whole lot more.
T-- Highly carbonated and lively. UMMM, not a stout at all. Lite milk chocolate taste but very thin and watery.
M-- Lots of coffee acidity in the mouth and a very clean dry finish. Some chocolate notes but very reserved and very well hidden. Not a good thing. Totally over carbonated but then again most Aussie stouts are over carbonated to make more drinkable.
O-- Perfect example of a chef that should not be a brewer. Too delicate and too watery to be a stout. Stefano should just stick to his restaurant. The stout you drink when you are drinking a pilsner if you get what I mean. The ABV is fine but there are much better options than this. AVOID
1,240 characters
3.89
/5
rDev
+24.3%
look: 4 | smell: 3.75 | taste: 4 | feel: 3.5 | overall: 4
A: Pours a black color with a good tan head that faeds to lacing.
S: Aroma of chocolate, roasted malt and a hint of vanila in the background.
T: Taste of chocolate and roasted malt. Mild bitterness with a fairly dry finish.
F: Has a pretty full body that is smooth and creamy. Nice subtle chocolate sweetness that does not overpower.
O: Nice beer for the style. A good after dinner "dessert" drink.
406 characters


3.25
/5
rDev
+3.8%
look: 3.25 | smell: 3.25 | taste: 3.25 | feel: 3.25 | overall: 3.25
pint from the brewpub in Mildura 27/3/14
A looks nearly black, enough clarity to see a couple streams of bubbles, very deep cola edge and a thumbs width of foam that's gone before I get it to my table
S smells faint, chocolate syrup, coco, anise, a little root beer, not a whole lot going on
T earthy hops added to what I smell, just a hint of char as it warms, I may be crazy but I get a little mint
a little thin, enough bubbles to give it a little life, slick on the palate, some sour dark fruit on the finish
O pretty basic stout, not a whole lot going on but drinkable
I'm sure the ice cold pour doesn't help its cause, I've been craving a big, rich, thick stout for a while and I might need to wait a little longer .
732 characters
3.43
/5
rDev
+9.6%
look: 4 | smell: 3.5 | taste: 3 | feel: 3.5 | overall: 4
Had on-tap recently at the Local Taphouse in Darlinghurst. It was a Sunday night, and they had about 6 taps off, so at the time, this was about the most interesting thing they had.
Pours a dark and rather cloudy deep brown—certainly not a stouty black colour, with a fine ring of milk-chocolate coloured foam. Excellent lacing. Looks good.
Nose is chocolatey, but not too sweet and certainly not very heavy or cloying. Rather bright and light. That might just be thinness of character, but it's rather pleasant. Not a sign of the eponymous hops, however, which is a little disappointing.
Taste is light, but the milk chocolate character here is restrained and pleasantly smooth. Fine enough in the body, but you'd still call it thin. Not bad, but not particularly exciting.
It's smooth and easy to drink, and it's worth something for that. I don't know where the apparent hops were, but the glass I had
poured for me was almost hopless—it wasn't crying out for hops, but they probably would have made the brew more unique and interesting.
This is an improvement for Mildura in my books. I've not been impressed in the past, but it's good to see them stepping out with this sort of seasonal release.
1,208 characters
3.02
/5
rDev
-3.5%
look: 3.5 | smell: 4 | taste: 2.5 | feel: 3.5 | overall: 2.5
On tap at Beer Deluxe. From notes.
A - Poured black with one finger of light brown head. Mild carbonation, spotty lace and a film of retention.
S - Really rich chocolate. Chocolate milk and milk chocolate.
T - Cola, mild chocolate, and a bit of roast. Very tame compared to the aroma.
M - Decent carbonation. Medium creamy body and some dryness.
O/D - Not great. Pretty unexciting once you taste it compared to the aroma. No hop to speak of either. Probably doesn't follow through with what was intended. Not bad, just not what I wanted it to be.
551 characters
3.45
/5
rDev
+10.2%
look: 3.5 | smell: 3.5 | taste: 3.5 | feel: 3 | overall: 3.5
I'll start out by being the first to say that there is nothing inherently wrong with this beer. It isn't a big, oily RIS and it isn't supposed to be. Instead we are presented with a black beer with a small tan head. Head retention isn't great.
The aroma is sweet and filled with milk chocolate. There is a hint of fruitiness and caramel. Nothing spectacular but fine for style.
The flavours are again somewhat muted but acceptable. There is sweet malt, chocolate and touch of earthy hop and some dust. On the whole a fair attempt at a chocolate stout.
The mouthfeel lets down a bit with a touch too much carbonation and it lacking a bit of body.
On the whole, a decent beer that doesn't deserve the criticism it has received thus far.
738 characters
Choc Hops from Mildura Theatre Brewery Pty Ltd
Beer rating:
3.13
out of
5
with
14
ratings