American Amber Ale
| Lightning Brewery
BA SCORE
81
good
14
Reviews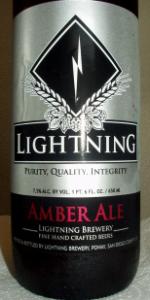 BEER INFO
Brewed by:
Lightning Brewery
California
,
United States
lightningbrewery.com
Style:
American Amber / Red Ale
Alcohol by volume (ABV):
7.50%
Availability:
Year-round
Notes / Commercial Description:
No notes at this time.
Added by xlperro on 10-22-2006
Reviews: 14 | Ratings: 24
3.39
/5
rDev
-1.7%
look: 3 | smell: 4 | taste: 3.5 | feel: 2.5 | overall: 3
"Better beer through science". I love science, but it sounds like their slogan was ripped from a Bose commercial. "...retains the classic ESB drinkability". With the ABV listed at 7.5%, it's no easy task, but we shall see. On to the beer:
A hazed orange colored beer with reddish accents. The head forms an inch thick before dropping to a bubbly lace. It's a good thing that I read the bottle description beforehand. If I didn't, I may have been caught off-guard by the buttery, earthy, and soft toffee aromas when I was expecting a bombardment of malt and hops. The sweet toffee grows in aroma, making it smell like a candystore.
This attempt at an ESB results with fair success. Buttery sweet toffee makes much of the flavor. A touch of grass and bitterness plus earthy malts break up the dominant flavor. A bizz of alcohol seeps in too. It's a medium-full bodied beer, with carbonation that is too jumpy. Drinability? Well, it does have SOME degree of drinkability. That said, it's no Fullers ESB in that regard.
Forget the "amber ale" monikor, this ESB is rather solid. If there's a way to calm down those bubbles, it would make this beer a bigger joy to drink.
1,170 characters
4
/5
rDev
+15.9%
look: 4 | smell: 4 | taste: 4 | feel: 4 | overall: 4
Poured from a bomber into a Unibroue tulip.
A: Pours a hazy, copper-orange color with 1/2 finger of pale cream head. Good retention and lace.
S: Rich malt, a little butter, faint floral hops. Pretty good.
T: Leads with a little citrus, becomes sweet in the center, and fades with a little pine bitterness that yields to a faintly sweet aftertaste. Alcohol is well hidden.
M: Medium body, smooth, a bit astringent on the finish.
O: A nice amber ale, nothing fancy but nevertheless pleasant and refreshing. I would buy this again.
533 characters

3.41
/5
rDev
-1.2%
look: 4 | smell: 3 | taste: 3.5 | feel: 3.5 | overall: 3.5
22 oz. bomber with no freshness dating apparent. Pours a very clear red/amber body witha two finger light tan head. The head dissipates fairly quickly but leaves decent lacing.
The aroma is subdued. More of a caramel malt aroma than anything else. A very light note of hops in the background.
Well...I like the flavor more than I expected. It's not too much of a stretch to call this a malty IPA or DIPA. The caramel malt is the leading contender for flavor supremacy, but a strong, pine and citrus hop flavor comes begs for recognition.
Medium texture in the mouthfeel and very drinkable. Other than the color, it's hard for me to classify this as an amber. But is fairly tasty overall.
691 characters

3.45
/5
rDev 0%
look: 3.5 | smell: 3.5 | taste: 3.5 | feel: 3 | overall: 3.5
22 oz. bottle poured into a New Belgium globe glass. Pours somewhat light as for my expectations, perhaps a burnished copper in color with a touch of haze. Half an inch of porous off white foam doesn't linger too well but keeps a light film.
Aroma initially throws off some odd yeast character but cleans up to offer some clean caramel with just a hint of roast, and some light spicy hop notes. Caramel notes are rather embedded and not very fruity in nature. Bit light overall and especially so given the 7.5% ABV. Hops do become a bit more prevalent with some warming.
More caramel on the taste and with a creamy cask like mouthfeel. When cold the feel was rather thin so this beer morphs quite a bit as it warms. The malts become more prominent as well, doing well to mask the ABV but getting a bit sticky too. Finishes dry and a bit powdery. Overall this beer started off kind of rough but quickly firmed up with some exposure. Still it never really hooked me.
967 characters

3.84
/5
rDev
+11.3%
look: 3 | smell: 4 | taste: 4 | feel: 4 | overall: 3.5
The head on this beer is ok but disolves quickly. It has an amber or almost brown color to it and few bubbles.
It tastes of extreme hops and malt and definantly leans more towards a Red Ale rather than an Amber.
Its a good beer for what it is and the fact that it comes from the closest micro-brewery to me adds a bit of intrigue.
I would suggest trying it if your trying to get a good sense of the San Diego beer scene but I cant say this will be one of my new favorites.
476 characters
3.08
/5
rDev
-10.7%
look: 3.5 | smell: 3 | taste: 3 | feel: 3.5 | overall: 3
22 oz. bottle poured into a pint glass.
Appearance: Pours a copper-amber color with an off-white head. Not great head retention, but turns into a pretty heavy bubbly film, and then to nothing. It does leave a bit of lacing, though.
Smell: Very light aroma. A bit of malts and a hint of sourness.
Taste: Smooth malty flavor full of caramel slowly gets bigger over the course of the sip. Overall fairly sweet, with a bit of sourness at the finish. There's a hint of alcohol in the aftertaste.
Mouthfeel: Fairly smooth and medium-bodied, with light soft carbonation.
Drinkability: ABV is rather strong for this type of beer, but not overly noticeable. But, the flavor just seems really dull and one-dimensional.
All the beers I've tried from Lightning I'd wanted to like, but this is another dud, I'm afraid. It is just rather lifeless beer that's a bit too sweet, and (overall) the flavor is a bit off. I'll still keep trying, as they're local, but not with much hope.
972 characters

3.28
/5
rDev
-4.9%
look: 4 | smell: 3.5 | taste: 3 | feel: 4 | overall: 3
A: A fairly typical orange/amber hue with a moderately sized off-white head on top.
S: A touch of fruits to go along with the sweet caramel and bready malts. A bit of citrus hops and some pine as well.
T: Like a lot of amber ales, this one is a bit toward the sweet side. Focusing primarily on the bready and caramel malts, there is a bit of a hop bitterness and some miscellaneous fruits, but they don't quite fit in.
M: Medium in body, nothing spectacular, with a slightly dry finish and moderate carbonation.
D: The more I drank of this, the more it seemed to develop something that just was not quite right with the flavor. Perhaps it was the fruit flavor.
664 characters

4.18
/5
rDev
+21.2%
look: 4.5 | smell: 4 | taste: 4 | feel: 4.5 | overall: 4.5
Had this on cask @ Stone on 11/19/08
A - Thick, frothy, medium brown & cascading.
S - Smells sweet and hint of piney hops. Tiny bit of alcohol on the nose.
T - Up front bite and it quickly dissipates into a malty sweet FULL body.
M - Bits of bitterness linger on the tongue. Lacing sticks around all the way down the glass. Very vague bits of sour? Interesting brew. Tons of different flavors.
D - Way better than in the bottle. This cask let all of this beer's potential out. Awesome.
492 characters
3.7
/5
rDev
+7.2%
look: 3 | smell: 3 | taste: 4 | feel: 4 | overall: 4
It's a very nice orange hue with very little head and only a slight rim of lacing. Smell is a little fruity, orange with a small bitter hop tinge. The taste is pretty good but not spectacular. A lot of malt up front with a surprisingly strong hop finish. Tastes like a very good English barley-wine (my least favorite style), but more aggressive (making this beer acceptable in my mind). Lastly, there is an alcohol finish to the beer. Not a strong one but it definitely takes away a lot from the quality. Interesting brew, I'm glad I tried it.
544 characters
3.03
/5
rDev
-12.2%
look: 4 | smell: 3.5 | taste: 3 | feel: 2.5 | overall: 2.5
1-28-09
My first tasting!
Purchase- I bought this refrigerated at Whole Foods in La Jolla for $4.79. A little pricey. I've been eyeing all of the Lightning brews ever since the summer (for reasons mentioned later) but was turned off by high prices. Besides, there's always something good at Whole Foods.
Label- "Better beer through science." Of course. I'm down with that. There's a blurb about this being an American take on the ESB style, and that this beer is bigger but retains "sipping session" drinkability. It's a 22 oz bomber that sat out of fridge for 5 minutes. I poured it into an Ikea pint glass.
Appearance- The beer has a dark gold to copper hue with a very slight haze. My pour made for a good flat and fluffy off-white head some staying power. Two to three fingers. After a few drinks, lace rings covered about half of the glass. Not bad. As I dug into the bottle a thin layer remained with nice ring and cauliflower patch on top. The beer looks pretty good.
Nose- There's some sweet malts, some dark, ripe fruits and a touch of floral hops.
Taste- Up front, there's plenty of malty sweet, somewhat bready. I get some ripe fruit; ripe red grapes that hint towards alcohol but don't quite get there. The finish has slight bitterness but doesn't dry out much. The hops in the nose are nowhere to be found and that makes me sad.
Mouthfeel- Syrupy from all of the malty sweetness. There's very light carbonation. It's almost flat.
Drinkability- This is pretty sweet and heavy for an amber ale. Toward the end of the bottle I was starting to get pretty damn full.
Over the summer, my girlfriend worked under the Lightning Brewmaster's wife. He has a Ph. D. in Biochemistry so the nerdy side of me was really pulling for this beer. Overall, it's pretty big and malty for an amber ale but there's not a whole lot going on in terms of complexity. Where's the hops?
1,882 characters
3.4
/5
rDev
-1.4%
look: 4 | smell: 4 | taste: 3 | feel: 3 | overall: 3.5
22oz bottle.
Poured a medium and slightly hazy amber color with an averaged sized off white head. Aromas of toasted graininess, nutty, some citrus, and a little bready. Tastes of citrus, toasted caramel, and toffee. Lightly bready in there too. Light alcohol finish.
268 characters
2.99
/5
rDev
-13.3%
look: 4 | smell: 2.5 | taste: 2.5 | feel: 3.5 | overall: 4
This beer was obviously amber in color, transparent, hardly a head to speak of. The smell is faint malt and cereal but is almost non-existent. The flavor is very malty, not any distinct hop flavors but there is a bitterness to the beer. The label says this is an ESB (albeit American style) and a so I don't see why it has to be 7.5%. Too its credit, the alcohol is not noticeable.
381 characters
2.83
/5
rDev
-18%
look: 3 | smell: 2.5 | taste: 3 | feel: 2.5 | overall: 3
22 ounce bomber from my buddy down in San Diego, said he picked it up at Pizza Port's bottle shop a few days ago, did not even know this brewery bottled their beer
Poured into an oversized wine glass with a medium red color with a brown tint, small 1/2 inch white head that stuck around for a little while, some retention and lacing as well
Smell was pretty weak, there was some hoppiness, and it seemed like a faint pine, I could barely tell it was calm, also some different malt aromas
Taste was pretty basic and one dimensional for a red ale, mild hoppy flavors from the beginning with some biscuit and bready malt in between, the finish was a little chewy and there was not enough bitterness to make this stand out, really mellow and you would think it would make a good session beer, but it is fairly heavy on the stomach, too malty overall, in need of more hoppiness
Body had decent thickness for the style of beer and was overly carbonated in my opinion, taste did not last very long either
Could drink a few bottles of this and that is about it, the taste is boring and I would get sick of it pretty fast, pretty filling too, do not think the ABV is too high, at least it did not seem like it
Second beer I have tasted from this brewery and I liked their Fulminator Lager a lot more, they do not bottle their seasonals according to the same guy that gave me this bottle, recommended if you live in the area and are curious but not worth seeking out
1,462 characters
3.09
/5
rDev
-10.4%
look: 2 | smell: 3 | taste: 3 | feel: 3.5 | overall: 3.5
Appearance: Served a light amber with almost no head (that wasn't the bartender's fault). What head there was disappeared before I had a chance to pick up the beer. The amber color was alright though, crisp and clear, similar to the taste.
Smell: For the most part I couldn't smell anything, partly from the lack of head, and partly because the hops were minimal and the malts were light.
Taste: A hint of hops comes through as a nice green plant taste (almost piney), but overall the taste is of light malt. There's a hint of fruit before it warms, similar to red ales (as this is definitely a light amber ale). Overall the taste is basic malt, but not anything obtrusive or bad.
Mouthfeel: Interestingly good carbonation despite the lack of head. As it warms it gets less crisp, but more bitter, almost to the point of a fault. This was the most interesting part of the beer, but it's nothing to write home about.
Drinkability: Because of the crisp mouthfeel, and unintrusive taste, this is pretty drinkable. If there weren't so many good offerings in the area, I'd probably go with this again.
1,108 characters
American Amber Ale from Lightning Brewery
3.45
out of
5
based on
24
ratings.