Teach's Chocolate Stout
| Azalea Coast Brewery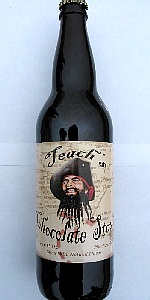 BEER INFO
Brewed by:
Azalea Coast Brewery
North Carolina
,
United States
Style:
American Double / Imperial Stout
Alcohol by volume (ABV):
7.00%
Availability:
Year-round
Notes / Commercial Description:
No notes at this time.
Added by sabrills70 on 03-11-2007
This beer is retired; no longer brewed.
Ratings: 9 | Reviews: 9

2.57
/5
rDev
+11.7%
look: 3.5 | smell: 4 | taste: 2 | feel: 3 | overall: 1.5
I couldn't ignore the label, although I kind of thought it was probably too cool a design to also be matched with a great beer. My first Azalea Coast offering.
Dark brown body more reminiscent of a scotch ale or a strong ale. The head is unremarkable. Nose is caramel, yeast, oatmeal, and a touch of smoke and spice. Decent but not much like a chocolate stout.
The texture is thick and reasonably flat, like a stout but the flavors take a walk on the wild side. The caramel of the malt and minimal hopping are overwhelmed by a smoky sourness that pervades each sip deep into the aftertaste. Barely drinkable; I hate being right all the time.
645 characters
4.3
/5
rDev
+87%
look: 4.5 | smell: 4.5 | taste: 4 | feel: 4.5 | overall: 4.5
This beer was a dark black with a small tan head. The smell was chocolate and oatmeal. These flavors were also in the taste along with coffee and a nice roasted taste. The beer was smooth with just a hint of the abv showing. A very rich, filling brew.
*An interesting sidenote is that I rated this beer much above the others who have tried it. Perhaps I got the one good bottle? At any rate my thoughts on this beer remain the same and the review stands.
455 characters
1.68
/5
rDev
-27%
look: 3.5 | smell: 3 | taste: 1 | feel: 1.5 | overall: 1
Double-deuce bomber with a portrait of good-old Blackbeard the Pirate on a background map of the North Carolina's 'Down East', poured into a shaker pint yields a fiery-brown amber with two fingers of chunky, doughy, light ecru head that retains at a thick sheet but leaves minimal lacing.
Sour chocolate dominates the smell, along with a touch of caramel and a tickle of earthy hops
Doesn't taste much like chocolate stout. Sure, there's some chocolate in there, hidden behind a humongous and unwelcome whack of sour-ale, licorice and a bitter medicinal-coffee flavor suspended in a thin, watery body that swirls beautifully as I dump it into the kitchen sink.
Farewell, Teach. The pirate legend himself would have made someone walk the plank over a beer this poor.
769 characters
2.51
/5
rDev
+9.1%
look: 3.5 | smell: 2.5 | taste: 2.5 | feel: 2 | overall: 2.5
Limesmut sent this my way via a nice trade - thanks, amigo!
Poured a surprising dark brown (instead of a blackish) with a well capped foamy head o' tan. Aroma is reminiscent of a strong ale with a hop backbone - instead of chocolate. Taste too was more sour porter than chocky stout. But lots of hops in the finish help balance it out and add a nice kick to it - but the tartness, for a stout? Weird.
I don't think we'll see this poor lil' brew again next year - R.I.P.
471 characters
1.62
/5
rDev
-29.6%
look: 3.5 | smell: 1.5 | taste: 1.5 | feel: 2.5 | overall: 1
Appearance: Pours a clear, dark brownish-red body with a small, frothed, light beige head.
Smell: Ugh, it's alot like a mild, dark lambic, if there were such a thing. Azalea Coast... what have you wrought?
Taste: A displeasingly tart, bordering on vinegar fruitiness really works hard to derail the chocolate malts and hint of cocoa. Each sips lives you with more of the caustic acetic taste and less of the chocolate. Leaves you with a chalky, tart aftertaste.
Mouthfeel: Medium-thin body. Mild carbonation.
Drinkability: Never trust a pirate!
548 characters
1.22
/5
rDev
-47%
look: 3 | smell: 1 | taste: 1 | feel: 2 | overall: 1
Poured from a 22 oz bottle
A: Pours a thin black under a small brown head. Actually it is a very dark clear brown. No lace, but some tiny bit of retention around rim.
S: Smells of peppery hops. Maybe some raw malt and cooked vegetables. Where's the chocolate?
T: Seriously, where's the chocolate? Hell, where is the stout? Again, a peppery hop, cooked vegetables, a little bit of tartness. Maybe a little bit of roasted malt. It's not very good. No chocolate at all.
M/D: No carbonation, thin, watery, sometimes chalky mouthfeel. Drinkability would be a 0 if I could give it. My first drain pour ever. I didn't think it could be as bad as the other reviews suggested, but it's awful. No chocolate, no stout, no good. This is probably the worst beer I have every had at this point in my life.
797 characters

2.31
/5
rDev
+0.4%
look: 3 | smell: 2 | taste: 2.5 | feel: 2.5 | overall: 2
Bomber into a pint glass. Shared with friends at my Superbowl Stout Tasting...
The body pours a translucent ruby-red hue with a hint of dark brown. The small head poured into my pint dissipates as I pour samples for my friends; the only bits left behind are some off-white patches of foam clinging to the edges of the glass. Needless to say, there's no lacing. The aroma is pretty awful. It's a bit too pungent, with sour, earthy hops and a malt backbone that is nearly dominated by bitter chocolate and red grapes.
The flavor isn't much of an improvement, sadly. The bitterness is derived mostly from dark fruit notes, not the roasted, chocolate malts. Hops try in vain to add a decent balance, but nothing doing. Mouthfeel has a decent amount of carbonation, but falls flat halfway through the beer. Aftertaste is sour and grape-y. This is not a stout I'd recommend. Smells/tastes like some off-flavors got into the batch somewhere along the brew process.
959 characters
1.8
/5
rDev
-21.7%
look: 2 | smell: 2 | taste: 1.5 | feel: 2 | overall: 2
22oz purchased on Outer Banks, NC. It has a pirate on the front.
Pours out muddy brown... I thought this was a stout? Very little head. No roasty smells as one would expect from a stout. No chocolaty smells as one would expect from a chocolate stout. Smells slightly sour. Completely uninviting so far.
Taste is no good. Thin body, tart flavor. Hard to describe, as this completely missed expectations of being a chocolate stout. Not even a good beer for that matter... I'm guessing that this is a bad batch? This one went down the drain.
540 characters
2.68
/5
rDev
+16.5%
look: 3 | smell: 2.5 | taste: 2.5 | feel: 3 | overall: 3
22oz brown bottle with no freshness date. Pours a very dark brown (I can still see through it) with a 1 finger head, OK longevity and OK lace. Not a ton of big stout smells. I get some roasted malts mixed with coffee, chocolate etc. Smells "wimpy". Upon tasting I get watery stout flavors although I do get a decent roasted bitterness in the aftertaste. It also has a tartness to it that I generally don't expect in a stout. It's a bit too watery for me.
454 characters
Teach's Chocolate Stout from Azalea Coast Brewery
2.3
out of
5
based on
9
ratings.