Penn Ginger Beer

Pennsylvania Brewing Company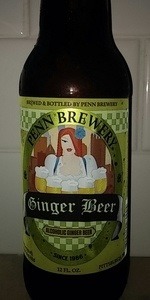 Write a Review
Beer Geek Stats:
| Print Shelf Talker
Style:

ABV:

4.5%

Score:

Avg:

3.33

| pDev:

20.12%

Reviews:

11

Ratings:

From:

Avail:

Rotating/Seasonal

Wants

Gots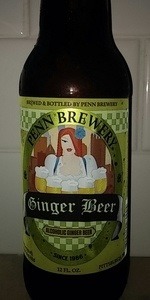 Notes:

mvanaskie13 from Pennsylvania
3.2
/5
rDev
-3.9%
look: 3.25 | smell: 3.75 | taste: 3 | feel: 3 | overall: 3
Poured into custom shaped glass: color is straw, transparent, bright white head presenting about 1/2 inch thick and quickly dissipating to a ring and thin top.
Smell is ginger, ginger, and light pale malt.
Taste is heavily ginger then some lighter sweet malt and maybe some honey like sweetness, but fairly thin flavor backing up the ginger punch.
Mouthfeel is sharp from the heavy ginger dose, a bit biting - i wonder if this is from the thin flavor (i.e. fully fermented) instead of the biting ginger spice.
Overall spicy ginger beer, the aroma and start of the flavor have promise but the mouthfeel is just a bit too sharp.
Jan 10, 2017

dacrza1 from New Jersey
1.9
/5
rDev
-42.9%
look: 1.5 | smell: 2 | taste: 2 | feel: 1.75 | overall: 1.75
DATE: Saturday, November 12, 2016... OCCASION: finishing laundry and planning my mom's cancer care while nursing a sore throat--will this ginger help? GLASSWARE: Celebrator pokal... pours a spritzy sallow golden body akin to ginger ale... flattened head rings to nothing... sparse bubbles once the glass settles... ginger, sea brine and medicinal band-aid, chamomile and lavender--an odd mix of aromas... drinks lightly and with flatness--not a ginger ale, for sure... a burn at the throat belies its light ABV... definite ginger, light mint, hard tap water and lemon juice... this one is not one I will seek out again, for multiple reasons...
Nov 13, 2016

DavoleBomb from Pennsylvania
2.43
/5
rDev
-27%
look: 2.5 | smell: 2.5 | taste: 2.25 | feel: 2.75 | overall: 2.5
Poured into a snifter.
2.5 A: Chill hazed golden peach color. Less than one finger of short lived white head appears and fades leaving no lacing.
2.5 S: This beer comes as advertised. There's simply a ton of real ginger in here. However, this comes at the expense of overshadowing the malt and hop profiles. Some doughy maltiness underneath and not much of a hop presence.
2.25 T: The ginger isn't nearly as potent in the taste however. In fact, nothing in the taste is prominent. It has a soft, neutral maltiness, bland earthy hoppiness, and ginger.
2.75 M: Lighter body. Good moderate carbonation. Lacking creaminess.
2.5 D: I learned a while ago through homebrewing that making a specific herb or spice the centerpiece of a beer almost never works. If this beer had stronger bones to supplement the ginger it may have worked. In any case, I can't understand why Penn tries to push this beer so hard. It's part of mixed cases, shows up on tap everywhere, and seems to be a focus at festivals. It's bland, uninspired, and isn't nearly as good as any of the readily available commercial ginger ale sodas out there.
Oct 01, 2016
tone77 from Pennsylvania
3.36
/5
rDev
+0.9%
look: 4 | smell: 3.5 | taste: 3.25 | feel: 3.25 | overall: 3.25
Poured from a brown 12 oz. bottle. Has a golden color with a 1/2 inch head. Smell is of ginger, little else. Taste is ginger, light malts, a bit of an unusual aftertaste. Feels medium/light in the mouth and overall a mediocre beer, nothing terrible, but one is enough for me.
Oct 04, 2015
IronLover from Pennsylvania
3.31
/5
rDev
-0.6%
look: 4 | smell: 3.5 | taste: 3 | feel: 3.75 | overall: 3.25
Pale yellow in color with a light haze. Poured with a short white foam that reduced to a wispy cap. Pleasant aroma of ginger with light malty notes beneath. Medium light bodied with medium high, but soft carbonation. Medium high ginger flavor with light malt beneath. Maybe a blonde ale base beer with ample amounts of ginger flavor. The ginger is a bit overwhelming as the malt from the base beer is almost undetectable. Light hop bitterness near the finish. Hot ginger spiciness carries through the finish resembling a light astringency that puts a dent in the drinkability of this one for me.
Aug 11, 2015

classixIII from Pennsylvania
2.89
/5
rDev
-13.2%
look: 3.25 | smell: 3 | taste: 2.75 | feel: 3.25 | overall: 2.75
Interesting, but.....not really for me. I got a little more than a just hint of ginger and and not much of the beer. Over all it was well carbonated and very light but to be honest I've had non alcoholic ginger beer that was way more flavorful than this..maybe I should try it in a Moscow Mule! Sorry Penn, I'm a big fan but this one missed the mark for me.
Jul 27, 2015
Cnote_crafty_1 from Pennsylvania
4.64
/5
rDev
+39.3%
look: 3.75 | smell: 4 | taste: 5 | feel: 5 | overall: 4.75
I was just at the Three Rivers Arts festival in downtown Pittsburgh and along with their three stages of bands, a gazillion art booths/vendors selling wares/food the Wyndam Hotel had a bier Garden out in front of the hotel. It was for the Penn Brewery and featured four of their beers. The Biergarden IPA, Penn Gold, Penn Pilsner and this Ginger Beer. As far as I can tell it is a newer brew and it was very summery and perfect for this outdoor venue. The bartender served it to me in a plastic cup ofcourse because it is outdoors. The appearance is a slightly darker gold color with a thin white head and some small lacing. It has the smell of ginger, bready malts, grains, and a dry finish. It is light on the moulth, but the spice and grains give it a good body. The spiceyness of the ginger is quite apparent and I thought it was more than enough without going into the realm of being a hot spiceyness. It is really a good option if you want the ginger qualities of a ginger beer soda without the higher sugar content. I have had some gingery beers and the ginger was alot weaker. I will certainly have this one again.
Jun 14, 2015

Slatetank from Pennsylvania
3.56
/5
rDev
+6.9%
look: 3.5 | smell: 3.75 | taste: 3.5 | feel: 3.5 | overall: 3.5
I enjoyed this chilled from the 12oz bottle in a mug.
The color is golden with good clarity and thin white head with fine bead with spotty lace. The smell is semi-sweet with light woody spicy aroma of ginger. The feel is malty with sweetness balanced by the spice and moderate carbonation level with dry toasted grain in the finish.
The taste is nicely spiced with ginger medium low malt sweetness in the middle with a slight alcohol accent with mild grainy flavor with semi-fruity yeast and ginger in the finish which is spicy and dry. Overall this is okay, a nice ginger flavor yet light ale body which supports without any off taste to speak of.
May 24, 2015

Ozzylizard from Pennsylvania
3.13
/5
rDev
-6%
look: 3 | smell: 3 | taste: 3 | feel: 3.75 | overall: 3.25
Undated bottle at 40 degrees into shaker
Aroma initially of a lager then the ginger comes through
Head large (5 cm, aggressive pour), white, frothy, rapidly diminishing to 3 mm ring and spotty frothy layer
Lacing none
Body light yellow, clear
Flavor very weak of ginger, weaker than most (non-alcoholic) ginger ales. No hops, no alcohol, no diacetyl. The weak ginger flavor does have a long hang time.
Palate light, watery, lively carbonation
Appearance 3, Aroma 3, Flavor 3, Palate 3.75, Overall 3.25
May 02, 2015
Stinkypuss from Pennsylvania
3.26
/5
rDev
-2.1%
look: 3 | smell: 3.25 | taste: 3.25 | feel: 3.5 | overall: 3.25
LOOK: The 12 oz bottle pours a golden liquid a few shades darker than a ginger ale. Carbonated bubbles rise to the top busily.
AROMA: Ginger ale and malts. Definitely can smell the aromatics of ginger amongst the grains. Perceived sweetness is high from the nose.
TASTE: Ginger is the dominant taste with powdery malts and a twang of hop bitterness. Suggestions of honey and citrus. Slight earthy thing going on. I like ginger, so I like this. Would pair excellent with Sushi or any Asian cuisine for that matter.
FEEL: Medium bodied, highly carbonated brew. Lingering flavor of ginger and hop bitterness.
OVERALL: This is an interesting brew here, I've had a few ginger beers and this still reminds me of a Penn Beer, though of course heavy on the ginger. Rating this as an alcoholic ginger beer.
Mar 26, 2015

57md from Pennsylvania
3.77
/5
rDev
+13.2%
look: 3 | smell: 4 | taste: 3.75 | feel: 3.75 | overall: 3.75
Pours a clear light champagne-like color (basically it looks like ginger ale soda) with plenty of fizz but little head. The nose has the distinct essence of real ginger – definitely not the fake smell one gets from ginger ale soda. The ginger also dominates the flavor profile but the distinct bite of hops comes on in the end to break up the ginger spiciness.
This offering is very light-bodied and highly drinkable. I'd recommend this for a summer picnic as a far better choice than the fake tasting "malternatives" that are mass produced by the big commercial brewers.
Jun 14, 2014
Penn Ginger Beer from Pennsylvania Brewing Company
Beer rating:
78
out of
100
with
30
ratings