Rooney's Old Irish Style Ale

Pennsylvania Brewing Company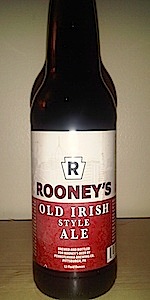 Write a Review
Beer Geek Stats:
| Print Shelf Talker
Style:

ABV:

5.5%

Score:

Avg:

3.3

| pDev:

18.18%

Reviews:

13

Ratings:

From:

Avail:

Rotating/Seasonal

Wants

Gots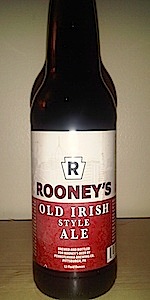 Notes:
Cherrybrandy from Pennsylvania
4.25
/5
rDev
+28.8%
look: 4 | smell: 4 | taste: 4.5 | feel: 4 | overall: 4.25
Found this beer at a local distributor in the Westview shopping center Pat 1199 a case. anything that comes out of Penn brewery which this did is easily worth $25 plus a case. I think it is the wisest bye I ever made for beer even if maybe it was brewed to be drink by 2014. Bottoms up I'm going to get more.
Jan 09, 2020
StJamesGate from New York
3.54
/5
rDev
+7.3%
look: 3.75 | smell: 3.5 | taste: 3.5 | feel: 3.75 | overall: 3.5
Mahogany with ivory film. 3.75
Syrupy with glace cherry. 3.5
Cherry cough syrup, some wood and almond skin, carob, and earthy finish. 3.5
Bitter almond linger.
Medium, gooey, chewy. 3.75
Gloopy. Not Irish, never mind the American Amber hybrid the label claims. Just not good. 3.5
Feb 02, 2017
SPLITGRIN from Kentucky
3.75
/5
rDev
+13.6%
look: 3 | smell: 4.25 | taste: 3.75 | feel: 3.5 | overall: 3.5
A strong pour gets me a half inch of tan head that quickly fades to a skim just around the edges of the glass. Nose is luscious and delicious and much more then I was expecting. Tons of rich toffee and carmel come through on the nose. There is some dark ripe red fruit playing as well. Malts are dominant and roasty on first sip. There is a bit of caramelized sweetness on the palate as well. Body is a slight bit thin, but this beer has solid flavor for a underwhelming style. Mouthfeel is slightly thick and perfect for the style. Overall good beer.
Jun 10, 2015

krykel from Pennsylvania
1.75
/5
rDev
-47%
look: 3 | smell: 1.75 | taste: 1.5 | feel: 1.5 | overall: 2
Look: Since I had it in a bottle and no glassware to be found I gave it a 3 just cause its in the middle. Though I should note, very little carbonation.
Smell: again, it was truncated due to bottle, but it smelled run of the mill craft. nothing special, but not stomach turning. 1.75
Taste: A bit on the dull side. Almost like flavored water, though flavored water has better taste. Hell, even just plain ol water tastes better. But I've had worse so 1.5
Feel: Very thin. Again like water. 1.5
Overall: Really disappointed in this. I think it's the price point that kills me. at $32 a case, I'm not expecting the world, but at least some form of quality. It should be noted that my wholesaler has a hard time with freshness with Rooney's (which should be a red flag right away). The bottles I have were dated "best before 12/16/14". While it is not terribly far from that date it may have played a factor. The looks saved this and thats just by default. 2.
Dec 20, 2014

CraftBeerTastic from Pennsylvania
3.55
/5
rDev
+7.6%
look: 3.25 | smell: 3.25 | taste: 3.75 | feel: 3.75 | overall: 3.5
Ba Review #276
Served On: 06/15/2013
Glassware: Pint Glass
Labeled ABV: -
Date/ Code: -
This was enjoyed at Houlihan's restaurant in Station Square, Pittsburgh, PA. I was waiting for some takeout and thought I'd have a couple at the bar during a fathers day weekend trip.
Look: The brew had a dark brown appearance with some tinges of ruby red. A thin light-tan head was present with occasional lacing that randomly formed.
Smell: Some spice and a roasted quality was in the aroma. Maybe even some cinnamon. It almost reminded me more of an English Old Ale at this point.
Taste: The spice and roasted notes hit first. Then a cracker or biscuit set in towards the middle. Some fain hops were noticeable in the finish, but roasted malts seemed do dominate this beer. The mouthfeel was actually sort of creamy. I meant to ask if it was served from a nitro tap, but forgot.
Overall this was a solid brew that screams Pittsburgh way louder than IC Light ever will. The drinkability was rather decent even though it had the spicy undertones and creamy body.
Jun 19, 2013
RblWthACoz from Pennsylvania
3.5
/5
rDev
+6.1%
look: 3.5 | smell: 3.5 | taste: 3.5 | feel: 3.5 | overall: 3.5
Always good to see a rarely seen style like this one being put out there. It's quite a heavy beer, with hearty malty tones and that somewhat dark fruity thing going on. I feel like I want to say that this has hop spice tones to it. At least, that is what I get off of it. Not quite sure what the recipe consists of that would dictate that. Overall, it's a pretty good beer. Great consistency on the flavor, which seems to be an issue for many interpretations of this style. I'd actually go back to this beer, if I had the choice and felt like I wanted something along this line.
Dec 21, 2012

Darkmagus82 from Texas
3.41
/5
rDev
+3.3%
look: 4 | smell: 3 | taste: 3.5 | feel: 3.5 | overall: 3.5
Served on tap in a pint glass
Appearance – Served a brown colored brew with light hints of red. Upon serving there was a nice just off white head of two fingers. The head faded relatively fast to leave a lighter level of lacing.
Smell – The aroma was overall quite light. While light it was strongest of caramel and some roasted malt aromas. Mixed with these aromas is a light aroma of an earthy nature.
Taste – The taste starts roasted and sweet with a good dose of caramel and some brown bread and roasted notes. As the flavor advances further the sweetness and roast fade slightly with hop flavors coming onto the scene. While the hop remains relatively light to the end where a more roasty and slightly earthy flavor are left to linger on the tongue.
Mouthfeel – The body of the beer is rather average in thickness with a medium level of carbonation. Both create a very easy drinking brew.
Overall – An easy drinking beer with a moderate roast, sweet, and hop flavor. Nothing exceptional, but quite balanced and a good session.
Sep 15, 2012

keeganfrank from Ohio
4
/5
rDev
+21.2%
look: 4 | smell: 4 | taste: 4 | feel: 4 | overall: 4
Brown ale with a thick, foamy head and yellow highlights. Aromas of sweet orange and grapefruit accompanied by bread and caramel. Tart citrus rind and caramel flavors with dry, leafy notes; grains and fruit in the aftertaste. Has a light, crisp body that makes it an easy drinker.
Jun 27, 2012

NardiByNature from Massachusetts
4.13
/5
rDev
+25.2%
look: 4.5 | smell: 4 | taste: 4 | feel: 4 | overall: 4.5
A: dark copper/auburn color with a very respectable cap and lacing galore.
S: Rye-bread and biscuity malts, on point for an Irish red.
T: sourdough, rye, and some bitterness.
M: A little creamy and oh so smooth. Nice carbonation and finishes well-balanced between a little bitterness and the buttery-sweet malts.
O: damn drinkable and the best Irish red I know of. One hell of a quality/craft alternative to Smithwicks
Mar 28, 2012
WVbeergeek from West Virginia
2.8
/5
rDev
-15.2%
look: 3.5 | smell: 3.5 | taste: 2.5 | feel: 2.5 | overall: 2.5
Appears a muddled ruby red color with a light khaki tan head forming thin and leaving behind even coated lacing. Aroma has some nice caramel malt and cereal grain notes, slight herbal hop note to it. Flavor is pretty harsh alot of earthiness, touch of wet cardboard in the malt profile...even with the nostalgia of past Rooney pubs and breweries this just isn't a good beer. Mouthfeel has a strong bitterness going on with the caramel dirty earthy notes colliding on the palate and leaving behind a dry medicinal presence that you have to brush your teeth to get rid of. I bought this at Giant Eagle Market district definitely not worth it, all of the Penn bottled beers have a horrible aftertaste.
Jan 21, 2012
DrDemento456 from Pennsylvania
3.4
/5
rDev
+3%
look: 3.5 | smell: 3.5 | taste: 3.5 | feel: 3.5 | overall: 3
Man Penn Brewery made this? I try everything they make!
A - Deep dark brown with a solid bit of haze. Borderline old ale look with a half inch of head.
S - Smells pretty faint maybe some piney hops, touch of herbal, and a bit of caramel.
T - Reminds me of an English bitter at first with flavors of tea bags but that might be remnant of the last beer I had. It does have a gritty hop profile that leaves some bitter pine flavors.
M - Medium bodied ABV is noted to be around 5-6%
Overall I was told by my bottle shop guy not to drink this because it tastes offensive but to me it really wasn't terrible at all. Defiantly not Penn's better offerings.
Jan 18, 2012

thecheapies from Pennsylvania
3.23
/5
rDev
-2.1%
look: 3 | smell: 2.5 | taste: 3.5 | feel: 3.5 | overall: 3.5
Bottle says it's a blend of an Irish Red Ale and an American Amber Ale.
Pours a hearty brown with a reddish hue. A bit of head that fell; lacing wants to stick.
Aromas are weak, but mostly pleasant. Husky roasted malts with some bittersweet notes of caramel and hop earthiness.
Spicy hop balances with the sweeter, roastier malts. Minor astringencies taken into account. Very bitterly dry finish. Very crisp and quenching. Drinks pretty fast. Carb is a little bristly. Good body, far from watery.
Second time around on this one. Not bad. A prime pick at my local dive bar, but nothing to seek out.
Jan 06, 2012
Stinkypuss from Pennsylvania
3.58
/5
rDev
+8.5%
look: 4 | smell: 3.5 | taste: 3.5 | feel: 4 | overall: 3.5
Pennsylvania Brewing Company
Rooney's Irish Style Ale
Pours a deep amber/brown color with a layer of soapy white foam. Aroma of biscuity, bready malts. In the taste, a strong malt presence, with peaty and roasted flavor. Caramel, toffee, nutty malts and definate roasted qualities. Small hop bitterness, moderately leafy and noble in nature. Mouthfeel is medium bodied, smooth with a crisp carbonation. Overall, a standard Irish ale, sessionable, unoffensive and pretty nice.
Dec 29, 2011
Rooney's Old Irish Style Ale from Pennsylvania Brewing Company
Beer rating:
77
out of
100
with
51
ratings