Glenn Sherbrooke - A New Breed
| Sherbrooke Liquor Store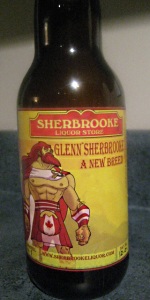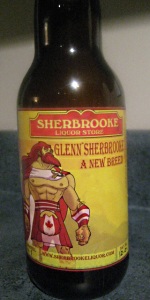 BEER INFO
Brewed by:
Sherbrooke Liquor Store
Alberta
,
Canada
sherbrookeliquor.com
Style:
American Strong Ale
Alcohol by volume (ABV):
12.20%
Availability:
Limited (brewed once)
Notes / Commercial Description:
Alley Kat Brewery's Amber Brown Ale aged in Glen Breton barrels from the Glenora Distillery in Nova Scotia.
Added by IronDjinn on 10-03-2010
This beer is retired; no longer brewed.
Ratings: 9 | Reviews: 8
Reviews by MAB:
4.17
/5
rDev
+11.5%
look: 3.5 | smell: 4 | taste: 4.5 | feel: 4 | overall: 4
Even though this beer is related to the Glenda Sherbrooke, it isn't fair to compare the two because they have such different alcohol levels.
That said, they taste pretty similar, and by that I mean damned good!
They are well worth the higher price and if you're a fan of beer AND Ed Wood movies (and/ or angora sweaters), then you owe it to yourself to get out there and get one of these Glenns. And a Glenda.
Yum!
414 characters
More User Reviews:
3.95
/5
rDev
+5.6%
look: 3.5 | smell: 3.5 | taste: 4 | feel: 4 | overall: 4.5
Sherbrooke's Glen Breton barrel-aged strong ale, fast on the heels of the Canadian Cask Innis and Gunn incarnation of last year. I see that the lawyers had at least some say in the naming of this offering - 'Glenn' vs. 'Glen' doesn't get you sued by the Scottish Whiskey Association, and hey, that's how Glenn Anderson spells it, so it's more than good enough for me...and I can't help but chuckle at the Maple Leaf sporran sported by the Gaelic Adonis adorning the label...
This beer pours a murky, dark amber hue, with numerous fingers of dense soapy pale beige head, which leaves a clean slate as far as lace is concerned. It smells pretty much what I remember of Glen Breton's whiskies - nutty, buttery caramel, and herbal notes. The taste is restrained caramel malt, with some vanilla and grainy, boozy woodiness from the barrel, oily nuttiness, and floral, herbal hops. The temperature of this beer is incredibly tepid (in a good way!), given the eye-raising (and AGLC-baiting) ABV. The bubbles are on the soft side, the body medium weight, generally smooth, and it finishes with all the oaky characteristics of the barrel, but none of the alcohol.
Very representative of the Glen Breton expression atop a base beer. It's not a strongly-flavoured malt whisky to start with, and this meshes with a middling underlying amber ale (somehow weaker-seeming than the purported Alley Kat Amber here), to meekly overshadow it. Overall, though, it is amazingly easy to drink, given its proscribed strength.
1,504 characters
3.06
/5
rDev
-18.2%
look: 4 | smell: 3 | taste: 3 | feel: 3 | overall: 3
Strong alcohol without any expected bolder taste. Sourish, just boozy. A great big off-white head in the pour.Unfiltered yellow body. Malty aroma. Drinkable but uninteresting.Thanks Presario.Rather than oak, getting a malty residue, sweet and a little sticky.
259 characters
3.88
/5
rDev
+3.7%
look: 4 | smell: 3.5 | taste: 4 | feel: 4 | overall: 4
A - a murky mahogany colour, tall fluffy tan head slowly dissipated in random sections
S - some sweet & sour fruity and alcohol notes, a sweet woody rye aroma, somewhat toasty, all generally subdued aromas
T - slightly astringent and fruity up front, light elements of oak and rye but not the peaty like a scotch, finishing with nutty and toasted bread flavours
M - well carbonated especially if you give it a swish, creamy and generally full and tingly all the way through
O - the scotch barrel aging is subtle but complimentary, a very drinkable big beer that you would not peg at 12.2%, well worth getting your hands on
622 characters

3.56
/5
rDev
-4.8%
look: 4.5 | smell: 3.5 | taste: 3.5 | feel: 3.5 | overall: 3.5
This seems to be a new ongoing limited edition series from Sherbrooke using Glen Breton barrels from Nova Scotia's Glenora Distillery. This time around was a base of Alley Kat's Amber ale.
Came in a 341 brown bottle. Pours out a hazed dark mahogany brown that appears translucent deep copper when held to light. The head is a couple of fingers worth of creamy off-white head that eventually settles to a thin cap.
Light toasty and nutty notes in the background of the aroma, however the star of the show is a very apparent presence of whiskey, although it comes across more akin to rye than scotch. It works but lacks a sense of depth beyond the character from the barrel.
Toasty, nutty malt also shows up in mild doses in the flavour, while the dominant character is once again from the barrel--and these were good barrels! More notes of light brown sugar, whiskey and wood, with a bit of a citrus zip on the finish and in the aftertaste. Flavour is clean throughout.
Medium-light mouthfeel, low carbonation, slick texture that gets a bit sticky on the finish and aftertaste.
A much better and cleaner final product than Rye Dawn, everyone involved must have figured out the glitches from that initial attempt. Decent for what it is, but it would be interesting to see what they can pull off with a base beer that has a bit more complexity to start off with.
1,374 characters

3.92
/5
rDev
+4.8%
look: 3.5 | smell: 4 | taste: 4 | feel: 3.5 | overall: 4
Deep amber bordering to reddy brown in colour, with thin beige head.
In terms of smell I get whiskey, vanilla, caramel/toffee, and some rhum soaked fruits. Smells pretty good although the whiskey smell is quite predominant
In terms of taste I got a quite tart fruity taste like sour cherry or sour plum as the most predominant element of the beer. (I think there may have been an issue with bottle infection, as I had tasted this beer before when a friend had it, and I did not get the strong tartness in that context.) Other than I get candied sugar/brown sugar, some oaky notes, and a bit of toasted malt.
I am not sure if this is how the beer is supposed to taste but I still enjoyed it. Although the tart fruitiness overshadows everything else.
Mouthfeel is a little bit thin and a little flat but it is okay still.
Drinkability is excellent considering this is 12.2% alchohol.
889 characters
3.65
/5
rDev
-2.4%
look: 4 | smell: 4 | taste: 3.5 | feel: 3.5 | overall: 3.5
Cheers to my fellow BA for hooking me up with a bottle of this...
A - Pours a dark cloudy mahogany colour, two fingers of beige head with solid retention and some nice chunky lacing.
S - The alcohol heat comes off the top, followed by some dark fruits, plums, dark caramel and some sour apples and cider.
T - Slightly metallic off the top, the plums, raisins and apple juice come through next and the finish is reminiscent of a pinot grigio white wine. The booziness is extremely well hidden, but I'm struggling to find any whiskey tones or oakiness.
M - A little overly carbonated for my liking, coming across a tad light, though goes down smooth and finishes wet.
O - A unique offering indeed and the high ABV is incredibly well hidden. I was surprised to find out that the base beer was their Amber ale as I struggled to identify the characteristics of the ale. Something a bit more bold might have worked better, but a tasty ale nonetheless. Worth picking up if you get the chance.
990 characters

3.43
/5
rDev
-8.3%
look: 4.5 | smell: 4 | taste: 3 | feel: 3 | overall: 3.5
341ml bottle poured into tulip 27/6/11
A a little gush when I pop the cap but I get it all in my glass where it has a massive three finger light tan head that ever so slowly falls to an island leaving a few partial rings of lace. I didn't expect head retention like that on such a strong beer, nice deep amber glow with lots of tiny suspended particles, good looking stuff
S lots of toffee with boozy honey and some caramel apple
T taste's a little off compared to the smell, the apples a little sour and its a little acidic, not bad but not what I was hoping for after the look and smell, props if the is over 12% the booze is well hidden
M a little thin and it foams up a bit in your mouth, a little heat but you feel the booze more then anything
O perhaps it needs some cellar time or was better fresh but this one seems a little off and I thought it would be a little better
thanks Jim for hauling this one to Calgary, not my favorite beer for a base but I love the fact Sherbrooke's trying new stuff and its a good thing for beer in Alberta without doubt
1,069 characters
Glenn Sherbrooke - A New Breed from Sherbrooke Liquor Store
Beer rating:
0
out of
100
with
9
ratings