Hellfire Ale
| Bright Brewery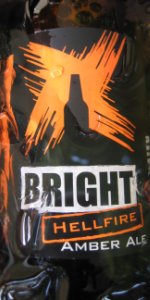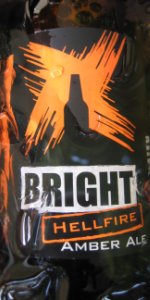 BEER INFO
Brewed by:
Bright Brewery
Australia
brightbrewery.com.au
Style:
English Pale Ale
Alcohol by volume (ABV):
5.00%
Availability:
Year-round
Notes / Commercial Description:
No notes at this time.
Added by BeerAdvocate on 12-20-2005
HISTOGRAM
Ratings: 11 | Reviews: 10
Reviews by Macca:
More User Reviews:
2.96
/5
rDev
-9.8%
look: 4 | smell: 3 | taste: 3 | feel: 2 | overall: 3
Pours dark amber with a lasting small head.
Nose is faint, but shows some banana and apples along with some floral hops.
Lots of toasty nutty flavours add a new dimension with some of that banana following through. Unfortunately the malt is slightly grainy.
Carbonation is too high.
282 characters
3.08
/5
rDev
-6.1%
look: 3.5 | smell: 3 | taste: 3 | feel: 3.5 | overall: 3
Seems an example of an Irish Red Ale. Orange-red in appearance with a moderate haze. Smell is a nice balance between a hot mash malt and plenty of bittering hops. Malt's in the background with this one, but still a nice balance between the sweet and bitters. Aftertaste is a bit astringent, however and leaves a wee bit to be desired. Moderate mouthfeel and decent drinkability.
379 characters
3.46
/5
rDev
+5.5%
look: 4 | smell: 3 | taste: 3.5 | feel: 3.5 | overall: 3.75
A: Pours a nice amber color with a head that fades slowly to some lacing.
S: Mild aroma of roasted malt, bit of hops and a hint of caramel sweetness.
T: Taste of roasted malt, with some caramel sweetness. Mild bitterness and a dry finish.
F: Fairly medium body, smooth with a nice balance.
O: Nothing fancy, just a nice beer to relax with.
347 characters

2.49
/5
rDev
-24.1%
look: 3.5 | smell: 2 | taste: 2.5 | feel: 3 | overall: 2.5
Pours a reddish-tinged amber-IPA colour really. Head is beige, but not impressive, just a film left. Body is quite opaque. Not much carbonation, but lace is pretty nice. Overall a bit of a mixed bag.
Umm, don't like the smell very much. Quite intense with a big cloying bread yeast sweetness plus big phenolic medicinal aroma. Cherry notes? Yeah, overly strong; quite unpleasant actually.
Tastes quite unpleasant, as well, I'm sorry to say. A bit sour at first and doesn't get much better. Slight toasted malt with just an unpleasantly malty but also bready yeast note. Very sour with undercooked malt notes. Weak at times, lacking in flavour; just gritty and unenjoyable and a little bit cloying. Meh.
Decent body, but overwhelming fizzy harshness; not a fan.
Well I'm not sure if I got a duff bottle but I found very little to enjoy in this; seems a bit of a mishmash and not really sure what they were even going for. At times yeasty and at other times had that intense bitterness I associate with really Burtonised IPAs. Will probably try again to compare but this time around this was not an enjoyable beer.
1,119 characters
3.73
/5
rDev
+13.7%
look: 4 | smell: 3.5 | taste: 4 | feel: 3.5 | overall: 3.5
A very nice reddish amber colour, with a frothy and solid head of off-white foam. Head sustains itself for a while, but collapses soon after, leaving some clumpy lacing around the edge of the glass. Body looks surprisingly thick. Pretty nice looking all up.
Nose is a pleasant mixture of goopy sweet honey and malt, with a pleasant light floral hop character. Perhaps slightly sweeter than it needs to be, but it does have a pleasant balance.
Palate is very pleasant as well, with grain characters evoking carob and halva, and a nice clean bitterness on the back. Carbonation is a little overwrought, giving too much prickle in the mouth. The bitterness comes across a little more astringently later, but it's a very pleasant ale all up.
A very decent brew, with a pleasant take on an Amber Ale. Colour is great, and the palate is nicely skewed to grain in a way which doesn't harm drinkability or refreshment.
913 characters
3.45
/5
rDev
+5.2%
look: 3.5 | smell: 3.5 | taste: 3.5 | feel: 3 | overall: 3.5
Quite cloudy light brown to ruby in colour with not much head.
The smell is maltishly sweet and not much else.
I thought there was a little orange hints in the flavour, underneath the malt and fruity hops.However thee was a sourness as well which detracted from what I at first thought was going to be a really nice drop.
It is watery in the mouth and the carbonation is unobtrusive.
Maybe the sourness is a one off fault with my botle or this batch but if it is truely characteristic of what the brewer is after , in my view if they tempered it they would have a lot better product on their hands.
It is still a decent option and I suspect it would be a better drink coming straight from a cask.
701 characters
3.75
/5
rDev
+14.3%
look: 3.5 | smell: 3.5 | taste: 4 | feel: 4 | overall: 3.5
A - Very hazy amber orange colour with a few centimetres of off white head that slowly falls away.
S - Floral, slightly spice hop notes with some caramel to balance.
T - Everything from the smell but more powerful.
M - Quite full bodied with a medium carbonation.
D - Nice, tasty beer. A couple in a mixed 6 pack wouldn't be a bad move.
336 characters

3.44
/5
rDev
+4.9%
look: 3.5 | smell: 3.25 | taste: 3.5 | feel: 3.5 | overall: 3.5
I had a 330ml bottle. This beer won a silver medal in class 1C Pale Ale - Extra Special Bitter in the 2014 CBIA Craft Beer Awards.
Appearance: pours clear reddish toffee colour. A good 1cm off white head is well retained through the glass. Impressive.
Aroma: some nice caramel malt aromas, subtle.
Flavour: nice caramel malt flavours, smooth creamy mouthfeel, moderate bitter finish.
Overall: a nice example of an English bitter style. Very flavoursome and nice balance with hop bitterness on the finish.
505 characters
2.71
/5
rDev
-17.4%
look: 4 | smell: 3 | taste: 2.5 | feel: 3.5 | overall: 2
Note: no best-before date
Appearance - 4.0
A somewhat (but not overly) heavy handed pour results in 3/4 of the glass filling with meringue-like, off white head. After a long wait and several top-ups I am left with a beer with excellent head retention and a hazy amber coloured body.
Smell - 3.0
There is something distinctly Belgian about the aroma, smelling decidedly yeasty, floral and perfumy.
Taste - 2.5
Very yeasty and sour, reminding me of Orval. Considering that the brewers' tasting notes suggest English pubs and caramel, I would say that the beer is probably past its best. Interesting, even challenging, but nothing like an EPA in its current state.
Mouthfeel - 3.5
Fine but aggressive carbonation.
Drinkability - 2.0
Not good in its current state, an EPA should be a sessionable beer and this is not.
OVERALL - 2.95
I hope to try a fresh Bright Hellfire so I can make a proper judgment with which to replace this review.
939 characters

4
/5
rDev
+22%
look: 4 | smell: 4 | taste: 4 | feel: 4 | overall: 4
I think this is the best brew in here.
This is an amber well filtred and good looking ale.
the smell is good.
The taste is a bit bitter well balanced
mouth feel is nice, dry
Drinkability is good, makes you want more..
I try every brew here and this one was my favorite, because, it is well balanced and taste strong enought to make you happy, and ask for another one maybe.
381 characters
Hellfire Ale from Bright Brewery
Beer rating:
3.28
out of
5
with
11
ratings