Kievari Schwarz
| Laitilan Wirvoitusjuomatehdas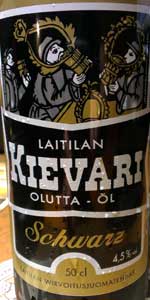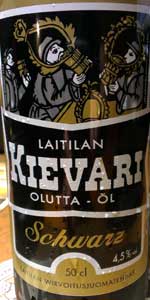 BEER INFO
Brewed by:
Laitilan Wirvoitusjuomatehdas
Finland
laitilanwirvoitusjuomatehdas.fi
Style:
Schwarzbier
Alcohol by volume (ABV):
4.25%
Availability:
Year-round
Notes / Commercial Description:
No notes at this time.
Added by Arborescence on 11-13-2012
HISTOGRAM
Ratings: 2 | Reviews: 2

2.77
/5
rDev 0%
look: 2.75 | smell: 3.25 | taste: 2.5 | feel: 2.75 | overall: 2.75
Truncated review from a 50cl aluminum can. Expectations are average given the brewery and style; schwarzbiers are tough to pull off right - even for German breweries.
4.50% ABV. Best before: 01032016.
Reviewed live as a schwarzbier per the label. Served cold in to a pilsner glass in Kuopio, Finland, where it was purchased at an S-market.
No bubble show forms as it's poured.
HEAD: ~3 inches wide. Pale khaki colour. Decent creaminess and thickness. Not the creamiest or most robust schwarzbier head I've seen, but passable. Leaves no lacing as it recedes. Retention is average - ~2 minutes.
BODY: Dark cola-esque amber-black. Nontransparent. Translucent on its edges. No yeast or sediment can be seen.
Appears adequately carbonated. Not a unique or special appearance for a schwarzbier, but typical of the style.
AROMA: Deep amber malts and heavy caramel. Sticky malt syrups. Hop bitterness is mild but noticeable; I guess the hop character hints at pine. The amber malt emphasis is a refreshing change in a schwarzbier, but still I'd prefer at least a hint of roasted barley. Not finding any chocolate malt, burnt/charred/ashy sugars, or breadiness.
Suggests a drinkable schwarzbier with at least above average depth. I'm actually looking forward to trying it.
Aromatic intensity is above average.
No yeast, booze, or off-notes are/is detectable, though the absence of esters and general cleanliness of the aroma suggests lager yeast of well-tuned attenuation.
TASTE: Malt syrups, amber malts, clean ester-free lager yeast, and caramel. Hints of sweet treacle.
I like that it's not too cola-emphatic, but its simplicity and shallowness hold it back. Not as deep as the aroma promised. Flavour duration and intensity are average. Not real intricate, with no flavours of notable subtlety or nuance.
Not a gestalt build, but it's not imbalanced.
TEXTURE: Sticky, smooth, wet, syrupy, and overly thick for the style. Doesn't bring out the best in the taste, nor does it accentuate any specific notes. Full-bodied when it doesn't need to be, but nicely clean.
Not oily, astringent, gushed, hot, boozy, harsh, rough, or scratchy.
OVERALL: A forgettable schwarzbier with a decently disguised ABV and no remarkable characteristics. Drinkable, and a nice change from the usual pale lagers you'd find on Finnish shelves. But in fairness, most tumma lagers have a "darker" taste than this schwarzbier. There's no harmony of texture and taste, and unfortunately the flavour profile has little to offer the discerning drinker.
Low C (2.77)
2,546 characters
3.36
/5
rDev 0%
look: 4 | smell: 3 | taste: 3.5 | feel: 3 | overall: 3.5
Appearance: Not quite pitch black. Pours a massive, foamy head with a slight brownish tint.
Aroma: Malty, but a little boring, hint of caramel. Something a little off about it...
Taste: Toasted malts, a little sweetness, hint of licorice.
Mouthfeel: Medium bodied, not very robust.
Overall: It's a nice and malty lager, but nothing special about it. Feels like it might be mimicking Velkopopovický Kozel and similar dark Czech lagers. A little less sweetness than in some of those perhaps, which is good, but then it's lacking in body. Fine and drinkable though.
575 characters
Kievari Schwarz from Laitilan Wirvoitusjuomatehdas
Beer rating:
3.06
out of
5
with
2
ratings