BlackWatch Cream Porter

Portland Brewing Company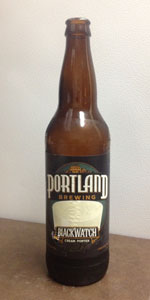 Write a Review
Beer Geek Stats:
| Print Shelf Talker
Style:

ABV:

5.3%

Score:

Avg:

3.62

| pDev:

11.05%

Reviews:

9

Ratings:

From:

Avail:

Fall

Wants

Gots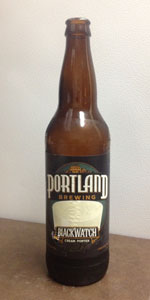 Notes:

3.45
/5
rDev
-4.7%
look: 4.25 | smell: 3.5 | taste: 3.25 | feel: 3.5 | overall: 3.5
Very dark appearance with tan head and plenty of carbonation. Virtually no aroma. Taste is also marginal. This was not a good beer experience. Marginal at best
162 characters

4.41
/5
rDev
+21.8%
look: 4 | smell: 4.25 | taste: 4.5 | feel: 4.5 | overall: 4.5
L: Pours dark with lots of light tan lace
S: nothin but malts
T: like a dark ale. But with sweetness. Tons of toffee, malty goodness
F: smooth as heck
O: a great porter. I'm shocked at the average rating, expected it way higher
229 characters
3.45
/5
rDev
-4.7%
look: 4 | smell: 4.5 | taste: 2.75 | feel: 3.25 | overall: 3.5
Poured from 12 oz bottle into pint glass, producing a finger and a half of head with what I would call a far-off-white colour. Head sticks around for a few minutes and leaves a healthy amount of lacing on the glass. Just about black, although when held upto the light it has some browner hues. Smells of coffee, nuttiness (almost like a nut brown ale?), chocolate, and some vanilla. Very pleasant on the nose.
Taste is mostly of roasted malt and coffee, with some under-the-radar flavours of tobacco/smokiness, and the amount of carbonation plus a surprising hoppiness honestly stings in the mouth a little bit. As it warms up, most of the bite goes away, and the cream part of the cream porter starts to appear. All in all, it's sad to say that this beer teased a lot but didn't deliver when it came to drinking; although the creaminess and the fact that it's not too heavy of a beer kept it from being outright terrible.
923 characters
3.87
/5
rDev
+6.9%
look: 4 | smell: 3.75 | taste: 4 | feel: 3.75 | overall: 3.75
12 oz poured in wine glass -with nuts
Appearance: Deep dark brown color clear a bit hazyness
Taste: Very good
Smell
Feel
Overall: Very good beer but lacks the balance follow through in big porters
198 characters
3.72
/5
rDev
+2.8%
look: 4 | smell: 3.75 | taste: 3.75 | feel: 3.75 | overall: 3.5
Good black color. Didn't note the foam.
Smells fine. Malty. Clean. Nothing inspiring or offensive. Honest porter.
Malty with just a bit of a bitter edge. Not a piney IPA bitterness, more a malty bitterness.
Mouthfeel is average. Fairly carbonated. Honestly for a "cream" porter I expected more richness.
Finish isn't quite up to the standard of the rest of the beer. Mild licorice asphalt bitterness.
Drank this right out of the fridge, possible it'd have opened a bit more if I'd let it warm a bit.
504 characters

3.63
/5
rDev
+0.3%
look: 3.5 | smell: 3.5 | taste: 3.75 | feel: 3.75 | overall: 3.5
Hoppy dark brown brew with a sweet note. Poured from the 22 oz bottle into a plastic cup on an Alaska Airlines flight. Not much foam, but quite fizzy on the tongue.
Malty with a touch of sweetness and a winey sensation. It starts off surprisingly bitter with more in the aftertaste. Lots of charred grainy flavors. I'd swear that it has coffee in it. This is a powerfully flavored brew, though the body seems fairly light. A pleasant sip for a dry flight, but it's more moxie than I'd want for a pintfull.
513 characters

3.83
/5
rDev
+5.8%
look: 4.5 | smell: 4 | taste: 3.75 | feel: 3.5 | overall: 3.75
22 oz bottle poured into a New Belgium goblet
A: Black, 3/4" foamy tan head, beautiful clinging lacing as you drink it, hold it up to a high-intensity xenon track light in the kitchen and one sees deep ruby red around the edges.
S: floral, malty, a bit of coffee
T: disappointing after the appearance, understated toffee, malt, nutty, hops bitterness, a bit of coffee. I don't think I like the slight tartness.
F: thin, smooth, a bit disappointing as well
O: A very good porter overall, but not one I would go out looking for.
528 characters
3.99
/5
rDev
+10.2%
look: 3.5 | smell: 3.75 | taste: 4.25 | feel: 3.75 | overall: 4
A: Near black. Semi translucent. Light biscuit head that faded quick leaving a sticky ring with webs down the side of the glass.
S: Chocolaty with almonds and walnuts. Sweetness of caramel and vanilla. Dry creaminess. Bit of a juicy alcohol aroma.
T: Awesome. Starts off caramel, creme brûlée and chocolate. Cleans up really quickly with a tartness and tanginess with a tad bit of nutmeg, cloves. Tartness even has a small amount if orange rind in it. Leaves a bit of residual sweetness of cream and sugar--cream cheese icing on a chocolate cake.
M: Starts off very light. Dryness grows and grows, but not overpowering.. yet. After half a beer it is getting a little heavy on dryness.
O: I really dig the balance of hops, which cuts the roast perfectly. The creaminess lingers from start to finish but is less noticeable until the hops come in. I think the hops created the dry finish, but well worth it as they really balance out the roast nicely.
954 characters
3.17
/5
rDev
-12.4%
look: 3.5 | smell: 3.25 | taste: 3 | feel: 3.25 | overall: 3.25
Appearance- Pours up a pretty good amount of head which seems to have similar retention. The head is a creamy, light to medium beige while the body is a dark chocolate brown which shows the slightest hint of ruby when held up to the light. Good amount of lacing.
Nose- Pretty subtle aroma which consists mostly of roasted notes. Stronger from the bottle. The glass shows some roasted malt but displays them more as a bubblegum scent. Some coffee. Swirling doesn't add much at all.
Taste- Shows a little more presence than nose. More coffee than just basic roasted notes. Does have a weird finish that is a little sour. Some grain. Some chalk. Sourness that turns sweet and then slightly metallic. Not a good flaw to have in a beer that doesn't have much complexity or presence. The sourness is way too dominant as well. Some earwax bitterness. A little too messy for such a low ABV beer. Still, not quite as bad as it may seem from the above description but pretty much average. The roasted malts are nice but fairly standard. There's a slight flavor profile boost from the oats as well. Slight tendency toward being below average. It's one saving grace is that it's pretty cheap.
Mouthfeel- A little less than medium bodied with ample carbonation that isn't too much but does give a little zing.
Drinkability- Not too bad if you don't sip it. Pretty much as cheap as a craft bomber gets at 2.50 a bomber. I've only seen Red Hook and Pyramid that cheap.
Overall- Pretty much just average as some of the off flavors begin to mellow out. I can't necessarily endorse trying it but it is cheap enough that it doesn't really matter.
1,637 characters
BlackWatch Cream Porter from Portland Brewing Company
Beer rating:
84
out of
100
with
34
ratings