Kalnapilis Pilsner

Alaus Darykla Kalnapilis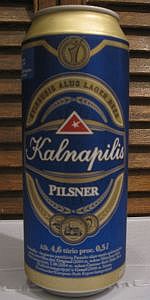 Write a Review
Beer Geek Stats:
| Print Shelf Talker
Style:

ABV:

4.7%

Score:

Avg:

3.16

| pDev:

13.61%

Reviews:

9

Ratings:

From:

Avail:

Year-round

Wants

Gots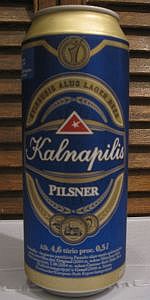 Notes:

Beer_Rabbit66 from England
3.71
/5
rDev
+17.4%
look: 4 | smell: 3.5 | taste: 3.75 | feel: 3.75 | overall: 3.75
Bought this in my local 'east block shop' in a smart appealing brown bottle with blue label. The lady who owned the shop said it was her husband's favourite.
Look; Pours clean light golden with 2 finger head but this diminishes quickly, normal carbonation for a Euro pils
Smell; clean crisp smell with light sent of hops. Fresh. Nothing special
Taste; crisp clean taste with slight hoppy aftertaste, refreshing. A Bit dull
Feel; refreshing and clean, nice and smooth going down with crisp dry finish
Overall a nice simple pils, nothing special though.
Aug 08, 2015
andrenaline from Canada
3.38
/5
rDev
+7%
look: 3.25 | smell: 3.25 | taste: 3.25 | feel: 4 | overall: 3.5
A - Pours a crystal clear pale straw colour, finger of head with little retention and some nice spotty lacing.
S - Classic grassy hop notes, hints of lemon rind and sour dough bread with a sweet corn finish.
T - Mild on the palette, the grassy hop notes dominating alongside bready malts, sweet corn notes, a touch of bitter rind and toasted cracker on the finish.
M - Meium bodied, incredibly smooth and surprising dryness.
O - Pleasantly surprised by this brew, although a tad mild it still offers up classic pilsener flavours and is incredibly sessionable. I could see myself buying this again.
May 10, 2013

liamt07 from Canada
3.2
/5
rDev
+1.3%
look: 3.5 | smell: 3.5 | taste: 3 | feel: 3.5 | overall: 3
500ml can from the LCBO, Into a pint glass.
Clear yellow with a finger of white head. Light retention, minimal lace. Nose has some sweet makt character, light veggie, and a very subtle grassy hop profile. Sweet malt is most prominent. Taste has more sweet grainy malt, light hopping with a gentle bitterness. Drying finish, where some raw grain qualities come out. Lighter medium body, adequate carbonation. An average beer, but more suited to a Helles Bock/Euro Pale Lager classification.
Oct 25, 2012

spinrsx from Canada
2.97
/5
rDev
-6%
look: 2.5 | smell: 3 | taste: 3 | feel: 3 | overall: 3
500ml Can from the Ottawa LCBO for 2.10$
Appearance - Clear golden yellow colour with an average size fizzy white coloured head. There is an average amount of carbonation showing and there is some faint lacing. The head lasted for only a short while
Smell - Malts, breads/grains, herbal notes, corn
Taste & Mouth - There is a below average amount of carbonation and I can taste malts and corn mixed with some slightly harsh herbal notes. There is also an apple juice sweetness. It ends with a grainy aftertaste.
Overall - I always have this small hope that one of these random euro beers will surprise me. Nope. This is just another boring but drinkable beer. Not something I'd buy again.
Jul 04, 2012

biegaman from Canada
3.31
/5
rDev
+4.7%
look: 4 | smell: 3 | taste: 3.5 | feel: 3.5 | overall: 3
I don't know that I've ever met any Lithuanians, but this leads me to assume they are a good-looking people. This national-brand lager is the epitome of handsome: sparkling golden, well bubbled, perfectly clear and with a fine trim of white suds that refuse to sink whatsoever, even as the liquid beneath dissipates. A real 'beaut!
Only the most ignorant person could confuse Lithuania with Mexico... unless you're blind-tasting their beers.The aroma smells strongly of creamed corn, a bouquet I most closely associate with popular Mexican swill lagers. It's fascinates me how a beer made on one side of the world can so strongly resemble one made on the another.
Whenever reviewing mass-produced lagers, especially those from countries not particularly renown for their beer culture, I just expect the corn syrup and other adjuncts to be exploding with nuclear proportions. To my pleasant surprise, however, flavors of dry hay and grain dominate, with only a spattering of (very acceptable) corn flavor.
A lot of so-called 'pilsners' falter in the mouthfeel, where the cloying, artificial qualities of the adjuncts especially start to show. They are often sickly sweet and battered in corn syrup. But Kalnapilis is relatively clean on the palate; its dry, neutral finish and ample carbonation make it more quenching than it is even conventional.
There's scarcely a country in the world that doesn't brew a pilsner but none do it as well as the Germans or the Czechs. The Lithuanians don't come close although they do a better job than most, at least if Kalnapilis is any indication. It's a national-brand lager that I can honestly say I enjoyed, which given the style actually speaks volumes.
Jun 24, 2012

thehyperduck from Canada
3.23
/5
rDev
+2.2%
look: 3.5 | smell: 3 | taste: 3.5 | feel: 3 | overall: 3
500 mL can from the LCBO. The date stamped on the bottom is March 22nd 2012, but I have no idea if that is 'best before' or 'packaged on'. Served at fridge temperature.
Pours a pale straw yellow colour, completely translucent, topped with one finger of sparkling, soapy white head. It doesn't maintain cohesion long, but at least it leaves a decent ring of lacing behind, in addition to the thin filmy cap on the surface. Clean, bland aroma typical of these eastern Euro lagers - light barley malt sweetness and some grassy hop notes.
Decent, if relatively uninteresting taste, though it at least remains clean with no sign of adjuncts or metallic off-flavours. Dominated by light grainy malts with their vaguely sweet flavour, and despite the lack of any spicy, herbal or lemony notes, there is still enough countering grassy, floral bitterness to support their claim that this is a pilsener while at least keeping a straight face. Slightly dry aftertaste. Light-bodied and watery with a firm bite from the carbonation. Easy to slug back, which is helpful because it's definitely not interesting enough to want to carefully analyze.
Final Grade: 3.23, on the high side of a C+. This isn't the best example of the style, but it's a serviceable pilsener. More of a noble hop presence would be greatly appreciated, but the existing un-noble (plebian?) hops get the job done in a sort of jerryrigged fashion. Together with the lack of any serious off-flavours or unpleasant characteristics, you have a perfectly fine choice for patios, campfires, barbecues and the like.
[Updated Aug. 15 2014]
Another 500 mL can. This is one of the cheapest Euro lagers available in Ontario at the moment, and I don't think it's a stretch to say that it's decent - for the price. It kind of smells like a pilsener, although it lacks the typical hop profile and for that reason it doesn't really compare very well to most German or Czech examples. I will keep buying this beer once in a while, because hey - cheap Lithuanian beer.
Jun 10, 2012
BlackHaddock from England
3.71
/5
rDev
+17.4%
look: 4 | smell: 3 | taste: 4 | feel: 3.5 | overall: 4
Obtained from 'Beers of Europe', a 500ml tall brown bottle: best before 18 Dec 2011, poured into a German Pilsner glass (three times) during 29 October 2011.
Typical lager/pilsner look, light golden, clear, bright and clean: this brew however had a head that tried to stay on each pour.
The smell and taste is sweeter than a German Pilsner, hoppy, but not as dry or bitter as its German friends. The hops are floral and aromatic more than bittering: very easy to drink.
I like sweeter beers, so this suits me, but I could see a Pilsner fan complaining it isn't sharp, crisp or dry enough for his tastes.
Pleasant and good enough to put up there with the better Lager/Pilsner/Helles style brews.
Oct 29, 2011
stcules from Italy
2.7
/5
rDev
-14.6%
look: 2.5 | smell: 2.5 | taste: 2.5 | feel: 2.5 | overall: 3.5
Clean appearance, yellow color, decent white foam.
The smell is essentially malty, with the hop in the background, but present.
The taste is definitely more bitter, with a good fresh hop in evidence.
The hop is dominant in the aftertaste too, with a good refreshning effect. Pleasant.
Light body.
Honest pils, drinkable and hopped, not really dry in the finish.
Dec 04, 2005
Globetrotter from Virginia
3.3
/5
rDev
+4.4%
look: 3.5 | smell: 3.5 | taste: 3 | feel: 3.5 | overall: 3.5
Found this in a supermarket just around the corner from where I work. All of a sudden, five beers from this brewery appeared on the shelves! Comes in a tall brown bottle with a short bulging neck and a blue and gold label featuring words below a pyramid shape with a bottle inside the pyramid. The list of ingredients on the Russian import label is, um, unique: malt, filtered water, and "beer products". What? They add malt and water to someone else's beer? Interesting... Best before 3/22/04, I opened it on 3/7/04.
Poured a clear slightly orangish gold under a two finger white head with some body and a bit of staying power. Nice lace hangs on the top third of the glass. The nose is mild, but flowery with hops. The mouth is prickly, light and slightly sweet. The taste opens with lots of sweet malt. This is followed by a very mild hoppiness that doesn't quite do a German pils justice, but is quite pleasant nonetheless. The aftertaste is sweet malt. Sure, I'd have another.
Mar 07, 2004
Kalnapilis Pilsner from Alaus Darykla Kalnapilis
Beer rating:
76
out of
100
with
28
ratings