The Half Barrel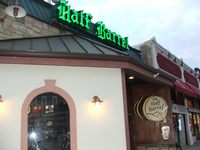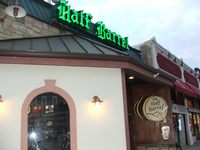 Bar, Eatery
1829 Cumberland Ave
Knoxville
,
Tennessee
, 37916-3009
United States
(865) 595-4848 |
map
Notes:
Reviews: 8 | Ratings: 10

4.05
/5
rDev
+8%
vibe: 3.5 | quality: 3.75 | service: 4.25 | selection: 4.25 | food: 4.5
Being so close to a college is a blessing and a curse. Easy to get numbers, but it can take away from the overall experience. I started going while in college there and fell in love with the place. The bartenders were nice, the beer selection (and liquor) is easily the most of anywhere near campus, and the food is delicious. One of my biggest complaints is having so many TVs going and also allowing smoking, but that's just my personal opinion. Not bad at all, but could be better. If you're in the area, I definitely recommend grabbing a burger or some wings, kick back for a while, and enjoy what they have to offer.
627 characters
3.13
/5
rDev
-16.5%
vibe: 2.5 | quality: 3 | service: 3 | selection: 3.5 | food: 3.5
The Half Barrel, formerly the Beer Sellar, is located on Cumberland Ave., next to campus. Great for students-tough to get to for everyone else. A hard, dark interior; no windows, but a small porch in the rear. Solid, if somewhat common, selection of beers. Bartenders, who don't really seem to know beer from liquor, can be a bit surly at times. Food is suprisingly decent. No parking during football games. Flatscreen televisions everywhere. Smokers here can make the beer tasting experience difficult. Mostly college crowd who don't care what they drink.
556 characters

4.25
/5
rDev
+13.3%
vibe: 4 | quality: 4 | service: 4.5 | selection: 4.5 | food: 4
Very nice bar on the strip near the campus of U.T. Nice atmosphere, lots of wood, comfortable bar and very friendly and helpful staff.
We stopped in on a Sunday afternoon, watched some hockey playoffs and baseball. We asked for a couple of samples on some drafts and they gave us a few extra ones the bartenders thought we might like...all good, by the way. Excellent selection of draft beer(over 40 or so): Highland, New Belgium, Boulevard, Catawba, Yazoo, Rogue and lots more. And 25 cent wings every day! Plenty of TV's...lots of sports and U.T. coeds on staff. If you're near U.T. and you don't stop here for a few brews, you are missing a great college bar experience!
673 characters
3.9
/5
rDev
+4%
vibe: 4 | quality: 4 | service: 4.5 | selection: 3.5 | food: 3
This is my favorite college style bar period. I love this place. They always have a great beer selection (especially when you consider their crowd and competition) And they now carry high alcohol beers. How many college bars have you been to that serve Rouge XS Imperial IPA? Exactly... The service is pretty good even when it's shoulder to shoulder. If you get in the good graces of some of the wait staff, I challenge you to find better service in town. The bartenders don't mess around when it's crowded, it's like an assembly line. The new patio out back is also a great addition. The GM is one of the nicest restaurant managers I have ever talked to. Last time I was in there with my girlfriend and roommate, I didn't realize that an entire hour had passed talking to him about beer 'till the aforementioned girls started to look sourly in my direction. My only discrepencay is the food. While it's damn good bar food, it has been better in the past. I think they wanted to streamline things since the kitchen is open later so I can't blame them, but it used to be some of the best pub food around. I like to take my friends here when they come visit Knoxville. They always like the place.
1,194 characters
4.13
/5
rDev
+10.1%
vibe: 4 | quality: 4 | service: 4.5 | selection: 4 | food: 4
The half barrel is by far my favorite establishment on the strip. You get an older clientele up until about 10 and then the typical college crowd rolls in. Happy hour is still pretty good, a couple bucks of draughts and well drinks, and they are now doing 25 cent wings that are actually pretty tasty. For a bar the food is good but I feel the appetizers are a little pricey costing almost as much as the entrees. It has a great selection of draught beer and they do a fair job of rotating some handles to bring in new beers when they come to the area. Throw in a couple hot coeds behind the bar and you have a nice place to grab a drink
637 characters
3.7
/5
rDev
-1.3%
vibe: 4 | quality: 3.5 | service: 3.5 | selection: 4
Made a quick stop in here on my walk down Cumberland as it sits fairly close to the Sun Spot and the sign just kind of lured me in. It was not a terribly big place but I was able to easily find a spot and sit down and check out the seen. Seemed to have a good handle on the local brews and some Duck Rabbit for the first time on my trip as well as Foothills and a couple from Highland. A rogue and Sierra sprinkled in. I have seen better selections but it was not bad. Did not notice much of a bottle selection but that was fine. Service was decent and they were friendly. Overall an average place in the middle of a hectic street, you could do worse for sure if you are walking by I would go in again,
702 characters
3.66
/5
rDev
-2.4%
vibe: 3.5 | quality: 4 | service: 3.5 | selection: 3.5
We hit this bar after the Brewer's Jam (as if we needed more beer). My take on this place is that it's caught somewhere between an old-town saloon and a college dive. The building is woodsy, spacious, and inviting. A decent place to watch the game and get in a few pints. They seem to have a lot of local brewery offerings (New Knox, Duck Rabbit, Highlands, Asheville Brewery, and a few more) along with the standard Rogue, Sierra Nevada, and BMC's. The service was somewhat spotty. When asked what time the kitchen closed, the bartender said 12:00. I figured since it was 9:30 that I could get a burger. But when I asked for the sandwich, she said the kitchen was closed!? Go figure. She probalby knew that we had been to the Jam and just wanted us to leave -- we were a bit intoxicated. But then after the 4+ hours that we stuck around, they warmed up to us and provided nice service. It's a good beer bar, but wouldn't go out of my way to visit again.
954 characters
3.88
/5
rDev
+3.5%
vibe: 3 | quality: 4 | service: 4.5 | selection: 3.5
This is a bar that has survived in a haven for macros. College kids still swill copius amounts of cheap keg brew just as I did in my college years(a major reason for the length of such). I will say that they have more sophisticated beer palates than my fraternity brothers and I did back in our Old Milwaukee days. I'm glad they have a place to expand their beer horizons on the Cumberland Avenue strip. The Half Barrel is a nondescript, smallish beer bar that has a long bar down the right side of the front room with about 30 or so taps. Several tables and booths parallel the bar down the left side of the main bar area. Pool tables and Golden Tee dominate the back room with no real seating. Service was good and I didn't sample any food so not much to report there. They make an effort to support local New Knoxville Brewing Co (despite their very inferior beers), and offer $2.50 pints during happy hour. Highland, Olde Hickory, Rogue, Stone, Abita, & Left Hand are some of their offerings which could stand to be expanded a bit, but overall not bad.
1,056 characters
The Half Barrel in Knoxville, TN
Place rating:
3.75
out of
5
with
10
ratings