Murray's Big Wednesday Pale Ale
| Murray's Craft Brewing Co.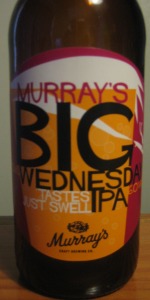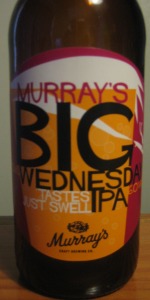 BEER INFO
Brewed by:
Murray's Craft Brewing Co.
Australia
murraysbrewingco.com.au
Style:
American Pale Ale (APA)
Alcohol by volume (ABV):
6.20%
Availability:
Rotating
Notes / Commercial Description:
No notes at this time.
Added by dgilks on 12-13-2009
HISTOGRAM
Ratings: 14 | Reviews: 10
Reviews by lacqueredmouse:
3.08
/5
rDev
-17%
look: 3.5 | smell: 3 | taste: 3.25 | feel: 2.5 | overall: 3
330ml bottle purchased from Steve's Cool Booze in Kingsford. Best before date of 30/10/13, so looking pretty good.
Uncaps with a sucking hiss, meaning some large foam forms inside the bottle, which then transfers to the glass. Body is a solid golden hue with some haze. Head is crackling and large-bubbled, but tires itself out quickly, leaving a fuzz around the edges of the glass and some froth in the centre. Body is surprisingly light. Looks pretty decent though overall.
Nose is sweet with mixed tropical fruit characters: guava, pear and a little mango. Mingled with this is a slight dried herb character: I'm thinking tarragon, which gives it a greener, slightly bitier edge. It smells a little bit like it's slightly old: perhaps like the hops were last season's. I don't see why, though, with a best before date well in the future. Hmm.
Taste is a bit more simple, and it benefits from the simplicity somewhat: here the hops do seem more straight-down-the-line. Green bitterness, some herbal tingle and a touch of sharpness on the end, almost a phenolic character with a touch of copper. It's actually a good deal more bitter than I remember it being—if nothing else, the bitterness steam rolls over the rest of the palate, meaning that those slightly unsavoury characters on the nose are unnoticeable here.
Feel is very much overcarbonated. It froths in the mouth too much, and leaves me feeling quite bloated.
Overall, this is not one of Murray's top picks from me. It's a bit all over the place, and it doesn't really do anything that particularly enamours me of it anyway. And yet I'm confused, because I remember this being a pretty nice easy drinking beer at some stage. Perhaps it's inconsistent over time too.
1,733 characters
More User Reviews:
4.22
/5
rDev
+13.7%
look: 4 | smell: 4.5 | taste: 4 | feel: 4 | overall: 4.5
Clear Golden/Amber colour. About a finger of head which dissapates to a creamy layer.
Really strong fruity, citrus and a kind of spicy pine thing going on. Very big nose - impressive.
Strong citrus hops up front, some sweet fruity hops as well. A little sweet malt supports the hops. Not as bitter as I would hope, but they do say there are no bittering additions so that is expected.
Medium carbonation, easy drinking.
422 characters

2.88
/5
rDev
-22.4%
look: 3.5 | smell: 3 | taste: 2.5 | feel: 3.5 | overall: 3
330ml bottle, thanks to spicelab.
Golden appearance with white foam and a fair bit of it on top. Sporadic lacing as it falls.
Smells of fruit salad and added to it is peach. Turns to ethanol a bit later on which is a shame and this is the lasting smell to come from the beer.
Taste is slightly floral and then has the ethanol that you smell. That's about it.
Oily, backed with a solid hop bitterness. Decent body for what it tries to do.
Say 6 weeks old, refrigerated all that time. Has not held up at all well. Ethanol has the lead role. A shame, could be quite good.
574 characters
3.16
/5
rDev
-14.8%
look: 2 | smell: 3.5 | taste: 3.5 | feel: 2 | overall: 3
Pours gold with a stupidly huge, growing head.
Nose shows spicy, green hops along with pleasant biscuit-like malt.
Very similar flavours. Spicy hops followed by more of that biscuity malt. Finishes exceedingly dry with a sharp, almost abrasive bitterness.
Ridiculously high carbonation.
286 characters
3.67
/5
rDev
-1.1%
look: 3.5 | smell: 4 | taste: 3.5 | feel: 4 | overall: 3.5
ABV has been reduced to 6% and, just to be perverse, has coincided with re-classification as an IPA(!)
Murky orange-amber with a moderate white head of decent bulk and staying power. Eventually falls to a one centimetre raised ring.
Nose is about bright and sharp vegetal and tropical hops, with candied malt character providing clarity. Rounded notes of guava, passionfruit, rockmelon and compost.
Flavours follow, but are a tad duller and grassier. A restrained herbal bitterness keeps things interesting.
Light to medium body. Assertive carbonation lifts the palate nicely and transitions into the mellow bitterness.
Solid hoppy ale which due to the reliance on aroma hop character means enjoying fresh is a must. At the same time, owing to its mild bitterness it's easy to drink a few in a session.
809 characters
3.52
/5
rDev
-5.1%
look: 3 | smell: 3.5 | taste: 3.5 | feel: 4 | overall: 3.5
Growler from the Brewery
Listed as a Pale Ale on the brewery website
A-- Poured a clear golden honey orange color. Short lived half a finger white head that quickly died to film and splotches. Looked a bit syrupy I though.
S-- Drank the growler over two days. Day one got orange and peach blossom with a lot of perfume. Next day got pine, orange and grapefruit. Very much kiwi hops. Reminded me a lot of Spartacus but lighter.
T-- Got two things over two days. Much better beer on the second day of the growler. Lots of pine and grapefruit bitterness. Previous day was a lot of passionfruit and peach. Thought it was a touch sweeter on the first day of the growler. Second day drier and cleaner.
M-- Thought it was sweet and a bit syrupy on the first day but radically more bitter, clean and dry on the second. Carbonation is spot on. Good long lasting bitterness on the second day.
O-- Much better beer on day two. Really liked it on day two. Not so much on day one. Not a fan of Kiwi hops but after a day of air the profile totally changed and was more like how Nirvana is but slightly better.
1,105 characters


4.19
/5
rDev
+12.9%
look: 3.5 | smell: 4.5 | taste: 4.5 | feel: 3 | overall: 4
Pours an orangey colour with healthy stream of bead. Head is off-white, small bubbles that doesn't retain, just a thin crown with not a lot of lace. Good, although the head could be better.
Smells fruity and floral, nice tangy passionfruit aroma with some orange blossom and lemon zest. Slight hint of bitterness and a hint of caramel sweetness as well. Lovely and fresh and well-balanced nose.
Taste is big and tangy from the get-go. Very enjoyable malty underline with a touch of cake batter. Base gets overlain with hops - citric, floral and piney with lemon, passionfruit and paw-paw characters coming through. Tangy upfront but settles out to a nice citric and almost spicy bitterness late, but it's not at all too strong. Enough hop character for an IPA but toned down for maximum enjoyment. Really lovely.
Bit dry and sharp at the back of the feel. Body is slightly thin, but OK.
Could be slightly bigger for an IPA but it's flavoursome enough and drinkable as anything.
981 characters

3.83
/5
rDev
+3.2%
look: 4.5 | smell: 4 | taste: 3.5 | feel: 4 | overall: 4
BB 0913 - Big thanks to MrKennedy for this one.
Pours a hazy amber. Lovely two finger white head stays.
Assault on nose of tinned fruit salad, peaches and pears. Add in fresh peach, mango.
Taste is a hop-driven version of the same, tho not quite as lifted as the nose, nor as sweet, and a little dulled. Complex. Hint of pine resin, and balanced bitterness from hops without being over assertive.
Mouthfeel spot on. Nicely carbonated, and medium weight. Not oily.
Nice one from Murray's, tho not quite Hop Hog. Significantly better than Angry Man Pale, and a very sessionable ale.
585 characters

4
/5
rDev
+7.8%
look: 4 | smell: 4 | taste: 4 | feel: 4 | overall: 4
Had this one several times on-tap now. Review from memory.
Pour is a nice yellow colour with good head and nice lacing.
Smell is passionfruit, honeysuckle and honey.
Taste is more honeyed passionfruit. Mouthfeel is somewhat syrupy and resiny although the beer isn't particularly sweet and comes with moderate bitterness.
Reminds me a bit of Hop Hog.
Overall a well handled IPA which I have found to be not hugely complex but good drinking and relatively good value. Much better than most of the tap options you get.
520 characters
3.88
/5
rDev
+4.6%
look: 4.5 | smell: 4 | taste: 4 | feel: 3.5 | overall: 3.5
A crystal clear amber colour with a fluffy, white head. Head dissipates fairly quickly to 2mm of foam. Good lacing.
Big fruity aromas with some spice and tropical fruits. On the whole it is sweet in a juicy sort of way rather than being overly malty. I get a hint of diacetyl.
Sweet flavours with lots of juicy, NZ hop character. More tropical fruits of the passionfruit and mango variety. I seem to be getting some form of noble hop character even though there aren't any in here. A tasty beer with a low level but sufficient malt profile. Good lingering bitterness and a dry finish.
Moderate mouthfeel and average carbonation. Good and this works well.
This is a tasty beer but it comes across more as a hoppy APA than an IPA. While I understand Murray's desire to create a 'summer' IPA I think they have gone to far and have sacrificed the crisp, cleansing bitterness that an IPA is designed to provide. A solid beer nonetheless but not worthy of the hype, price ($12 for 310ml at Beer Deluxe in Melbourne) and limited release it received.
1,054 characters
Murray's Big Wednesday Pale Ale from Murray's Craft Brewing Co.
Beer rating:
3.71
out of
5
with
14
ratings