Celtika 8.8
| Brasserie Celtik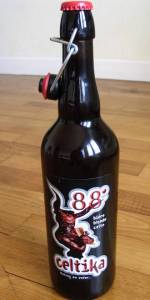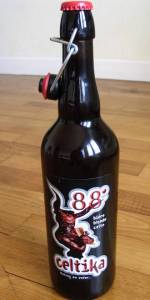 BEER INFO
Brewed by:
Brasserie Celtik
France
Style:
Belgian Strong Pale Ale
Alcohol by volume (ABV):
8.80%
Availability:
Year-round
Notes / Commercial Description:
No notes at this time.
Added by brc on 02-28-2009
This beer is retired; no longer brewed.
HISTOGRAM
Ratings: 12 | Reviews: 8
Reviews by Rchap1:
3.7
/5
rDev
+14.9%
look: 4 | smell: 4 | taste: 3.5 | feel: 4 | overall: 3.5
Drinking it right now in a hotel room in Brest, France.
Appearance: Nice and light, pretty full head on it; it actually blew the cap when I opened it. very lightly colored, left some nice lacing.
S: Fruity, apricot/peach tone to it with a little bit of spice. Nothing over the top though.
Taste: Pretty good, all in all. I think I taste some oak or tannins in there, and just a little bit of the fruit and spice. I expected more because of the smell.
M: Pretty full, this one is highly carbonated (obviously, hence the cap-blowing) and as such really blossoms in the mouth.
D: It's good, but not really spectacular. It was only EUR 3,80, so I'm not complaining; for the price, this is one that you could put a couple back.
727 characters
More User Reviews:
3.28
/5
rDev
+1.9%
look: 3.5 | smell: 3 | taste: 3.5 | feel: 3.5 | overall: 3
An orange golden beer with a settling head.
Smell is mostly malty with hints of baked bread and biscuit. Some faint fruity whiffs and something best described as smoky.
Taste is full and sweet with a distinct malty taste. The alcohol is well hidden but still leaves a warming sensation. The beer is quite clean and gives the impression of a bottom fermented beer. The bitterness is nicely balancing the beer.
411 characters
3.68
/5
rDev
+14.3%
look: 4.5 | smell: 4 | taste: 3.5 | feel: 3.5 | overall: 3.5
Impressive dome-like head that leaves ample lace on the glass. Hazy, but otherwise a light amber/dark gold color.
Strong aromas of alcohol and grassy malts.
Highly carbonated, but it has a decent body otherwise. Slightly oily from the alcohol. The malt is hidden behind this, although it is slightly sweet. Little to no hop presence.
337 characters

2.48
/5
rDev
-23%
look: 3 | smell: 2.5 | taste: 2.5 | feel: 2 | overall: 2.5
75cl bottle of brown glass with a classic pressure cap AND swingtop served into a Westvleteren goblet in Belfort, France. Reviewed live.
A: One finger head is nice and creamy, with good thickness and retention - especially for the wide mouth goblet serving vessel and high ABV. Colour is a hazy cloudy caramel copper. Nontransparent.
Sm: Caramel, caramelized malt, crystal hops, and some fringe dark esters that are rather buried. A mild strength aroma.
T: Heavy caramelized malt alongside badly handled off-cream. Badly built, but balanced in its badness - if that counts. Simple and crap. At least no alcohol comes through.
Mf: Smooth and wet, but overly thick. A bit artificial.
Dr: She drinks pretty rough due to the overdone thickness. The price is obscene by French standards, especially for the quality. I'll never have it again.
845 characters
3.93
/5
rDev
+22%
look: 4.5 | smell: 4 | taste: 4 | feel: 4 | overall: 3.5
Presentation - Pretty badass looking 75cl bottle, with a red devil on the front. Comes capped with a swingcap hanging free.
Apperance - Pours a huge head, three fingers of small off-white bubbles in my trappist goblet (apologies, monks). Absolutely beautiful lacing. Rich golden hue. Opaque, with lots of rising bubbles.
Nose - Banana, banana, banana, spiciness and alcohol.
Taste - First sip is intensely rich. Strong hop bitterness, strong spices. Pepper, mostly, or black tea. The spiciness and bitterness overwhelm other flavors. No citrus in this party. You can taste the alcohol; it would be easy to believe that it's higher than 8.8%. Hoppy bitter dry finish.
Mouthfeel - Pretty viscous and coating. The alcohol and bitterness get me in the back of the throat.
Drinkability - Very warming. i.e. I feel like I'm drinking whiskey. Doesn't go down too easy, and then it shoots straight for your head. The red devil on the bottle seems appropriate.
966 characters
3.86
/5
rDev
+19.9%
look: 3.5 | smell: 3.75 | taste: 4 | feel: 4 | overall: 3.75
An amber orange beer with lots of yeast in pretty big particles. Head fizzes away quickly because I just cleaned the glass I guess. White foam.
Pretty big nose. Caramel, alcohol and a fruitiness. Orange marmelade, apricot, spices and such. Smells as if it tastes sweet and strong.
Taste follows the nose, caramel malts, a fruitiness (more light than dark) and spicy.
Quite complex. Strong.
Mouthfeel is full and this beer is well carbonated.
Overall a tasty tripel that is a little different from some of those more famous Belgian offerings. If you see this in Brittany/Bretagne it is worth trying just like those buckwheat (blé noir) beers.
647 characters

3.5
/5
rDev
+8.7%
look: 3.5 | smell: 3.5 | taste: 3.5 | feel: 3.5 | overall: 3.5
A: Overly carbonated, opened and I had to wait for like 20 minutes for it to stop foam from going out. The bottle wasn't shaken. Light golden honey like color, semi translucent. Good head, with ok retention and light lacing.
S: Super sweet malty smells coming here. Strong honey smell is there as well as lots of bread and biscuit malts. Lots of yeast smell: pepper, cloves, oregano? Also, a lot of banana in the smell as well as some nuts. Some grassy hops.
T: Lots of banana and nuts are there. Much more than the smell. The malty sweetness is also there as well as the biscuit malts. The bread is still there but less strong. Yeast is just as strong with good notes of pepper, cloves and a little bit of oregano, which is very odd. Grassy hops at the end that might be the reason behind that oregano.
M: medium body with medium carbonation. Nothing spectacular but does the job.
D: Quite easy to drink. Maybe the oregano doesn't help, but it's really not as bad as it sounds.
983 characters

3.45
/5
rDev
+7.1%
look: 3.5 | smell: 3.5 | taste: 3.5 | feel: 3 | overall: 3.5
Beer bottle (75 cl.), tasted in 2009.
Appearance : blond pulling to golden amber color, slightly cloudy, with white foamy head.
Smell : yeasty notes.
Taste and mouthfeel : malt dominates the palate, a mild acidity.
Drinkability : an average beer in the style Belgian triple.
275 characters

Celtika 8.8 from Brasserie Celtik
Beer rating:
3.22
out of
5
with
12
ratings