Interstellar Fog

Captain Lawrence Brewing Co.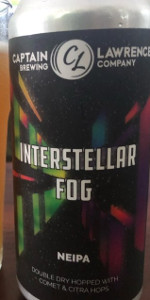 Write a Review
Beer Geek Stats:
| Print Shelf Talker
Style:

ABV:

8.5%

Score:

Avg:

4.15

| pDev:

3.37%

Reviews:

11

Ratings:

From:

Avail:

Rotating

Wants

Gots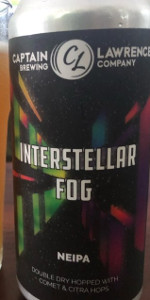 Notes: Double dry hopped with Comet and Citra hops.

4.04
/5
rDev
-2.7%
look: 4 | smell: 3.75 | taste: 4.25 | feel: 4 | overall: 4
12/7/19...pours thick heavy back gold. Clear top, no foam,. Lemon citrus nose, and also taste. Heavy lemon, but blended nicely into the malt. Punchy bitter accents. Quite smooth and balanced. Tasty.
199 characters

4.07
/5
rDev
-1.9%
look: 3.75 | smell: 4.25 | taste: 4 | feel: 4.25 | overall: 4
A: murky pale yellow orange color with a hint of purple. Thin, white head
S: mango, pineapple, orange juice, crackers, tangerine, apricot, sweet strawberries
T: pineapple and orange juice upfront. Strawberry kiwi, passionfruit, and guava begins that. Dough and sweet pineapple juice to close
M: medium mouthfeel, almost sticky, with low carbonation
O: pretty solid NEIPA. Not overly sweet, and still has the mouthfeel of a DIPA
434 characters

4.02
/5
rDev
-3.1%
look: 4.25 | smell: 4 | taste: 4 | feel: 4 | overall: 4
Well, here goes nothing. I've had so many Cpt. Lawrence IPAs, DIPAs, DDH IPAs, and so on over the past like 10-12 months that it is absolutely dizzying and difficult to keep track of. From their Powder Dreams to their Orbital Tilt, Smoothies and beyond, these guys just have so many things going on that it's tough for me to keep it all straight. Interstellar Fog seems to be a version of Galactic Fog (which was introduced around March 2019) with Citra hops added. Sound confusing and obtuse enough for you? Yeah... let's get into it and stop considering the ramifications of all of these series... sound good?
Pours a semi-vibrant orange/golden color with a decent ring of bone-white foam crowning the appearance. Yup, this is opaque and definitely a New England IPA. Solid lace and good legs with a hazy surface that never quite lets up. I dig how this one pours for sure. It's kind of the quintessential NEIPA, but the slight sunburst-looking highlights are a cut above for sure.
The nose has that fragrant and grassy note from the Comet hops right up front. Don't let these newer "en-vogue" breweries bedazzle you, however; Comet is an older hop varietal that has made a comeback recently due to its unique "grassy, herbal, citrusy" profile that plays well with a lot of newer varietals. Hmm, it's no wonder that Citra was introduced to the mix to bring this even further into the modern era. Some intense dankness, berry notes, and light tropical fruit alongside an earthy backing note. It's almost perfume-y even... quite decent.
On the tongue, IF is a slightly-more-aggressive beer than I originally figured it'd be right up front, with its flavors of raw citrus pith coming right at my palate, though it does have a smoothie-like flavor during the transition to the mid-palate. Orange and tangerine just assaulting my taste buds here! That aspect melds with intense notes of pine and passion fruit toward the mid-finish, while some grassiness and mango appears near the actual finish. Fun stuff.
Interstellar Fog seems to mostly lean towards a smoother approach, with the whole experience being quite well-balanced despite its initial feints towards aggression. Carbonation is kept mostly in check, and there's some decent yeastiness that somewhat normalizes the proceedings without getting in the way of the hop load. Cpt. Lawrence has done some very good stuff, and some very meh stuff recently... this isn't amazing, but it also definitely doesn't suck. I will tentatively say that this is worthy of your beer money, if only to grab one in order to give it a shot.
2,580 characters
4.16
/5
rDev
+0.2%
look: 3.75 | smell: 4 | taste: 4.25 | feel: 4.25 | overall: 4.25
-foggy amber can pour with a mango nose and 2 cm of fluff. The flavor is rich with tropical fruit flavors (mango, pineapple, kiwi) and the hop bitterness is moderate. The mouthfeel is very smooth. This is a superb DIPA.
219 characters
4.24
/5
rDev
+2.2%
look: 4 | smell: 4.25 | taste: 4.25 | feel: 4.25 | overall: 4.25
Pint canned 9/19/19. Super hazy peach color with a big head that settles in a few minutes. Can label suggests shaking upside down to mix cloudy bits into your pour; that worked out fine without having a gusher. Smell is very good, light tropical fruits. Taste is melon with some mango. Feel is great - fluid with a bit of carbonation, but without a bitter hop aftertaste. Overall, this is a very good beer and not a bad buy even at $19 for a 4-pack. Maybe no other beers I say that about!
492 characters

4.17
/5
rDev
+0.5%
look: 4.25 | smell: 4 | taste: 4.25 | feel: 4 | overall: 4.25
Opaque gold with some floaties; huge fluffy white head. Great retention and lacing.
Aroma of peach, honeydew melon, prickly pear, guava, mango, and lemon.
The taste follows the nose. Peach and mango upfront, followed by big honeydew melon, green grape, prickly pear, and a touch of guava. Grainy and doughy malt and oats in the middle, with a bit of pineapple and lemon on the finish. A little alcohol warmth. Clean and dry.
Smooth feel, moderately carbonated, slightly creamy without being goopy.
505 characters

4.08
/5
rDev
-1.7%
look: 4 | smell: 4 | taste: 4.25 | feel: 3.75 | overall: 4
Very nice NE style IPA from a brewery that's new to me. Bottled date 9/19/19. Pours a more orange than yellow color with a trace of haziness and a mild cap of white fluffy head. Nice spotty lingering lacing. Smells of guava, passion fruit, mango, tangerine and grapefruit fruity hops. Also some malt, vanilla, bread, lighter floral and herbal hops. Taste follows the nose, very well balanced but could have been just a little more juicy. Nice hit of bitter hoppiness, higher ABV was well hidden. Smooth, mild, slightly sticky mouthfeel and decent carbonation. A nice offering.
585 characters
4.26
/5
rDev
+2.7%
look: 4 | smell: 4.25 | taste: 4.5 | feel: 3.5 | overall: 4.25
Captain Lawrence has been upping their game. A long way from their standard IPA and Hop Commander. Tropical fruit nose, flavor has hints of pineapple, mango, melon. A little light on the mouthfeel but finishes nicely. Pretty clean. Not much stickiness. No acidic burn. Agree that for a local beer, $18.99 for four is too much. But knock it down by a few bucks and it would be a regular. Nice job.
396 characters

4.18
/5
rDev
+0.7%
look: 4.5 | smell: 4.5 | taste: 4 | feel: 4.25 | overall: 4
New England Ipa and the our is very hazy. Taste is great but misses the mark on the finish kind of just goes blah but, very juicy upfront with a nice mouthfeel but, something is definitely missing in the finish.
211 characters

4.35
/5
rDev
+4.8%
look: 4.25 | smell: 4.25 | taste: 4.5 | feel: 4.25 | overall: 4.25
Tall can....9-19-19 stamped on the bottom...yeah its fresh
Classic NEIPA, clouded, juiced up kinda pour....supporting as long lasting and sturdy light tan cap.
Pungent mango and assorted ripe fruits nose.
Smooth and super tasty, tropical fruit goodness, bursting with fresh and ripe pineapple, mango, kiwi, and lime notes.
Delicious brew, on point NEIPA fresh from the captain....one of the best takes on the style CL has put out...go get some
449 characters

4.18
/5
rDev
+0.7%
look: 4 | smell: 4 | taste: 4.25 | feel: 4.25 | overall: 4.25
Can dated 9/10/2019
Rated after first can 9/21/2019, but reviewed and updated after the fourth can was finished on 9/25/2019.
L: The can tells you to invert it before pouring....don't do this (the can also tells me "sediment is natural"). You will get tons of ugly floaties that permeate the whole glass*. Decanted I give it a 4.0, inverted it gets a 3.25 so I am being generous here going against the brewers instructions. I tasted almost no difference between inverting and decanting (slight hop burn with sediment in glass). The beer pours a golden orange with medium haze. The pour (make sure to decant to avoid the aforementioned floaties) results in about a 1/2 finger of fine white head that dissipated quickly leaving minimal lacing as the beer went down.
S: Over-ripe tropical nose with some funk mixed in. I am getting mango, papaya, and passionfruit. Maybe some pineapple? Overall the nose is subtle, and it took me a few cans to tease it out.
T: The taste follows the nose. Over-ripe mango, papaya, and passion fruit upfront with a hint of pineapple on the backend. Finishes with an low funky bitterness. The 8.5% ABV is very well hidden, so steady as she goes.
F: The mouthfeel is creamy, medium-bodied, and finishes with a slight dryness.
O: I wanted more from this beer. It reminds me of a muted M-43. It's good, but at It's current price point ($18.99 a 4pak of 16oz cans), I probably won't pick it up again given the lower price ($14.00 a 4pak of 16oz cans) of higher quality local offerings in the same style.
*Why do some beers have the sediment problem and others don't? My locals (Nebco, Counterweight, Relic, and Kinsmen) have hoppier, hazier, and more complex beers without a ton of sediment in the bottom of their cans. Why is this?
1,763 characters
Interstellar Fog from Captain Lawrence Brewing Co.
Beer rating:
91
out of
100
with
20
ratings