Igloo Ale
| Boulder Beer / Wilderness Pub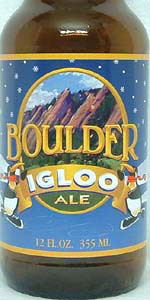 BEER INFO
Brewed by:
Boulder Beer / Wilderness Pub
Colorado
,
United States
boulderbeer.com
Style:
Winter Warmer
Alcohol by volume (ABV):
not listed
Availability:
Winter
Notes / Commercial Description:
No notes at this time.
Added by BeerAdvocate on 02-02-2002
This beer is retired; no longer brewed.
Ratings: 15 | Reviews: 14

3.64
/5
rDev
+0.3%
look: 3 | smell: 4 | taste: 3.5 | feel: 3 | overall: 4
This beer's appearance consisted of a large sized tan head with fine-small sized bubbles that was mostly diminishing. The body was hazy and free of carbonation with a reddish-brown hue. It had a malty, caramel and hoppy nose. The flavor was bitter with an aftertaste. The palate was tingly, thin and watery and medium bodied.
325 characters
3.58
/5
rDev
-1.4%
look: 4 | smell: 3.5 | taste: 3.5 | feel: 4 | overall: 3.5
Reddish brown color, medium head. Aroma is malty and slightly spicy. A medium bodied red-ale. Malts are mild and sweet. Spices are nutmeg, cinnamon, allspice and ? Hops are bright and spicy. Very drinkable winter ale, a little thin when compared to others, but still very drinkable. Mouthfeel is full and round. Finish is mild and smooth. Aftertaste is spicy and malty sweet.
375 characters
3.88
/5
rDev
+6.9%
look: 4 | smell: 3.5 | taste: 4 | feel: 4 | overall: 4
A friend of mine was kind enough to give two bottles of this to me. He didn't enjoy it very much, and I had no problem taking them off his hands. This beer pleasantly surprised me, especially considering it was free. Igloo poured a nice amber with just a bit of sediment. There was also a generous fluffy off-white head that remained just well enough to prevent me from seeing the warm amber glow from above. The smell was dominantly hoppy, with a grainy and nutty note as well. The one problem I had with the smell was that for some reason it reminded me of dry dog food. The flavor had a dominant hop flavor, but there was plenty of malt to balance, as well as just a hint of alcohol. The mouthfeel was fairly pleasant; I would call it a light-medium bodied beer with a good crisp amount of carbonation. This was a very enjoyable and warming beer, especially considering I got it for free.
891 characters
3.85
/5
rDev
+6.1%
look: 4 | smell: 4 | taste: 4 | feel: 3.5 | overall: 3.5
Hazy mahogany-brown color with lots of swirling sediment and a small cream-colored head and mild carbonation; lacing is excellent. Sweet alcohol notes utterly dominate the complex aroma, along with vanilla, dark fruits, ginger, and nuts. Tasting yields sweet malt, spices, and quite warming alcohol notes, towards the finish rather bitter and lingering hops assert themselves. Finish is rather dry. The mouth feel is a bit thin, but overall, a nice winter beer.
461 characters

4.27
/5
rDev
+17.6%
look: 4 | smell: 4.5 | taste: 4 | feel: 4.5 | overall: 4.5
Color is a lovely chestnutty brown, with an enormous, crackly off-white head. Aroma is deep, rich, nutty, with additional notes of toffee and butterscotch. Medium body, just-right hops, perfect malt, terrifically tasty. Palate is luscious and fulfilling. Smooth, with just the right flavor to keep me happy until the end of the mug. Hops keep coming, and the warmth is welcome, especially on a Minnesota February night.
A great one from Boulder, and I especially like the cute ice-skating cartoon penguins on the label. Reminds me of that adorable Hamm's beer bear, "from the land of sky-blue wa-a-ters/comes the beer refreshing". Why aren't there more beer cartoon character mascots anymore? Like good ol' Budman? What's that? Who Camel?
740 characters
3.58
/5
rDev
-1.4%
look: 4 | smell: 3.5 | taste: 3.5 | feel: 3 | overall: 4
The beer poured a nice clear dark amber. The head was firm and held up for some time. It lingered in lace on the side of the glass.
The aroma was of malt but not very strong.
The taste was fairly well balanced but the hop bitterness won out and lingered on the tongue. ABV nearing 6% was also slightly noticable.
For a stong ale, this beer had a rather light mouthfeel.
I found this to be to drinkable. I prefer my strong ales to be BIG beers and this one is by contrast a lightweight.
498 characters

4.19
/5
rDev
+15.4%
look: 3.5 | smell: 4.5 | taste: 4 | feel: 4 | overall: 4.5
Appearance: This beer had a deep red color with a thin, light tan head. It left little lace on the glass.
Smell: The aroma of this beer was very complex. There was a distinct, crisp hoppiness. But on top of that were other smells, some of which I just can't put my finger on. Cracker-like comes to mind, among other things. Smells pretty damn good.
Mouthfeel: This brew could have had a little more body, but it was smooth.
Taste: I really enjoyed this beer. The flavor contained the hops that was promised by the aroma, and was balanced by a good dose of roasted malt. Very tasty indeed.
I have had this beer before, but it was five or six years ago. Need to make sure that I don't go that long again. This is a great beer.
736 characters
3.62
/5
rDev
-0.3%
look: 3.5 | smell: 4 | taste: 3.5 | feel: 3.5 | overall: 3.5
Bronze (bright reddish to light source) with a low tan head which disappears and leaves no lace. Decent balanced aroma buts leans to the bitter hoppy side (Chinook hops?). Strong malt flavor balanced well but finishes very bitter. Medium bodied but falls flat overall.
Bottle cap states "Colorado's 1st Microbrewery"
2001 Version Tasted 1/17/03
350 characters
4
/5
rDev
+10.2%
look: 4 | smell: 4 | taste: 4 | feel: 4 | overall: 4
Deep copper in color. No head to speak of but a bubbly off-white collar laces adequately. Nice spicy and hoppy nose. Ginger mostly and some pungent hops. The flavor of the hopping in this beer seems similar to that signature "Goose Island" hop flavor. Pungent and earthy. Ginger spice accents nicely. There's a slight lingering bitterness and it is all supported very nicely by the malt load, which is substantial. Malt is caramel like and chewy. Body is above medium and mouthfeel is carbonated just right. All in all, a nice seasonal offering.
545 characters

4.32
/5
rDev
+19%
look: 4 | smell: 4.5 | taste: 4.5 | feel: 4 | overall: 4
Boulder "IGLOO" Ale pours a deep copper from a brown 12oz twist off cap bottle.
Nose is a pleasant citrus consisting of grapefruit and pineapple. Palate is a marvelous mixture of citrus that mingles with its own spiciness. Cinnamon and ginger come to mind as sip after sip is drown from the glass. Aftertaste could be compared with the flavor that ginger snaps would leave you with.
387 characters
3.03
/5
rDev
-16.5%
look: 3.5 | smell: 3 | taste: 3 | feel: 3 | overall: 3
The beer pours a crystal clear deep garnet color, the head personable, the texture is frothy, the lace in fine clinging sheets, and both a light tan in color. Nose is malt, hints of caramel, and even a slight whiff of the hops. Front is malt, the top middling. Finish is curtly acidic, the hops biting in their spiciness, dry long lasting aftertaste. Drinkable, but the body is a bit thin or watery, which detracts somewhat from the overall enjoyment.
451 characters

2.93
/5
rDev
-19.3%
look: 4 | smell: 3.5 | taste: 2.5 | feel: 2.5 | overall: 3
Crystal clear ruby hue from the filtration. Thick, slowly settling head light tan head leaves sparse lace. Cinnamon, caramel malt, butterscotch and biscuit malt combine into a peanut brittle impression in aroma. There's a hint of spruce and trace citrusy hops as well. Sharp, perfume - like, spruce laced bitterness hits the palate at first, then mellows enough to allow light orange zest and spicy cinnamon to surface. Sweetness emerges late, and is derived from medium caramel malt. Somewhat dull. Mild toasted malt undertone. Lightly bodied, with a slightly weak, insipid mouthfeel. Finishes clean w/ fading hop bitterness briefly lingering on the back of the tongue. Igloo Ale is an uninspired brew, lacking both overall malt character and body. Decent and drinkable but comparatively lackluster for style. It's reminescent of Anchor Our Special Ale cut with a blond ale.
875 characters

3.38
/5
rDev
-6.9%
look: 3.5 | smell: 3 | taste: 3.5 | feel: 3.5 | overall: 3.5
Reddish-copper hue with a smallish off-white head, some lace. The nose is toasty, "red-hot" candy, and orange zest. Not a very potent aroma. The flavors were enjoyable, the orange zest undertones carried this beer well, and the spiciness helped the warming affect. The malt backbone was weak, but there nevertheless. This is a sensible winter beer; I think you should try it if you see it.
391 characters
2.97
/5
rDev
-18.2%
look: 3 | smell: 3.5 | taste: 3 | feel: 2.5 | overall: 2.5
I am guessing this is their winter beer...I know nothing about it...I can tell you it is slightly below average for a winter beer. It has hints of spruce on the nose and the flavor...Not a super malty or hoppy beer...somewhat sweetish, but the spruce taste diminishes it somewhat...Nothing spectacular here but worth a try if you see it...One is enough for me...
363 characters
Igloo Ale from Boulder Beer / Wilderness Pub
3.63
out of
5
based on
15
ratings.