Dismiss Notice
Pumpkin Ale
| Badger Brewery, Hall and Woodhouse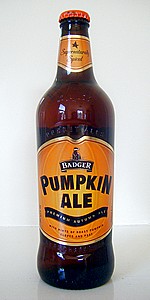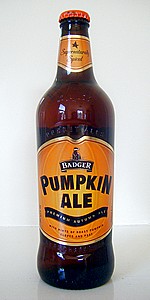 BEER INFO
Brewed by:
Badger Brewery, Hall and Woodhouse
England
,
United Kingdom
badgerbrewery.com
Style:
English Strong Ale
Alcohol by volume (ABV):
4.60%
Availability:
Fall
Notes / Commercial Description:
No notes at this time.
Added by BlackHaddock on 09-04-2007
HISTOGRAM
Ratings: 5 | Reviews: 4
3.03
/5
rDev
+7.4%
look: 3.5 | smell: 3 | taste: 3 | feel: 3 | overall: 3
BB SEP 09, served cool in a straight imperial pint glass.
A: amber hue, coming with a nice thick layer of creamy froth that slowly retreats to a thin blanket lasting throughout the drink, on top of moderate streams of small bubbles.
S: lots of sweet spiciness (cinnamon, clove, and ginger spring to mind) comes on top of a thick bed of tangerine-peels, bitter lemon-zests, and sweet pale malts, laced by a touch of dustiness. Quite weird and nothing here rings a bell of pumpkin, while the sweet yeasty-floral note of Badger's generic pale bitter comes in abundance in the background.
T: boiled lotus-root and boiled water-chestnuts (presumably the work of pumpkin) fill the palate, leading towards faint traces of phenol, a floral-citric mixture of hop flavour, and rather quiet presence of mixed spices (in comparison with the aroma). Remaining sour-sweet citric-zesty in the aftertaste, where only a minimum level of bitterness and a lightly chewy mouthfeel linger.
M&D: the carbonation comes slightly too fizzy for an English ale, and certainly not suitable for a thin-bodied and overly mild flavoured ale. This Pumpkin Ale shows a decent base of Badger's pale bitter, but the additional flavours (the beer label reads "hints of roast pumpkin, cloves and peat") don't seem to work in harmony with the host and thus ends up a pretty weird one in need of "clarification" (or, a better focus).
1,395 characters

3.12
/5
rDev
+10.6%
look: 3 | smell: 3.5 | taste: 3.5 | feel: 1 | overall: 3
This was the first time I had ever seen pumpkin ale on the shelves in the local supermarket, so I picked one up with very low expectations.
The beer poured an amber colour with a decent sized head, however the head was thin, similar to a lager but with better retention.
The nose was complex concoction of spices, hops, cinnamon, smoke and cloves. Quite pleasant and gave the beer a good Halloween(ish) theme.
The taste was dominated initially by hops and a fruity taste (not pumpkin though, more like bitter berries). The beer's aftertaste was slightly sweet with a lingering smoky taste, the only time I have experienced this before was with the Lia Fail beer from the Inveralmond brewery.
However the beer took a major nosedive when it swirled around the mouth, the body was way too watery and bubbly; reminiscent of Tennent's lager.
Overall it was probably better than I expected, I would take it again if I was given it but I certainly would not purchase it myself.
975 characters
2.93
/5
rDev
+3.9%
look: 4 | smell: 3.5 | taste: 2.5 | feel: 3.5 | overall: 2.5
Appearance: light copper, great clarity, thick layer of off-white fine-beaded foam that turns a bit rocky, good head retention
Aroma: similar to a German weissbier (i.e.- clove, cinnamon spiciness with a hint of banana); touch of smoke
Flavor: mildly sweet malt laced with pumpkin pie spice; distant hard-to-describe flavor which must be the pumpkin; finishes semisweet with a pumpkin pulp aftertaste
Mouthfeel: medium body, fine carbonation, soft texture, slight warming sensation in the throat
Other comments: Quite balanced in its spiciness, but a bit too sweet for my taste.
582 characters
2
/5
rDev
-29.1%
look: 2 | smell: 2 | taste: 2 | feel: 2 | overall: 2
My first Pumpkin Ale of any sort and certainly the first I've ever heard of brewed in the UK.
Brown 500ml bottle, best before July 2008, drank Sept 2007.
Poured into a pint sleeve glass.
Cloudy and moody looking, dirty brown, rusty colour. Large off-white foaming head. It doesn't look very appertizing at all. The bottle claimed it was a golden amber ale, golden it is not.
The aroma it is claimed will be of roasted veg and peaty malt, I got bad apples and yeast smells.
It is "supernaturally spiced" with hints of roast pumpkin, cloves and peat. The label goes on to say I should find a fruity, sweet, herbal and bitter taste.
It made me burp! The taste was of fizzy, old, off cider and a used towel. Not very beery at all.
A nasty sweetness arrives as the beer warms up in the mouth, apple pie without the cream.
This bottle was either off, or I have missed the boat and don't understand the beer at all. This can't be the same type of beer so many Americans crave for, or am I out of step with my BA's over the pond?
1,045 characters
Pumpkin Ale from Badger Brewery, Hall and Woodhouse
Beer rating:
2.82
out of
5
with
5
ratings