Dismiss Notice
Super Duper Dog
| Lucky Labrador Brewing Company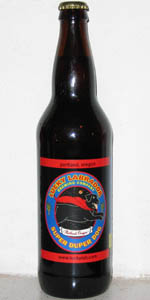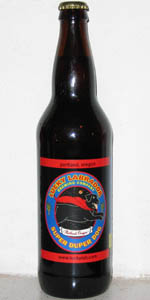 BEER INFO
Brewed by:
Lucky Labrador Brewing Company
Oregon
,
United States
luckylab.com
Style:
American Imperial IPA
Alcohol by volume (ABV):
8.00%
Availability:
Rotating
Notes / Commercial Description:
None provided.
This beer is retired; no longer brewed.
HISTOGRAM
Ratings: 15 | Reviews: 10
4.25
/5
rDev
+1.2%
look: 4.25 | smell: 4.25 | taste: 4.25 | feel: 4.25 | overall: 4.25

3.46
/5
rDev
-17.6%
look: 3.5 | smell: 3.75 | taste: 3.25 | feel: 3.5 | overall: 3.5


3.68
/5
rDev
-12.4%
look: 4 | smell: 3.5 | taste: 3.5 | feel: 4 | overall: 4
11 oz pour at the NW brewpub.
A- Bright and clear, dark-orange pour with a thin white head. Decent lacing.
S- Very citrusy, orange, lemon, grape.
T- Boozy up front, followed by the citrus.
D- Heavy and thick in the mouth. Sweeter than I was expecting.
O- This was a very nice beer, but not what I was expecting for a DIPA. The Booze and Sweetness were just too much. I was hoping for a bit more hoppiness.
411 characters
4.2
/5
rDev 0%
look: 4 | smell: 4 | taste: 4.5 | feel: 4 | overall: 4
On draft at Lucky Lab Beer Hall. Listed at 9.8 ABV
A: Poured a dark orange with low carbonation and a nice white cap. A very heavy pour.
S: Big citrus and caramel, you can get a nice amount of booze as well
T: Citrus heavy, orange peel, coriander, some tingly pine, big caramel. Nice hop bittering on the finish but not killer, just enough.
M: Full body, big malt presence and chewy. This is a big dog for sure
D: Good, I really enjoyed it!
446 characters
4.39
/5
rDev
+4.5%
look: 4 | smell: 5 | taste: 4.5 | feel: 3.5 | overall: 4
given to me by pkastan....thanks!
a - pours copper in color. low tan head.
s - I can smell the hops and caramel without even lifting the glass. very aromatic beer. citrus and pine hops. fruity. wow!
t - big pine hops. solid malt backbone. finish has a sweetness and bitterness. there are a ton of hops in there, but the malts and sweet fruits keep it from destroying your tongue. big big flavor though.
m - medium body. carbonation is a little on the low side and leaves a slight unpleasant syrupy feel.
overall - very impressed with this DIPA. fantastic.
560 characters
4
/5
rDev
-4.8%
look: 4 | smell: 4 | taste: 4.5 | feel: 4 | overall: 3
On tap at the SE Hawthorne location
SDD pours a copper amber color with good head retention and lacing. The nose on this bad boy is attractive, though there's a surprising amount of sweet malt intermixed with the pine, white pepper and dank earth. Also, this one smells as if it will have some considerable alcohol as well (menu indicated 9%, instead of the 8% listed on this site - 9% seemed more likely based on what I tasted). On the palate, the assault of hoppy bitterness is nearly numbing. Wow! This has to be one of the most bitter DIPA's I'e ever come across. While there is considerable, underlying sweet malt in this DIPA as well, the beer is completely dominated by it's hoppy, bitter flavor profile. This leads to a very dry, nearly mouthpuckeringly bitter finish. Mouthfeel is medium bodied to full, with a long, dry, bitter finish. As for drinkability, it's really hard to gauge. The amount of bitterness is impressive, but the combination of sweet malt, noticeable alcohol and tidal wave of bitterness made drinking this beer an outright chore. Thank God this beer is only served in 10 ounce servings at the brewpub.
One of the hoppiest DIPA's I have ever encountered... if that's what you're looking for, then this is the beer for you. I'm a fan of DIPA's, but at least for me, this was just a bit too much of a good thing.
1,341 characters
4.53
/5
rDev
+7.9%
look: 5 | smell: 4.5 | taste: 4.5 | feel: 4.5 | overall: 4.5
22 oz. bottle, 100 IBU, 8%ABV. Thanks for sharing mcallister!
Cloudy, unfiltered copper color, with a thick, rocky, off-white head. Great head retention and lace. Great looking DIPA.
Hops leap out of the glass, tropical fruit, citrus, and pine in the end. No question what the focus is here. Very pleasing.
Good caramel like malty backbone, not too sweet. Lots of tropical fruit hop flavors, some citrus and pine, just as in the nose. Good amount of bitterness, but not tongue blistering.
Great body, ample carbonation. This is one great DIPA.
547 characters

4.25
/5
rDev
+1.2%
look: 4.5 | smell: 4.5 | taste: 4 | feel: 4 | overall: 4.5
This is a sweet looking DIPA. A sand storm twirls its way up the middle making shapes with the unfiltered yeast particles playing games with you throughout. Full thick, yet lightly bodied head is off white with very good retention and thick sticky lacing.
Quite the nose on this beer. Tropical fruits with citrus and a perfumey aspect as well. Caramel malts help even things out a bit and keep things at bay. A big sweet tart component. Is this candy.
Hard not to give this a 4.5 on flavor as this is quite a fine DIPA. Great bitterness but not overly drying, finish is long full and satisfying. Very quenching with layers of fruit ranging from tropical and citrus. A good bit of alcohol burning in the chest but it detracts in no way at all from the beer. A decent amount of RS with that same sweetness slash fruitiness that you would get while eating a giant sweet tart. Just a complex, lush, salivating elixer I'd love to have at the corner store for a time when I feel a DIPA is of the moment.
999 characters
4.45
/5
rDev
+6%
look: 2.5 | smell: 5 | taste: 4.5 | feel: 4 | overall: 4.5
This beer was bottled in very limited quantities (originally) and was only available at the Lucky Lab pubs. Thankfully, I have a good friend in Portland who was nice enough to send me a bottle. The brew pours a slightly hazy amber color. There was just a light carbonation with almost no head. It wasn't much to look at, but as soon as I smelled the aroma, I knew I was going to like it! It seems to use a combination of C-Hops...that's just my style. There's an abundance of hops in the aroma and flavor. There's also a nice malty backbone to counteract the hops. However, the hops eventually win in the end with a long, drawn-out, lingering bitter finish. I have to say I liked this one a lot. For some reason this brew reminds me of Moylan Hopsickle. I'm not sure if that's a fair comparison or not. Hmmm, maybe there's a similar hop profile between the two? Whatever the case, SDD is a very good IIPA. Hopefully Lucky Lab will make more, and I'll be able to try this fine brew again.
Update: I had another bottle of SDD from a later batch. Unfortunately, it wasn't very good. I'm not sure if it was just my bottle or the whole batch. Anyway, I'm very interested in trying some more of this brew in the future, and hopefully it'll be as good as the original batch I had.
1,274 characters
4
/5
rDev
-4.8%
look: 4 | smell: 4 | taste: 4 | feel: 4 | overall: 4
Poured from a 22oz bottle purchased at the source into a shaker pint glass. A slightly cloudy golden-orange body supports an inch of creamy white head. Strong aroma of piney hops accented by some biscuity malt and a light grapefruit character. Palate grabs the tongue up front with a serious lashing of bitter hops. The malt mellows the flavor just a bit mid-palate, before the astringent hop assault continues on the finish. Body is smooth and a bit creamy, without the usual stickiness of high-IBU beers. While this beer is to be savored, I could certainly see getting multiple pints in an evening. A quality offering from one of my favorite local producers.
660 characters
4.47
/5
rDev
+6.4%
look: 4 | smell: 4.5 | taste: 4.5 | feel: 4.5 | overall: 4.5
a: Pours a lowish white head that soon recedes partially. The beer is a clear, medium amber in color.
s: I get aromas of crisp hops even as I pour. Pretty sure it's Simcoe but not positive. Smells awesome. Absolutely dominated by pulpy, strongly floral hops. A little spicy with a strong caramel malt backbone. Not horribly complex or anything, but the hops are right on. Notes of honeysuckle.
m: low, smooth carbonation and a medium-full body
t: Really well hopped, spicy and floral hops smeared all over the place. Just great. Nice caramel malt backbone. Moderate bitterness cleans the finish well (don't feel the 100+ listed).
d: definately
from Dubbercody for my anny bombing
694 characters
4.1
/5
rDev
-2.4%
look: 4.5 | smell: 4.5 | taste: 4 | feel: 3.5 | overall: 4
To brew Super Duper Dog, Lucky Lab took the winning hand of their heavy hop hound Super Dog, and doubled down. Ironically, by upping the malt ante, Super Duper Dog achieves greater balance and is a much more drinkable ale for it. Each of the six barrels brewed got two pounds of dry hopping, resulting in an extreme aroma with the intricate finesse of a spiders web woven of pure hop essence. It is the smell of heaven.
SDD is a touch more golden than Super Dog, and because it leaves room for a show of malt flavor, it is a tad sweeter. On the whole, a very clean, drinkable imperial IPA that The Lab now offers in 22-ounce bottles to go. The one enhancement that could put a final touch of polish on this beer would be cask-conditioning.
743 characters
Super Duper Dog from Lucky Labrador Brewing Company
Beer rating:
4.2
out of
5
with
15
ratings