Hofdraak
| 't Hofbrouwerijke
BA SCORE
81
good
14
Reviews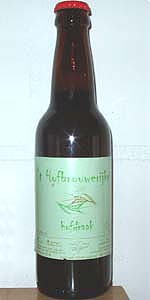 BEER INFO
Brewed by:
't Hofbrouwerijke
Belgium
thofbrouwerijke.be
Style:
Belgian Dark Ale
Alcohol by volume (ABV):
6.50%
Availability:
Year-round
Notes / Commercial Description:
No notes at this time.
Added by paterlodie on 11-02-2006
Reviews: 14 | Ratings: 23

3.19
/5
rDev
-8.1%
look: 4 | smell: 3.75 | taste: 3 | feel: 2 | overall: 3.25
bottle
A: Dark brown, nearly black color. Clarity is moderate. Head poured huge (4 fingers) cola looking with lots of mixed sized tan bubbles. three pours before I could fit the beer in the glass.
S: Moderate brett aromatics - Rustic barnyard, wet hay, and basement come to mind. No hop aroma. Mild toast and nutty malt aroma.
T: Medium biscuit, toast and nutty malt flavor with low hop bitterness. Very rustic, earthy, dirt forward brett fermentation character which dominates the balance. Slight oak comes through as it warms up. Light tartness. Rough around the edges mineral flavor in the finish.
M: Medium body with very high carbonation. Mild alcohol warming with no creaminess. Medium drying affect on the palette - slightly harsh.
O: Some major flaws with this beer. Carbonation was so high it was almost undrinkable. The harsher brett characteristics made the aroma and flavor unappealing. I don't know if this bottle was infected (un-intentionally) what but it was a big let down.
999 characters
3.53
/5
rDev
+1.7%
look: 4 | smell: 3.5 | taste: 3.5 | feel: 3.5 | overall: 3.5
A-pours a brown/dark amber with a tan head with outstanding retention
S-brown sugar, plums, black cherry
T-plums and a toasted brown sugar flavor that finishes with caramel
M-really high carbonation, medium bodied
O-A bit different for the style, I liked it but probably wouldn't seek it out again
297 characters

3.63
/5
rDev
+4.6%
look: 4 | smell: 3.5 | taste: 3.5 | feel: 4.5 | overall: 3.5
A: Poured from a bottle to a tulip glass. Had a brown color and a cloudy texture. There was a large, off white, creamy/fluffy, ling-lasting head.
S: A slightly muted aroma of malt, fruit, and some yeast.
T: Tasted of Belgian yeast, dark fruit (plums), spices, malt, and a hint of chocolate. Not a bad flavor, but certainly a little on the thin side.
M: A massive amount of carbonation with a smooth finish. Medium-bodied.
O: Definitely a mixed bag here. Not a bad beer, but there are better examples of the style.
517 characters
4.08
/5
rDev
+17.6%
look: 4.5 | smell: 4 | taste: 4 | feel: 4.5 | overall: 4
Not bad, not bad. Poured at a good temperature with a lovely, massive, thick, foam, frothy, billowy, light tan head that slowly settles and lots of lace. Color is an appealing clear, amber brown with lots of bubble trails. Aroma is malt, yeast, bread dough, rye, fruit. Flavor's like nose, is fairly well balanced between, sweet, bitter, and carbonic tang, with sweet on top, then bitter wiith the tang not so strong but the action of fhe carbonation perfectly offsetting the other two main characteristics. Body is good. Finish is like flavor, fairly long and has a little booziness. Good drinking beer.
604 characters
3.31
/5
rDev
-4.6%
look: 4.5 | smell: 3.5 | taste: 3 | feel: 3 | overall: 3.5
New beer. Nice label. Belgian beer. Let's try it.
Pours nicely with dark cloudy body and extreme off white head and good lacing.
Nose is dark fruit and very faint chocolate.
I really tried to be optimistic, but this is way overcarbonated without depth of flavor. Club soda and alka seltzer comes to mind. After that there is plenty of hops some prunes or plums and some malt. I am having trouble enjoying the flavor due to the club soda. Not a keeper.
454 characters
2.69
/5
rDev
-22.5%
look: 4 | smell: 2.5 | taste: 2.5 | feel: 3.5 | overall: 2.5
Belgian beer. Let's write another chapter. On to the beer:
Look out, we have a gusher on our hands. After it (and its side effects) clears, we have brownish-orange colored beer. The head is soapy looking and thick, retention is good. A few chunks of sediment sink into the glass of the beer. The nose....it's like a touch of bland sourness with pinches of dark malt and fudge.
A little sour and a little sweet. Flanders Brown knnockoff? There is an essence of toffee and strawberry, only to be knocked off by a mild, bland sourness. Its body is nearly medium sized, and rather smooth with the carbonation.
Not really what I was hoping. The dragon court is a miss. I prefer my Belgian dragons to be golden (looks towards Gulden Draak).
739 characters

3.98
/5
rDev
+14.7%
look: 4.5 | smell: 4 | taste: 4 | feel: 3.5 | overall: 4
Poured into a Gulden Draak tulip. Pours a deep ruby red amber. Massive off-white to tan three finger head. Active carbonation kept the head in place. When the head did dissipate, it left massive lacing. Aromatic fruit and sweet malt aroma. Taste is light and dark fruit, sweet, dark and a bit of toasted malt, a bit of cola. Finish is slightly dry with a hop kick. A very nice drinkable example of a Belgian dark ale. I enjoyed watching it and drinking it.
456 characters
3.48
/5
rDev
+0.3%
look: 4 | smell: 3.5 | taste: 3.5 | feel: 3 | overall: 3.5
A: Pours a dark brown with a bubbly beige head.
S: Aromas of toffee, chocolate, anise, and bready yeast are apparent on the nose.
T: Notes of dark bread, anise, chocolate, toffee, vanilla bean, leather, and earthy, herbal hops gently wash across the palate. The finish is clipped and mildly spicy with a combination of chocolate, vanilla, leather, and hop flavors that is quite pleasant.
M: Medium bodied and very dry with prickly carbonation. This one has a bubbly, energetic character that needs to be reigned in a bit.
O: This is a decent Belgian dark ale that could be quite good with further improvement. If the carbonation were toned down and the body were a bit thicker, the flavors of this ale would come into better focus. This ale has quite a bit of potential, but at the moment, it's nothing to write home about.
827 characters
2.62
/5
rDev
-24.5%
look: 2.5 | smell: 3 | taste: 3 | feel: 1.5 | overall: 2
Awesome label. Mine was stuck upside-down as well, which I feel adds some character.
Unfortunately, this absolutely gushes on uncapping. Obscenely overcarbonated, I'm left with about a third of a bottle once it has settled enough to do a pour. Pale brownish in colour, with an ironically minimal head after the gushing carbonation has worn itself out. Light-bodied with a fair amount of cloudy sedimentation. Eh.
Nose is mild, with a slight Belgian-yeast roundness to it, and a touch of cinnamon spice. It also has the slight twang of acidity, and a thin watery character that gives the faint suggestion of pretty generic homebrew.
Taste is battered by the carbonation, which is still present with a vengeance. Bubbling through the palate, I'm left with strained taste buds by the time the flavours actually come through. There's actually a pleasant roasty bitterness to this which comes through late and adds a touch of sophistication. But this sits above that insane seltzer water character and the thin spicy character from the yeast. There's little else to recommend it.
Wow. I can't tell you how disappointed I am with this. Any Belgian should be better than this: you guys have such a long and wonderful brewing tradition to draw upon. This is very amateurish, verging on genuinely unpleasant. And the carbonation is a joke.
1,334 characters
3.29
/5
rDev
-5.2%
look: 5 | smell: 3.5 | taste: 3 | feel: 3.5 | overall: 3
A: deep copper brown color - incredible, dense, rocky head that lasted 3/4-1 inch the entire glass
S: medium nose - sweeter malted barley with hint of spices
T: pronounced sweet malt base with hint of spices - plummy, rounded, a bit of hop finish that balanced malt but uni-dimensional and lacking charcter
M: warming, rounded, malty and pleasant
346 characters

3.72
/5
rDev
+7.2%
look: 3 | smell: 3.5 | taste: 4 | feel: 4 | overall: 3.5
This one is a deep brown color with a thin tan head. It's got a lot of malt in the nose...moderately toasted malt, with lots of melanoidin character. There is also a little fruit in the aroma, dark fruit...and no real hop presence. The taste is exceptionally sweet, but also very malty, with the lightly roasted, buiscuity sensation. I really wouldn't, in any way, call this a stout. Fairly full mouhtfeel. Fairly drinkable, but just a bit too sweet...could use some more balance.
480 characters
3.88
/5
rDev
+11.8%
look: 4 | smell: 3.5 | taste: 4 | feel: 4 | overall: 4
A dark brown beer with a dense, fine-bubbles head.
Smell is flowery, I smell roses. A fruity smell that is unlike any stout I had. A definate liquorice smell adds a nice touch to this beer. This is all on top of a roasted, dark malt base.
Taste is upfront liquorice and flowery with roses and a light roasted taste, which is actually quite mild. The yeast adds a Belgian character, which makes the beer fruity and different. The spicy notes taste like liquorice and clove. There are some higher alcohols and the alcohol is a little warming.
542 characters
2.98
/5
rDev
-14.1%
look: 3.5 | smell: 3 | taste: 3 | feel: 2.5 | overall: 3
Dark color, almost black.
A lot of foam, compact on the sides, beige in color. Not bad appearance.
In the smell stout notes, with toasted malt, a light cocoa, and dry fruit.
Toasted malt in the taste, too, with a hint of lactic. Some back bitterness.
Cocoa, berry fruit.
Not bad, but nothing exceptional.
No defect, but nothing exciting.
337 characters
3.85
/5
rDev
+11%
look: 4 | smell: 4 | taste: 3.5 | feel: 3.5 | overall: 4.5
BBE 10-2008. Good presentation; black as coffee and thin brown head. Nose is smooth and fruity and hardly any notice of roast but lots of caramel. Taste also smooth but moreecoffee like; bit burned in aftertaste but again not overdone. Not much sweetness, low carbonated but overall balanced and IMO a good stronger stout and ohh so fine drinkable.
348 characters
Hofdraak from 't Hofbrouwerijke
3.47
out of
5
based on
23
ratings.