Rockville Rye Ale
| Appalachian Brewing Company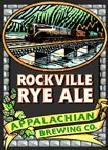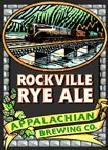 BEER INFO
Brewed by:
Appalachian Brewing Company
Pennsylvania
,
United States
abcbrew.com
Style:
Rye Beer
Alcohol by volume (ABV):
5.30%
Availability:
Fall
Notes / Commercial Description:
No notes at this time.
Added by Jarod on 09-23-2003
This beer is retired; no longer brewed.
HISTOGRAM
Ratings: 14 | Reviews: 12
Reviews by Loki:
3.98
/5
rDev
+8.4%
look: 4 | smell: 3.5 | taste: 4 | feel: 4 | overall: 4.5
This beer came to me in a growler and was a very unsuspected and much appreciated gift.
The growler opened with a huge hiss as the jug slowly released a pillar of gunsmoke. Tthe hiss lessened each time, but thankfully continued upon each subsequent opening.
Rockville is an apt name as this beer poors almost a dirt brown, or one might even say Rye color, but then that's not very creative. Crystal clear with a huge, head that looks like fresh baked bread with all the holes and uneven texture to it.
The aroma is, well different. You can definitely tell there is Rye, and lots of it in the grain bill, but it is not the dominating scent. In fact there is not one dominating scent, but rather a myriad of scents playing off each other. Malt, rye, grains, minerals, esthers, but no discernable hops. Hints of sweetness as well. Very unusual and unique, but neither enticing or replusive.
The tastes is where this beer starts to really show that it's worth its weight in grain. There is an immediate Rye tastes and bread body that is quickly balanced by grain, malt, and a sweetness that makes this a very even and balanced beer. The flavors seem to melt together with the body and texture creating a liquid bread sensation. Considering I truly dislike Rye bread, this beer is a true pleasure and one that I could drink several of in a session. Which is why the growler was finished in one night. Great session beer, if only the brewery/brewpub was closer so I could enjoy this beer more often.
Thank you GIF and all the participants for sharing.
1,560 characters
More User Reviews:

3.58
/5
rDev
-2.5%
look: 3.75 | smell: 3.75 | taste: 3.5 | feel: 3.5 | overall: 3.5
3.71
/5
rDev
+1.1%
look: 4 | smell: 3 | taste: 4 | feel: 3.5 | overall: 4
An interesting beer that utilizes a good bit of rye in the grain bill. It's clear, deep amber body rests beneath a creamy, beige-colored head that holds well initially before dropping to a thin collar; and leaves some slightly better than average lace. The nose is a bit odd - not necessarily enticing, but not off-putting either. It's not tart, but it is sharp and oily with a delicate floral component to it. The body is medium/light with a very fine and gently crisp carbonation that leaves it mainly smooth in the mouth. The flavor is somewhat fruity with a distinct rye character over an underlying malt. It's well-balanced and it finishes dry with a short-lingering note of fruit and then some mild, spicy rye. It's unusual character adds to its interest, but not necessarily its drinkability. Still, it's probably worth trying.
834 characters

3.54
/5
rDev
-3.5%
look: 3.75 | smell: 3.5 | taste: 3.5 | feel: 3.75 | overall: 3.5
3.75
/5
rDev
+2.2%
look: 3.5 | smell: 3.5 | taste: 3.5 | feel: 4 | overall: 4.5
This is a tumbler of ABC's seasonal Rockville Rye Ale. It is served chilled.
Appearance: The ale has a nice amber-orange color, crystal clear with no signs of sediment. There is a decent head that sticks around.
Smell: I was hoping for a bit more of a more of a spicy rye aroma in the beer, but overall the aroma was pleasant.
Taste: The rye character is mild here, not making enough of a stand to be a top-notch rye ale. I'd love the see those malts be a little more assertive.
Mouthfeel: The beer sits very smoothly on the palate and is a good representative of the style.
Drinkability: With a moderate to low abv and clean taste, this is a good drinking ale.
676 characters

4.02
/5
rDev
+9.5%
look: 4 | smell: 4.5 | taste: 4 | feel: 3 | overall: 4
This was found on tap at The Grey Lodge.
This beer came a dark peach and gold color with no head at all.
Smells of dark roasted wheat with a crisp, sour red apple and a slight saw dust dryness.
Tastes of wheat berries and pine nuts with an ambiguous fruit sweetness. There's also a dry bread crust and dirty yeast in the finish.
The mouth feel was medium bodied with a light carbonation. Seemed that it could have been lighter.
This beer was a nice change of pace.
481 characters
2.77
/5
rDev
-24.5%
look: 4 | smell: 2 | taste: 3 | feel: 2.5 | overall: 3
The pour into a shaker pint raised a one finger light tan head, very lasting. Underneath is a clear dark copper beer. The nose is light, with a little spiciness perhaps. Taste is mild as well, with a little spicy graininess. The mouthfeel is too thin, I think, with low carbonation too. An easy drinking beer, but nothing to have again.
336 characters

4.37
/5
rDev
+19.1%
look: 4 | smell: 4.5 | taste: 4.5 | feel: 3.5 | overall: 4.5
This had a decent, bone-white head. It was a deep amber color and easily passed the Nebraska Test for clarity. The nose was at once grainy and spicy, which made my mouth water. The mouthfeel was medium with a spicy tang on the tongue. The finish was very pleasant with the rye bite at the end. This was one seasonal that I would like to see become a standard.
359 characters
2.92
/5
rDev
-20.4%
look: 3 | smell: 3.5 | taste: 2.5 | feel: 3 | overall: 3
I had this one on tap.
Poured a medium amber color with a smaller sized white head. Aromas of rye, grains, and some spiciness. Tastes of rye and grainy. The rye was on the soft side. I love rye beers where the rye makes itself known and is assertive - the rye in this one, for me, wasn't strong enough.
Notes from 9/19/04
324 characters

3.73
/5
rDev
+1.6%
look: 3 | smell: 2.5 | taste: 4 | feel: 4.5 | overall: 4.5
Appearance: clear amber / orange in color with a short 1/2" head. No lacing develops.
Smell: very faint grains. Little else.
Taste: light malt base, as the rye grains are mild. Light bitterness, rounded with some orange. But as a whole quite tasty and well balanced.
Mouthfeel: lightly crisp at the start, smooth at the finish. Finish is relatively clean.
Drinkability: easy drinking and somewhat refreshing. Worth a try if it is on tap.
453 characters
4.24
/5
rDev
+15.5%
look: 5 | smell: 3.5 | taste: 4.5 | feel: 4 | overall: 4.5
From a growler this poured a clear and bright amber orange color with some tints of red. Was topped off with a decent head of foam. The aroma emanates oats, some sour fruit and lemons. This beer is light and drinkable, certainly quaffable. I detect a butter-butterscotch texture in the beer. I'm not sure if that was intended, but regardless, it matches well with the beer on the whole. Also, there's a noticeable bran flavor, which I'm sure the rye is bringing out. Just the right amount of bitterness. Hops bring out some of that lemon. This beer almost reminds me of a more tangy and lighter Yuengling lager. Enjoyable, flavorful. Well done.
647 characters

3.8
/5
rDev
+3.5%
look: 3.5 | smell: 3.5 | taste: 4 | feel: 3.5 | overall: 4
This beer came to me in a standard pint glass. It was copper/orange/brown in color and crystal clear. It was filled to the rim of the glass but that was ok because there was no foam present. A small beige film covered the surface but quickly disappeared to nothing. No head or lace present. I liked the fact that I got a full glass, but did not like that there was no foam to be had, which made it visually not that appealing. The aromas that came from the glass were subtle but I nosed oats, rye grains, some husks, sweet and roasted malts. Over all impression of the nose was a dry feeling with wisps of sweetness. The tastes were more complex then the nose, light citrus fruit notes, rye bread, sweet malts, caramel, roasted malt, oat grains, rye grain and oatmeal (hints) all throughout. The aftertaste was mostly of a dry grain, but this faded after a few moments. It was light to light medium bodied. Overall impression of this beer: it was sweet and semi-dry throughout the glass. It was a tad on the grainy side at times, but not overly done. Probably one of the more enjoyable beers from ABC, because it's different direction then the other beers they created. I liked it and would get again. IMO it should be one of their staple beers, all year round.
1,262 characters
2.98
/5
rDev
-18.8%
look: 3.5 | smell: 3 | taste: 2.5 | feel: 3.5 | overall: 3.5
I am a sucker for a good rye beer and I bought this without trying as we were in a rush. Pours a weird brown-orange color and it gives a decent tan head. Smells of green apples and a sweet malt base, slight hop presence trys to give balances and falls over. The taste is very sweet and the rye flavors are often lost in the mix and the hops don't really do much more than offer some bitterness. Good mouthfeel and a ok drinker, just not a very well defined beer.
462 characters

3.93
/5
rDev
+7.1%
look: 3.5 | smell: 3 | taste: 4.5 | feel: 4 | overall: 4
Served in a standard pint. Reddish orange in color with a bit of cloudiness. No head. I was a little disapointed by the lack of any strong scent. I expected a nice rye bread scent, which it had although very faint. The flavor was a bit sweet and fruity at first, but quickly became rich and grainy. Hints of rye grain, bread, and roasted malt. It finished with a dry bitterness. A very deep flavor. I could very easily see this becoming one of my favorites from ABC. Quite drinkable and smooth.
494 characters
Rockville Rye Ale from Appalachian Brewing Company
Beer rating:
3.67
out of
5
with
14
ratings