Rauchbock

Appalachian Brewing Company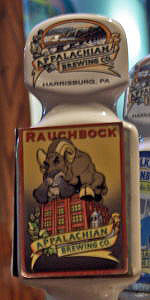 Write a Review
Beer Geek Stats:
| Print Shelf Talker
Style:

ABV:

7%

Score:

Avg:

3.66

| pDev:

11.48%

Reviews:

12

Ratings:

From:

Avail:

Rotating/Seasonal

Wants

Gots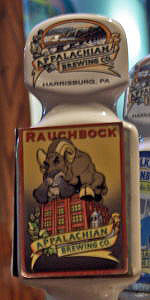 Notes:

REVZEB from Illinois
3.4
/5
rDev
-7.1%
look: 3.75 | smell: 3 | taste: 3.5 | feel: 3.5 | overall: 3.5
Had on tap. Opaque dark copper with a pearl white head. Smoke to the grill in both smell and taste, way too much, underneath the charred remains there is bacon, tobacco, and syrupy caramel malt. Feel is so smoky and the malt underneath is thick, kind of jarring. Misses the finesse of the style
Sep 02, 2013
weeare138 from Pennsylvania
4.1
/5
rDev
+12%
look: 4.5 | smell: 4.5 | taste: 4 | feel: 3.5 | overall: 4
On tap at Collegeville...
Appears a hazy chestnut colored brown. The light, off white head slowly fades into a gentle cap and hearty collar. Tons of scattered lacing is left around the glass.
Smell is of smoked malt, bacon, caramel, phenols of rum soaked bananas, cocoa, and herbs.
Taste is of the aromas with a blast of smoke on the tongue.
Mouthfeel is full bodied, coating, and probably well suited for pairing with a chili.
Oct 28, 2011

Knapp85 from Pennsylvania
2.68
/5
rDev
-26.8%
look: 3.5 | smell: 3 | taste: 2 | feel: 3.5 | overall: 3
This beer has a pretty nice color to it. It was an attractive medium shade of brown with a slight head on it. The smell is quite smokey, kind of overpowers much of the other aromas that might be in there. The flavor is super smokey in my opinion. It's just too much for this beer. Some smoked beers are really tasty if they're gone right but I just feel this one was a little overboard. The mouthfeel was pretty good too, The flavor of this beer just didn't do it for me.
Apr 10, 2011
Bierman9 from New Hampshire
4.33
/5
rDev
+18.3%
look: 4.5 | smell: 4 | taste: 4.5 | feel: 4 | overall: 4.5
Early morn of 27JAN10, I had swung by Gettysburg for a tour of the battlefields. Lunchtime neared, so I hit Appalachian in Harrisburg for eats and bier. This was my first of the day, a pint for $4.50.
Poured a deep chestnut, clear all the way, with some carbo heading topside. Head was a creamy, light beige creation, lasting well, with excellent stick. Nose suggested dryness, with smoke and light sweetness evident. Some floral action was present. Medium body accompanied a smooth feel on the tongue for a middle of the road mouthfeel.
Taste leads off with a nice touch of sweetness - some caramel and toffee being present. Next comes some solid rauch character. Solid! Nothing overpowering; nothing subtle. Right where it should be, especially considering the use of beechwood-smoked Bamberg malts. Slightly flowery hops make a cameo at the finish, which is, as expected, quite dry. A fantastic rendering of a Bamberg classic! Superb!! Hats off to the brewers here for this supremely well-made bier!!
Prosit!!
4.35
look: 4.5 | smell: 4 | taste: 4.5 | feel: 4 | drink: 4.5
1209
Feb 02, 2010
BeerCon5 from Pennsylvania
3.38
/5
rDev
-7.7%
look: 4 | smell: 3.5 | taste: 3.5 | feel: 3 | overall: 3
Pours a pretty dark amber color with about one finger of slightly off-white head.
Mostly a smokey grain scent.
The taste is most notably very smokey malts, almost bacon-like taste. Also some caramel and alcohol.
Light-bodied, a bit chewy, good carbonation.
Not a bad beer. This was much better than I had anticipated but I'm not sure I would go for it again.
Nov 19, 2009
ffejherb from Pennsylvania
3.25
/5
rDev
-11.2%
look: 3 | smell: 3 | taste: 3.5 | feel: 2.5 | overall: 3.5
On tap at ABC Harrisburg on 10/15/09.
A - Deep amber/copper-colored body with reddish hues and a thin, off-white head that reduced to a patchy veil and left some spotty lace around the pint glass.
S - Caramel malt, light smokey and meaty notes, a hint of tobacco and a very subtle earthy quality comprise the initial aroma. Nose is on the sweeter side for a Rauchbier.
T - The smoked character is a bit more prominent in the flavor, with slight smokey bacon attributes combined with a sweet malty base. While more hops would be appreciated, though there is a subtle woody and herbal hop presence in the finish.
M - Really thin, under-carbonated mouthfeel overall with a smooth, albeit watery texture. Very light bitterness with a hint of burnt malt on the palate.
D - Pretty decent Rauchbier overall, although it could benefit greatly from a more robust mouthfeel and more prominent hop presence. However, the flavor is pretty solid and, while it goes down rather easily, it's not terribly memorable.
Oct 16, 2009
stakem from Pennsylvania
3.5
/5
rDev
-4.4%
look: 4 | smell: 4 | taste: 3.5 | feel: 4 | overall: 2.5
Shared a growler with a friend, picked it up on the way home from work and was drinking it within the hour.
Pours a dark amberish brown, very clear with a finger of bubbly, partially yellow head. Smells of smoked malts immediately suggestive of bacon. Has a big malt sweetness upfront, smoke through the middle and finishes a bit warming and lightly bitter. Back of the nose has some sulfuric notes. Nice bit of lacing on the glass. Crispy finish with the mild bitterness. As it warms, it takes on a bit of alcohol astringency in the taste. Also has more of a bisquit and grain profile reminding me of the smell found in their grain storage room. The smoke and malt taste linger in your mouth for a bit and it is quite enjoyable. Low carb and medium to heavy mouthfeel.
I should have stopped there with just one drink, but it's a growler so I am dedicated to the last glass. The more you drink this, the less enjoyable it becomes. Had I stopped this review after one beer, the rating would have been higher but that's not the case. The malt sweetness gets to be too overbearing. The amount of malt sweetness reminds me more of a maibock than rauchbier.
Sep 23, 2009
akorsak from Pennsylvania
4.15
/5
rDev
+13.4%
look: 4 | smell: 4 | taste: 4 | feel: 4.5 | overall: 4.5
A growler filled at the brewpub on 12-Nov-08.
A: The beer is a dark amber color, more syrupy brown than lighter orange. Even with the tight seal, the ale lost a touch of carbonation over the past two days. The result was little head beyond a thin pool.
S: The ale is equal parts biscuity grains and smokey density. As the ale warms, more smoke emerges.
T: The ale is chewy, nearly a meal in a glass. The malts have been nicely smoked, releasing enough flavor to have a meaty finish. The smoke has not eclipsed the biscuity caramel flavors. Some booziness is present, enough to add some heat. I like the mild smokiness; it leaves a nice finish.
M: The mouthfeel is rich, a surprisingly good ale. The flavor intensifies as it warms, but even cold the smoked malts work.
D: This one works. Much like Jolly Scot, the fuller malt profile and lightly smoked flavor really work. Kudos to ABC for this one.
Nov 15, 2008

maddogruss from New Jersey
2.87
/5
rDev
-21.6%
look: 3 | smell: 3.5 | taste: 2.5 | feel: 2.5 | overall: 3
Got a pint of this from the brewery itself.
A: Pours an amber body with a small, white head with ok retention and lacing along the glass.
S: A sweet, malty smell with a slight smokiness to it.
T: A fairly, malty taste with a very slight smokiness to it. I am a pretty big fan of the rauchbier, but I do not think that this beer quite had that personality. There was a much more malt presence than the smoked wood taste that I was looking for in the beer.
M: A pretty thin and a little watery mouthfeel, but still pretty good.
D: A very easy drinking beer, but I cannot really say that this was a very good example of a rauchbier. While the beer was fairly filling, the smokiness needed more of a presence in the beer to be a better rauchbier.
Oct 28, 2008

boralyl from Oregon
3.44
/5
rDev
-6%
look: 4.5 | smell: 3 | taste: 3.5 | feel: 3.5 | overall: 3.5
A - A nice clear dark amber colored beer. It had 2 fingers of off-white head that had great retention, and left good lacing on the glass.
S - A definite smokey aroma, mostly smoked beechwood, and a little bit of smoked malts.
M - A medium bodied beer with moderate carbonation. It has a slightly smooth feel to it.
T - The smoked malts hit first followed by hints of beechwood. The hops round up the end evening out the brew. It leaves a decent smoked aftertaste.
The beer looked great and had a decent taste. I would definitely recommend giving this brew a try if it is on draft.
Oct 18, 2008
AltBock from Ohio
3.51
/5
rDev
-4.1%
look: 4.5 | smell: 3.5 | taste: 3.5 | feel: 3 | overall: 3.5
This was on-tap at the Gettsburg Appalachian Brewing Company around 8/30/2008. They served it to me in a standard pint glass.
The color of this Roauchbier was very interesting. It was a dark crimson red color with a small tint of dark brown mixed in with it. It was hard to describe the color, but I came close to describing it. There was athin head of foam, but that was probably due to the pour (more beer!). This small head of foam had good retention that left behind foamy white rings and a few spots of lace around the glass.
The aroma was mildly smoky with a hint of smoked meats, smoked beechwood, a touch of smoked malts, and a speck of peet at the finish. Clearly there was more Rauchbier than Bock in the aroma.
The taste was all about the Rauchbier! The taste first kicks off with the smoked malts, smoked beechwood, smoked meats, and a touch of peet at the end of the first half of the taste. In the second half, in comes some toasted and smoked bitter hops. It was a very interesting Rauchbier. I'm still not certain where the Bock was in this taste, but it doesn't matter one bit.
This was a medium bodied beer that contained a lightly smoky aftertaste of smoked malts and a pinch of smoked hops. The aftertaste could have plucked out a few more smoky flavors from the initial taste.
I like my Rauchbiers a tab bit more smokier than this, but it's still a very good mildly smoky Rauchbier. I would be happy to try this beer again. If it's still on tap, it's worth a shot.
Sep 04, 2008

Kegatron from Pennsylvania
3.58
/5
rDev
-2.2%
look: 4 | smell: 3.5 | taste: 3.5 | feel: 4 | overall: 3.5
On tap at the brewpub.
Pours a clear, dark amber with a finger of creamy off-white head. Nice, thick retention around the edges with a thin, wispy layer across the middle that leaves some decent looking lace behind. The aroma is predominantly sweet but there is a subtle sense of smoke underneath it, as well as notes of citrus and a light floral scent.
The taste is pretty similar to the aroma with sticky notes of caramel and toffee with some light, underlying smoked malt character that seems to be most noticable in the finish. There is also a smack of citrus present as well as a tingle of hops but the overall profile is still predominantly sweet. The mouthfeel is medium bodied with a relatively tingly feel and snappy carbonation. Finishes sticky, slightly bitter, and smokey.
This was definitley more "Bock" than "Rauch" but did still possess enough smokey quality and crisp enough nature to keep things balanced and fairly interesting. I didn't have too much of a problem finishing my mug.
Sep 02, 2008
Rauchbock from Appalachian Brewing Company
Beer rating:
84
out of
100
with
21
ratings