Chocolate Avenue Stout
| Appalachian Brewing Company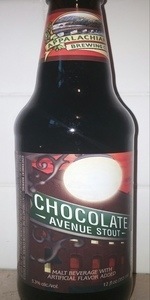 BEER INFO
Brewed by:
Appalachian Brewing Company
Pennsylvania
,
United States
abcbrew.com
Style:
American Stout
Alcohol by volume (ABV):
5.80%
Availability:
Winter
Notes / Commercial Description:
No notes at this time.
Added by wac9 on 02-16-2013
Reviews: 9 | Ratings: 73
3.9
/5
rDev
+1.8%
look: 4 | smell: 4 | taste: 3.75 | feel: 4 | overall: 4
Poured from a brown 12 oz. bottle. Has a black color with a 1/2 inch head. Smell is of chocolate, coffee. Taste is the same, coffee, chocolate, neither is overpowering, some smoke, mild bitterness at the finish. Feels creamy in the mouth and overall is a smooth and tasty stout worth trying.
291 characters
3.73
/5
rDev
-2.6%
look: 3.75 | smell: 3.75 | taste: 3.75 | feel: 3.5 | overall: 3.75
On tap.
A - Pitch black pour with a thin toffee lacing ring and chunks of light colored yeast falling into the glass from the bottom of the bottle.
S - Smokey, charcoal, roasted and burnt chocolate.
T - Dark roasted chocolate and smokey burnt presence. Permeated with dark chocolate roast.
M - Light medium body, lingering chocolate roast sweetness and bitterness.
O - A decent, easy drinking stout.
404 characters

3.53
/5
rDev
-7.8%
look: 3.75 | smell: 3.75 | taste: 3.5 | feel: 3 | overall: 3.5
4/21...pours dark black, thin head of brown foam. Strong coffee roaster nose. Thin mouthfeel, dark chocolate burst of flavor, fast finish. Slight bitter. light bodied, enough flavoring to stay interesting. Overall, so so.
221 characters

3.96
/5
rDev
+3.4%
look: 3.75 | smell: 4 | taste: 4 | feel: 3.75 | overall: 4
This is a beer that tastes more like coffee than chocolate. It's good, but I'm not a coffee drinker, so it's not something I loved so much as I respectfully appreciated.
169 characters

3.74
/5
rDev
-2.3%
look: 4 | smell: 3.75 | taste: 3.75 | feel: 3.5 | overall: 3.75
I purchased this bottle at Wegmans enjoyed chilled in a stout glass.
The color is almost black with medium tan head with opaque clarity and fine bead with wavy lace pattern and good head retention. The smell is relatively high in chocolate aroma with some coffee/chocolate malt mocha type aroma with slight caramel sweet scent and nutty malty smell. The feel is very high in carbonation which dissipates slightly with medium sweetness with light dark malt bitterness and a dry almost ashy texture as it finishes.
The taste is moderately roasty with a mild chocolate taste on entry with light yeast flavor with slight mineral and dry black malt in the taste adding bitterness from mid taste into the finish with relatively dry cocoa flavor throughout. This is a decent stout-very well made with nice complimentary flavor of chocolate. A good stout for when on a budget or if you aren't looking for an imperialized chocolate stout.
934 characters

3.7
/5
rDev
-3.4%
look: 3.5 | smell: 4 | taste: 3.5 | feel: 3.75 | overall: 3.75
On tap at Appalachian in Lititz, PA. Pours a deep brown, almost but not quite black. Thin head that goes away quickly. A lot of chocolate, plus some coffee. Sweet, thick, smooth, creamy without being syrupy. A little bitterness offsets the sweetness nicely.
262 characters
4.11
/5
rDev
+7.3%
look: 3.75 | smell: 4 | taste: 4.25 | feel: 4.25 | overall: 4
I'm admittedly partial to Appalachian since they have a location very near me and I occasionally employ their offerings in keg format for work functions. At the same time, I've never had anything there I didn't enjoy.
This was a very good example of a chocolate stout. Nice and rich and thick, without being over the top.
A - Would be higher, but the head wasn't really thick and didn't stay around long. Deep dark golden brown. What head there was, was a very dark tan that hinted at the flavors to come.
S - Raw cocoa and coffee notes. Nice, but not as strong as I might expect.
T - Not as much coffee as I get on the nose and a wonderfully balanced amount of bittersweet chocolate flavor. Good mix of bitter and sweet from start to finish of each drink.
M - Pleasantly thick and rife with that sticky frothy feel you expect from the fine carbonation of a good stout.
0 - Yeah, I should probably go back and give it a higher score. I'm really enjoying this one.
969 characters
3.88
/5
rDev
+1.3%
look: 4 | smell: 3.5 | taste: 4 | feel: 4 | overall: 4
On tap at red robin in Hershey Pa
Review from notes, drank on Sunday March 17th, 2013
It had a dark chocolcate color body with a small tan head that hung around for a little bit. Its aroma was of cocoa and roasted malt with a hint of coffee. The taste had a roasted coffee flavor upfront and then as it warms up, the chocolate comes in to play. It has a sweet flavor. The mouthfeel is very smooth and leaves a lite chocolate after taste.
438 characters
4.15
/5
rDev
+8.4%
look: 4 | smell: 4 | taste: 4 | feel: 4.5 | overall: 4.5
a wonderful sexy chocolate stout fills your belly and makes you happy a nice dark smooth tasting beer that make a a nice night a good night a very nice chocolate beer grab some 22 oz and enjoy i know i am fill your glass and watch it slowing go down grab another bottle its a good night have fun
295 characters
Chocolate Avenue Stout from Appalachian Brewing Company
3.83
out of
5
based on
73
ratings.