Jupiler Blue
| Brasserie Piedboeuf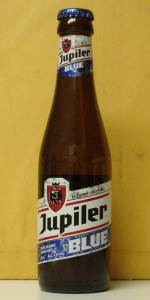 BEER INFO
Brewed by:
Brasserie Piedboeuf
Belgium
interbrew.com
Style:
Euro Pale Lager
Alcohol by volume (ABV):
3.30%
Availability:
Year-round
Notes / Commercial Description:
No notes at this time.
Added by dogfooddog on 10-20-2006
Ratings: 9 | Reviews: 5
Reviews by Douberd:

2.33
/5
rDev 0%
look: 3 | smell: 2.5 | taste: 2 | feel: 2.5 | overall: 2.5
Can, 330 ml, at home. Poured into a pint glass.
Colour is golden yellow, two fingers of soapy white head, average retention. Very light lacing left behind.
Not much of an aroma, just the typical malty smell of a lager.
Taste is quite neutral, a very subtle sweetness and that's all.
Thin body, light carbonation.
Overall, easily forgetable.
343 characters
More User Reviews:

1.91
/5
rDev
-18%
look: 2.5 | smell: 1.5 | taste: 2 | feel: 2 | overall: 2
Pale gold color on the edge of transparent. Nose quite flat with little flavor. Even the smells of grain as its big sister, Jupiler, is confused even. Palate flat, lightweight, very similar to water. Finish with, here, a bitterness that recalls that of his sister but less powerful, with hints of basic lager. Not very pleasant and very bland.
343 characters

1.15
/5
rDev
-50.6%
look: 1.25 | smell: 1.25 | taste: 1 | feel: 1.25 | overall: 1.25
Mid. 2013 rating. 25 cl. bottle @ home. Procured from Delhaize. BBF 22/04/2014. Lower ABV version of Jupiler originally released to steal costumers from Maes – one of their main competitors. The original labels looked quite a lot like those of Maes but than came the lawsuits – than the labels changed with a much more prominent Jupiler logo on the bottle now. Different shade of blue than previous because they used the same shade of blue as Maes before. Possibly as a result of the lawsuit. All of this stuff is anyway same high ABV brew diluted water in order to get the desired ABV. So this is nothing else but the regular Jupiler with more water added – could have maybe even made this myself. Paler apple juice golden, little synthetic white head. Nose is sweet grains, soggy old cornflakes, synthetic sweet, light vegetables & white sugar. Taste is bitter cooked vegetables, grains, mouldy, soup stock, bitter synthetic, old apples, pale grains,… Slightly watery, nasty.
985 characters
4.08
/5
rDev
+75.1%
look: 4 | smell: 3.5 | taste: 4.5 | feel: 4 | overall: 4
Interesting lower-than-normal alcohol product from inbev using the Jupiler name. There is something about the label or bottle turining blue on the label but I cannot understand it.
Smells attractive, lightly hopped malty nose typical of pilsner beers/belgian style. Maybe a background hint of adjunct but not sure this beer has any.
Very clean taste, just a hint of hops in the taste then followed by a slightly sweet maltiness into the finish. Very refreshing, I had this around 50f but probably should have tried colder.
Aftertaste is unremarkable and faint, just a hint of slightly sweet bitterness left over.
This is actually a very pleasant beer which can be drunk at session speed given the low alcohol. It doesn't pretend to be a complex beer like a fantome or abbaye de rocs, but for what it is (pils) it is very nice. Would be great for a hot day, though the 25cl size is too small for what this beer is.
Note that my ratings are per STYLE, which is pills/macro lager. Some clarification would be useful on the style, as while it is very low abv for belgium, this is normal session abv for, say, english session ales.
1,142 characters

1.84
/5
rDev
-21%
look: 3 | smell: 2 | taste: 1.5 | feel: 1.75 | overall: 2
2.31
/5
rDev
-0.9%
look: 2.5 | smell: 1.5 | taste: 2 | feel: 4 | overall: 3
A: pale straw colour, small head
S: hops malts and sweet bread but there is something off about it, something you get a lot with a regular jupiler, but less intense
T: very sweet, but there are some hops and malts there
M/D mouthfeel is fine, a bit to sweet to be very drinkable
282 characters

Jupiler Blue from Brasserie Piedboeuf
2.33
out of
5
based on
9
ratings.