Piedbœuf Bruin (Piedboeuf)
| Brasserie Piedboeuf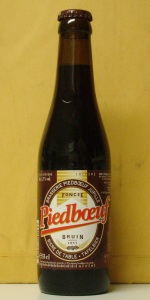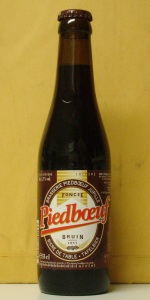 BEER INFO
Brewed by:
Brasserie Piedboeuf
Belgium
interbrew.com
Style:
Low Alcohol Beer
Alcohol by volume (ABV):
1.50%
Availability:
Year-round
Notes / Commercial Description:
No notes at this time.
Added by dogfooddog on 10-20-2006
This beer is retired; no longer brewed.
HISTOGRAM
Ratings: 13 | Reviews: 4
Reviews by jonmikel:
3.27
/5
rDev
+37.4%
look: 3.5 | smell: 2.75 | taste: 3.5 | feel: 3.5 | overall: 3.25
A very dark colour. Almost no head of foam after a few seconds.
Almost no smell.
It has got a sober taste.
The feel is nice, not very thick for being a dark beer.
Cheap beer, worth trying it.
191 characters
More User Reviews:



2.14
/5
rDev
-10.1%
look: 3.5 | smell: 2.5 | taste: 2 | feel: 1.25 | overall: 2

2.02
/5
rDev
-15.1%
look: 1.5 | smell: 2 | taste: 2 | feel: 2 | overall: 2.25
Note: table beers are not just for cooking. Lots of people used to drink them with dinner & they used to be given to children as well during meal time. The sweetness is to accommodate for most children's taste preferences. The ABV is low so that they don't get drunk. This practice is slowly disappearing these days & has become bit of a relic.
33 cl. bottle @ home. Procured from Delhaize. BBF 07/2014. Pours slightly red wood brown with a coca-cola (meaning disappears in the same way & very quickly + same colour). Smell is sweet, chestnuts, brown sugar, light molasses & slightly watery. Taste is sweet, coco-cola, brown sugar, children's cough syrup, watery chocolate sauce, light molasses, very soft drink like. Bit light bodied, fizzing carb. The sweetness is a mix between coco-cola & low end Belgian dark beers. I don't particularly enjoy it but it is actually good for what it is supposed to be. I can see kids liking this.
943 characters
1.51
/5
rDev
-36.6%
look: 3 | smell: 2 | taste: 1 | feel: 1.5 | overall: 1.5
I'd like to make it clear, first, that the piedboeuf beers are "table beers", or cooking beers. still, i wouldn't cook a hamburger with this rubbish.
Lord, this was a mistake. i should've known from the huge bottle with plastic screw top. never ever ever try this beer. it tastes like crap, smells like crap, looks like macro lager (crap), and the mouthfeel and feeling after are of a moral hangover for being such an idiot and trying this beer.
steer very clear.
465 characters

1.83
/5
rDev
-23.1%
look: 3 | smell: 2.5 | taste: 1.5 | feel: 1.5 | overall: 1.5
I did not realize this 'Biere de Table' was this low in alcohol until I started this review/entry. The ingredient list is somewhat amusing - corn, colorant E150c, preservative E300, and another type of ingredient E954. Impressive by all means in the chemical department.
pours very dark red (colorant used, sure it helps) with a minimal head...taste is combination of several bad things at once - sweet, malty, with lingering bittersweet flavor throughout. The usual corn taste I expect is somewhat subdued.
As an alcoholic alternative to soda or other beverages this might have something to offer with its low abv, but otherwise I see no reason to try this beer, ever.
675 characters

3.09
/5
rDev
+29.8%
look: 3.5 | smell: 2.5 | taste: 3.25 | feel: 3.25 | overall: 3.25
This is a classic in its genre. First time I drank it, I was about 6....
72 characters

2.5
/5
rDev
+5%
look: 3.75 | smell: 3 | taste: 2 | feel: 2.5 | overall: 2.5

Piedbœuf Bruin (Piedboeuf) from Brasserie Piedboeuf
Beer rating:
2.38
out of
5
with
13
ratings