Piedboeuf Triple
| Brasserie Piedboeuf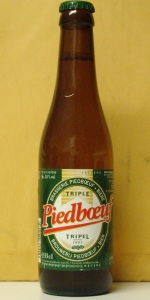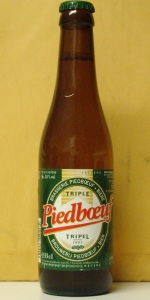 BEER INFO
Brewed by:
Brasserie Piedboeuf
Belgium
interbrew.com
Style:
Euro Pale Lager
Alcohol by volume (ABV):
3.80%
Availability:
Year-round
Notes / Commercial Description:
No notes at this time.
Added by TheLongBeachBum on 03-01-2005
HISTOGRAM
Ratings: 14 | Reviews: 6
Reviews by GCBrewingCo:

3.73
/5
rDev
+60.1%
look: 4 | smell: 3.5 | taste: 3.5 | feel: 3.5 | overall: 4.5
The beer poured into the chalice clear golden straw with a white frothy and bubbling head which lasted well enough to lace the glass.
The aroma was Saaz hops, strong when first opened and poured, and lessening as the head began to fall. After the initial flash off of hop character a lightly present caramel malt was notable as was a very slight bit of spice, namely pepper. Also present was a bit of DMS.
The flavor was light, very light. A spicy hop character was notable with some corn flavors and some noble hop bitterness. The bittering was strong enough to keep the flavor interesting but practically nothing else was going on in the beer other than the light DMS flavor.
The finish was dry with lasting lightly spicy hop bittering and flavor into the aftertaste. The body was medium light but with a moderate level of carbonation which led to a crisp and creamy mouthfeel. Highly drinkable, with more pronounced hop presence this might be a winner, fairly bitter, but a without much in the way of character until it warms up and then a peppery spice emerges with earnest.
Note: The can does say that it has corn in it, the flavor was boosted to 3.5 as a result since it may not be DMS, it may be corn from the grist.
50 cl green can. 3.8% ABV. Purchased at a Delhaize in Brussels.
1,302 characters
More User Reviews:

3.1
/5
rDev
+33%
look: 3 | smell: 3 | taste: 3 | feel: 3 | overall: 3.5
75 cl. bottle of tripel, 3.8% abv.
Straw colour beer, white soapy head, modest carbonation.
Smell and taste are of malt and corn, a bit of yeast, and grassy hops (Saaz, likely).
Watery, light. Refreshing carbonation, but overall very flat and boring.
This beer, if ice cold, is good and easy on hot summer days.
314 characters
1.83
/5
rDev
-21.5%
look: 3 | smell: 2.5 | taste: 1.5 | feel: 1.5 | overall: 1.5
Brown 33cl bottle one month out of date. The label claims 3.8% not the 3.6% as stated above.
Poured into a vase shapped (Albainian Stela) glass.
Light golden yellow witha white thin topping, in other words, it looks like a lager.
There is a slight aroma of yeast from the bottle before you pour, but once it hits the glass all smells disappear.
Thin, weak and metallic in flavour, didn't rate it at all. A triple? This isn't even a decent lager/pilsner!
457 characters
1.75
/5
rDev
-24.9%
look: 1.75 | smell: 1.75 | taste: 1.75 | feel: 1.75 | overall: 1.75

1.78
/5
rDev
-23.6%
look: 3 | smell: 2.5 | taste: 1 | feel: 2 | overall: 2
Bottle of 750 ml at home. I hadn't meet a big bottle like that in Europe before. Poured into a pilsner glass.
I missed the sound of the freshly open bottle when I unscrewed the plastic cap. It poured a golden yellow colour, with a one finger head, quickly to become just a thin line on the beer's surface. Minimum activity in the glass.
Aroma is of malts and faintly of hay, other than that nothing, at least nothing I can recognize. Pretty standard smell.
Taste is divine! Nah, kidding, it doesn't have any! At all!! For all I know I could be drinking water and it would still have some taste, in contrary with this one.
Mouthfeel is watery too, with quite high carbonation.
Overall, only the colour and in maybe the smell and carbonation resembles a beer (no, you have also carbonated water) but this cost me only 1 euro for a 750 bottle, so I guess I can't complain, much. So if you're a young dude throwing a party, wanting to get drunk fast, I guess this is for you.
972 characters
3.18
/5
rDev
+36.5%
look: 4 | smell: 3.5 | taste: 3 | feel: 3 | overall: 3
Filtered beer pours golden yellow, with a small white head, very active carbonation in the glass.
Nose is a malty lager aroma, some hint of adjuncts possibly (edit - apparently corn was used in this beer). A bit spicy in the background, but otherwise smells like a typical belgian macro lager.
Taste is fairly clean, moderately crisp. Hints of malt into a mildly bitter finish (I guess hops were used). Not much else to find here in this lower-alcohol (belgian-style at any rate) beer, but enjoyable enough for what it is.
528 characters

2.09
/5
rDev
-10.3%
look: 2.5 | smell: 2.25 | taste: 2 | feel: 2 | overall: 2
Beware the plastic screw of cap. Tripel on the label, pale lager on the inside. And not a very good one. Bland and uninteresting, this is the most generic of beers I have had in a while. Yuck....
195 characters

Piedboeuf Triple from Brasserie Piedboeuf
Beer rating:
2.33
out of
5
with
14
ratings