Reserve Ale - Bourbon Barrel Aged Barleywine
| Cricket Hill Brewing Co.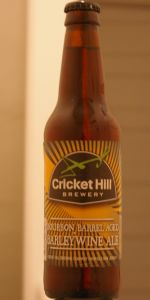 BEER INFO
Brewed by:
Cricket Hill Brewing Co.
New Jersey
,
United States
crickethillbrewery.com
Style:
English Barleywine
Alcohol by volume (ABV):
8.20%
Availability:
Limited (brewed once)
Notes / Commercial Description:
No notes at this time.
Added by on 09-06-2010
This beer is retired; no longer brewed.
Reviews: 7 | Ratings: 16
3.8
/5
rDev
-6.6%
look: 3.75 | smell: 3.75 | taste: 3.75 | feel: 4.25 | overall: 3.75
The pour is rosy red with peach and garnet highlights. Light tan head, goes away quickly. Smells of caramel, grapefruit faints of bourbon are in there too. Taste is similar. Caramel, vanilla, bitter hop finish, notes of bourbon, wood. The mouthfeel is where it gets me. Big and chewy, sticky yet smooth. This is an easy drinking, well rounded brew.
353 characters
3.87
/5
rDev
-4.9%
look: 3.5 | smell: 4 | taste: 4 | feel: 3 | overall: 4
Received this in a trade a long while ago. Poured into my Duvel tulip in a nice randomly VERY cold night.
A - Poured a nice crystal clear light copper hue with a one finger head that faded quickly to leave a thin wisping and much nicer halo. Not much lacing.
S - Nice lightly buttery oak aromas with light sweet malts, toffee/caramel, and super super faint bourbon.
T - Taste is a touch more buttery oak with VERY light bourbon. Very nice sweet caramel, toffee, vanilla. Wish the bourbon was a bit more existant but considering how almost light this beer is it works. Alcohol slightly detectable on the finish.
M - Mouthfeel has light carbonation with some lingering alcohol. Feels a bit on the thin side unfortunately.
O - Overall this was a good beer. Wish the bourbon was a bit more pronounced but even considering that its still not bad. Just wish the mouthfeel was better. Still, its a step up from their regular barleywine.
935 characters

3.97
/5
rDev
-2.5%
look: 3.5 | smell: 4 | taste: 4 | feel: 4 | overall: 4
22oz bottle into a snifter - BBA written in gold marker on the neck
A: Pours a hazy red with a tiny head that fades to a ring and leaves very little lacing. Flat as hell on the first pour but it had more carbonation on the 2nd pour
S: The nose has nice notes of caramel, english toffee, big vanilla aroma, cherries, and earthy malt.
T: The taste is similar with nice flavors of caramel, toffee, vanilla, and some hops which was a bit of surprise after smelling it.
M: The feel is on the thicker side of medium with a creamy finish.
O: Not as much barrel flavors/aromas as I was expecting but it was still tasty. I'd love to try this one fresh.
648 characters
4.17
/5
rDev
+2.5%
look: 3.5 | smell: 4 | taste: 4.5 | feel: 4 | overall: 4
Wow, I thought I had bought the regular No. 3 Cricket Hill barleywine, and just before popping the top and reviewing, I noticed "BBA" scrawled in gold marker just above the label. I assume that means "Bourbon Barrel Aged"...popping the top, tasting and smelling will be the only way to find out. Let's do it...
First pour produced a disappointingly wispy head, the second a slightly better but still thin head. It's creamy and very bubbly, but doesn't last long. Color is a very slightly hazed copper-y amber color.
Smell definitely indicates some time in bourbon barrels, although it's not overpowering, and the relatively sensible ABV keeps the alcohol from seeming too hot. Woody essence lays just over a big toffee vibe. Hints of tobacco and overripe dark fruit (fig, plum).
Pretty much same on the tongue as hinted at in the nose, with an added smack of gooey caramel flavor. The barrel seems new, as the woody flavor has that sort of "greenness" to it, while the bourbon just kisses the vanilla, maple, and toffee aspects of the original barleywine. As it should be. Very slight fruit rind from the hops, and that's mostly tasted in the finish. And the alcohol never wears out its welcome. Superbly balanced, well done.
Feel is smooth and slick, hardly the thickest barleywine on the planet, and carbonated just enough to give it some tingle on the tongue.
My kind of "BBA" Barleywine...just enough barrel and bourbon to enhance the barleywine, without ever snuffing out the original beer entirely. Very good stuff.
1,527 characters
4.74
/5
rDev
+16.5%
look: 4 | smell: 5 | taste: 5 | feel: 4 | overall: 4.5
Had the chance to try this one with the owner of Cricket Hill Rick. He poured a small sample which tasted like sweet vanilla and toffee. The nose was just as good as the ale with a appealing Bourbon aroma that was mellow to match the finish. I couldn't leave the brewery without a few bottles, and I suggest if you see one pick it up you probably wont be disappointed.
368 characters

4.07
/5
rDev 0%
look: 4 | smell: 4.5 | taste: 4 | feel: 3.5 | overall: 4
Cricket Hill Reserve Ale No. 3 Barleywine (Bourbon-Barrel Aged Barleywine), bomber bought at Oak Tree in South Plainfield, NJ, for $11.99 plus tax. Had never heard of this brewery before...
This beer was released in early October 2010. Aged in Heaven Hill barrels.
Appearance: Pours flat and porous, with absolutely no carbonation, bubbles or lacing. Might as well be a bourbon! Color is a slightly transparent bronze/amber, very clean-looking.
Smell: The nose is beautiful, with all the classic characteristics of a bourbon-aged beer. Classy wood, vanilla, fresh strawberries, fruity sweetness. Caramel. Cough medicine (in a good way). Well-preserved and aromatic medieval beams in an American museum.
Taste: Less spectacular than the aroma, but still delicious. Very bourbon-y and woodsy, you can definitely taste the barrel. Body could be fuller, but at the same time it benefits from not being overtly sweet or boozy like some barleywines are. Caramelized brown sugar, raisin. Butterscotch, liquor-filled "bonbon".
Mouthfeel: Sticky at the end. Watery/thin mouth/feel but great taste. Low carbonation (pretty much nonexistent), medium body, full flavor. Dry, woodsy. Well balanced, never boozy or hot. Better as it warms up.
Overall: A nice little beer that could be a real masterpiece if it had a bigger body and carbonation. But considering it comes from a tiny tiny brewery, I have to applaud this effort.
Cheers!
1,430 characters
4
/5
rDev
-1.7%
look: 4 | smell: 4 | taste: 4 | feel: 4 | overall: 4
Big thanks to jcwattsrugger, over on ratebeer, for bringing this Heaven Hills BA brew along. It pours clear deep copper with white head. The aroma is smooth sweet bourbon notes and vanilla with some oak rounding this out along the aromatic edges. I really don't pick up any base beer notes in the nose. The taste is similar with smooth sweet bourbon and vanilla followed by sweet hazelnut, caramel malts and a mild amount of oak notes. Smooth tasty brew but a bit over-run by barrel notes. I have to say those barrel notes were smooth soft and sweet and really lacked any harsh booziness common here.
600 characters
Reserve Ale - Bourbon Barrel Aged Barleywine from Cricket Hill Brewing Co.
4.07
out of
5
based on
16
ratings.