Forester Pale Ale
| The Two Metre Tall Company Pty Ltd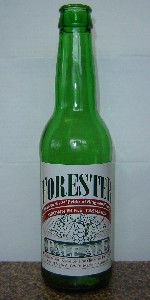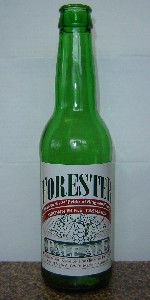 BEER INFO
Brewed by:
The Two Metre Tall Company Pty Ltd
Australia
2mt.com.au
Style:
English Pale Ale
Alcohol by volume (ABV):
5.20%
Availability:
Year-round
Notes / Commercial Description:
No notes at this time.
Added by joecast on 04-19-2006
HISTOGRAM
Ratings: 12 | Reviews: 12
Reviews by SmashPants:

3.8
/5
rDev
+29.7%
look: 4 | smell: 4 | taste: 3.5 | feel: 4 | overall: 4
Bottle: great, solid brown 500mL bottle, quite decent label with fantastic details, incl location, date brewed, bottled.
Appearance: brownish orange colour, cloudy from the sediment. Creamy coloured, meringuey head. Looks pretty good.
Aroma: light honey-like nose, hints of fruit but not much. Quite a note of yeast as well, as you might expect
Taste: clean entry on the palate which is quite dry and soft. Unfortunately, there's an unpleasant Pride of Ringwood bitterness.
Aftertaste: bitterness clings to the palate - not backed up either. A bit off.
Mouth feel: lower carbonation, medium bodied. Helps the brew slips straight down the throat. Lovely mouth feel.
Overall: a very nice pale ale, but I'm not certain that it is nice enough to warrant the price tag. Not on the same rung as Two Metre Tall Company's Derwent ale.
832 characters
More User Reviews:
3.88
/5
rDev
+32.4%
look: 4 | smell: 3.5 | taste: 4 | feel: 4 | overall: 4
Bought this at a bottle shop in Melbourne
Note: The bottle i purchased looks far more sophisticated than the one pictured here and has information about the brewery, beer, and area of Tasmania
Bought at some bottle shop on Exhibition Street in Melbourne…came recommended by the shop keep who claimed to know the brewer personally and seemed to be pretty in the know about beer. Brewed 4/2/07 – bottle #2515 (www.2mt.com.au)
Appearance: pours into a hotel glass...clear copper body with a perfect cream lace that retains itself quite well. Pretty good appearance
Smell: aroma is of hops (saaz noticeable as discussed with shopkeep)…nice toasted malt balance.
Taste: very nice and well balanced pale ale, a fine example of the style. Nice smooth/crisp hopping…light bitterness, mild citrus, toasted malt backbone. Nice and smooth
Mouthfeel: spot on, crisp and smooth
Drinkability: easy
912 characters

1.59
/5
rDev
-45.7%
look: 3 | smell: 1.5 | taste: 1.5 | feel: 1.5 | overall: 1.5
500ml bottle thanks (for the gesture) to my parents for picking this up on their trip to Tassie.
Pours a nice amber colour with no haze and laces ok with a beige head of foam. Sadly it was all downhill from here.
Smell is weird and intruiging. Got a yeasty vegimite smell and then a bit of funk and so the infections continue with 2MT. A kind of fruity funkiness that you shouldn't smell but keep doing so trying to work out what in the blue hell this reminds you of.
Taste is partially sour, some light cherry comes through along with pear and green apple. Cool French Cider? No!
Moderate sourness and mouthsapping feel. Decent body, but the infection has grabbed hold of it.
Not worth risking if you were contemplating parting with the cash to grab this. Maybe give them 6 months to sort out these recurring infection issues, otherwise avoid.
849 characters
2.21
/5
rDev
-24.6%
look: 3.5 | smell: 2.5 | taste: 2 | feel: 3 | overall: 1.5
500ml bottle into a Hoegaarden Tulip. 5.5%ABV apparently.
Pours a dark amber with plenty of head. No issues yet.
Smell is very sour apples. Like a lambic experiment gone awry; guess that's the Ringwood Hops. A tang of malty sweetness is perceptible.
Taste is metallic, sour and bitter. Not a great trifecta. Almost get an immediate urge to pour it down the sink but something unspecified intrigues me and I persevere. Bad idea.
Mouthfeel is reasonably light which is probably just as well.
I don't get it.
510 characters
2.24
/5
rDev
-23.5%
look: 4 | smell: 2.5 | taste: 2 | feel: 2 | overall: 2
good old forester, i knew him well.
so this beer took some researching. no mention of the brewery on the bottle, which can only mean...google to the rescue. that and an e-mail to the brewer got me what i needed to know. currently in the process of building their brewery, this one was contracted to the battery point brewery. hmm, didnt know they were brewing anything there. on to the beer.
5.2%abv, no bottle dating.
pours a rather attractive light orange hue. builds a firm white frothy head. light even carbonation for this bottle conditioned brew.
yes, thats pride of ringwood all right. lots of talk about hops from these guys, and they love their POR. seeing as so many main stream lagers around here use POR, this one comes across as another one of those, only stronger. does have some sweet malt behind it though. slight astringency to round, no, edge things out.
where'd all the hops go? not quite as bitter as i expected. pretty thin all around really. malt is gone in a flash. just a speck of hop flavor on the tongue before thats gone too. very light bodied.
pretty unimpressive and forgettable. we'll see if things change once they open their own brew house later in the year.
1,208 characters
1.71
/5
rDev
-41.6%
look: 3 | smell: 2 | taste: 1.5 | feel: 1.5 | overall: 1.5
330 ML poured into a Sam Adams Perfect pint
A-- Poured a very light orange brown color, or a dark straw yellow. Half a finger of off white head. Shows medium to high carbonation. A lot of sediment in the bottle.
S-- Smell reminds me more of a adjunct more than anything else. Pretty metallic smell. Lots of ringwood in this. Very faint floral smell but hidden by the ringwood. Smells almost like VB in a lot of ways.
T-- Hops taste more like pine. Tastes a lot like a typical Australian Lager. Lots of ringwood and metallic. Just throw in some pine for effect. Also a bit of a soapy quality to this.
M-- Fairly sour aftertaste. Not a great tasting beer. Has a little bit of a sweet kick to it but it turns to sour. No hop flavor to it and very unbalanced. Keep thinking this is infected with bad hops as it tastes more like bad homebrew.
D-- Unimpressed to say the least. Gets more sour the more it warms and hard to drink and finish. Not workable as an adjunct , as it tastes more like VB, Crown, Tooheys and pretty awful as an English Pale Ale as it is too sour.
1,069 characters
2.86
/5
rDev
-2.4%
look: 4 | smell: 3 | taste: 2.5 | feel: 3 | overall: 3
a: nice clear copper color with carbonation flowing up the glass, thick head & good lacing
s: no surprise -- lots of hops with hints of coffee
t: hops, hops & coffee bitterness to finish & light malts that linger
m: light to medium body, carbonation
d: not bad, just not great. plenty of hoppy bitterness, but not that smooth to drink.
339 characters

2.58
/5
rDev
-11.9%
look: 4 | smell: 3.5 | taste: 2 | feel: 2 | overall: 2.5
Pours a very cloudy appearance with lots of sediment reminiscent of a Coopers. The sediment is buoyed by thick carbonation. Very explosive frothy head. In fact, bottle pretty much exploded upon opening (in a frothy sense, not an actual exploding sense). Actually a bloody good-looking, untamed kind of ale.
Ripe fruit dominates on the nose with hints of banana and pawpaw and a bit of bitter hop. It's not very complex but pleasant enough.
Palate is very gritty and bitter. Doesn't have an awful lot of character. There's the slightest hint of fruit on the front as pre-empted by the nose, but it dissipates quickly into a less-than-delightful, actually quite nasty soil-like flavour with no real complexity. It's no Little Creatures, certainly. No anything.
760 characters
3.6
/5
rDev
+22.9%
look: 4 | smell: 4 | taste: 3 | feel: 4 | overall: 4
Pulled from a hand pump at Preachers in Hobart.
Took a while to pull, but when it comes it looks like a lovely real ale. Burnished amber in the body, with lots of fine creamy head that dissipates to a film that leaves good English-style lace. Nice.
Slightly salty sea characters on the nose, with notes of oyster and a grounding earthiness. Fresh, but it's an odd freshness, certainly not much vegetation or organics in it. Still quite pleasant though.
Taste is a bit weaker, but with a light salty twang here as well. Bitterness adds a bit of sharpness to the back, but it's rather empty otherwise.
Feel is lovely and smooth from the hand pump.
Nice beer this time around, despite what I thought of it from the bottle. The serving type is responsible for a lot. This just exemplifies how the presentation of a beer can affect it.
835 characters
2.91
/5
rDev
-0.7%
look: 3.5 | smell: 2.5 | taste: 3 | feel: 3 | overall: 3
First of all my bottle does not state this as a pale ale but as a real ale but it is still called Forester but the bottle and labeling look totally different so here goes it pours a murky cloudy light copper hue with decent carbonation that leaves behind a two finger head and some nice lacing,the smell isnt the best with aromas of sour grapes,goats cheese and herbal,grassy hops,the mouthfeel is light-medium bodied well carbonated and has tastes of sour white grapes,barnyard funk,light passionfruit and finished with a herbal,grassy,hoppy bitterness that isnt overly bitter and overall an average drop that i couldnt recommend.
631 characters

3.77
/5
rDev
+28.7%
look: 3.75 | smell: 3.5 | taste: 4 | feel: 3.5 | overall: 3.75
From yesterdays notes. Brewed Aug 2014. Amber, some sediment, breast malt, yeast and lemon aroma. The taste was unexpected. Wild bacteria has been used, creating an acidic tarty aftertaste. Almost like a soft carbonated geueze. Interesting.
240 characters
4.03
/5
rDev
+37.5%
look: 4.5 | smell: 4 | taste: 4 | feel: 4 | overall: 4
This wasin a different bottle than that originally pictured , and as Joecast mentions they are moving to their new premises and things may change.
Well I thing they have
I was reallyimpressed with this beer.
It reminded me of JS Hop Thief , and if that os POR hops , well then I love them.
It was orange dark gold , cloudy wiyh a fluffy cushion for a head.
It had a damp earthy smell , (really) and one could draw a long bow and smell the composting forest floor of Tasmania.
The malted backbone is off set well with some passionfruit flavours.
It is smooth and reasonably bitter.
This is beer that I love .it deserves to be drunk at the end of the working day
670 characters
Forester Pale Ale from The Two Metre Tall Company Pty Ltd
Beer rating:
2.93
out of
5
with
12
ratings