Shepherd Neame Christmas Ale (vintage 2008)
| Shepherd Neame Ltd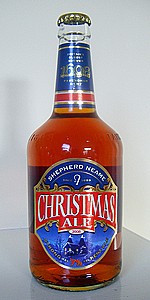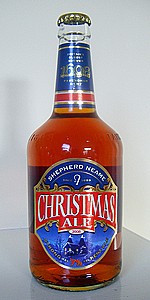 BEER INFO
Brewed by:
Shepherd Neame Ltd
England
,
United Kingdom
shepherd-neame.co.uk
Style:
Winter Warmer
Alcohol by volume (ABV):
7.00%
Availability:
Winter
Notes / Commercial Description:
No notes at this time.
Added by baggio on 12-05-2008
HISTOGRAM
Ratings: 7 | Reviews: 5
Reviews by kmacphail:

2.67
/5
rDev
-25.4%
look: 2.5 | smell: 3 | taste: 3 | feel: 2 | overall: 2
I purchased a 330ml bottle of this festive ale from the local Tesco in Stornoway.
The beer poured a copper-amber colour with almost no head, not surprisingly this disappeared almost immediately.
The nose was mainly hoppy with some faint hints of fruit and a touch of spices, but these were faint.
The taste comprises of an initial hit of hops combined with an orange aftertatse, this also had a hint of cinnamon. The ingredients were there but this medium-weak bodied beer lacked flavour.
At 7% this is not a session ale, however I was reluctant to finish the small glass that I had, has potential but too bland and watery.
628 characters
More User Reviews:

4.11
/5
rDev
+14.8%
look: 4 | smell: 3 | taste: 4.5 | feel: 4.5 | overall: 4.5
Clear 500ml bottle, poured into my 'Old Speckled Hen' badged vase shaped pint glass. best before date of Nov 09, drank Sep 09.
Clean, clear and bubbley looking, the colour was a deep amber with a slightly off-white head.
Spices and hops in the nose, but nothing overly strong that I could find. A hint of nuts too?
Good spicey, tangy flavours. Peat fires and smoking jackets come to mind, this isn't a smoked beer though, just my thoughts coming out when I think of Christmas. Brazil nuts and sugared almonds also appeared in my head as I drank down the brew.
A true Christmas feel to it, the 7% makes it an even more wintery beer, very drinkable in my opinion.
665 characters

3.83
/5
rDev
+7%
look: 4 | smell: 3.5 | taste: 4 | feel: 3.5 | overall: 4
Appearance: Shepherd's Neame Christmas Ale (vintage 2008) pours a light amber colour along with a white-beige foamy crown that leaves a reasonable amount of lacing on the glass.
Smell: A strong and fresh citrusy scent of hops along with some caramel in the back.
Taste: Oranges, notes of burnt malt, hints of sweet apricot and a round pleasurable bitterness.
Mouthfeel: Flows smoothly all the way down the hatch and manages to feel greatly refreshing despite the fact that it looked like it was low in carbonation due to the small amount of bubbles visible (yeah it should've been in "appearance" I know, but what the hey!).
Drinkability: I enjoyed Shepherd's Neame Christmas Ale, and this time around moreso than last years edition, for some reason... I guess it's thanks to the increased feel of resonance between taste and smell aswell as a overall feel of being round and full.
885 characters
3.66
/5
rDev
+2.2%
look: 4 | smell: 3 | taste: 3.5 | feel: 4 | overall: 4.5
[email protected]
A: Lovely golden orange with a decent, white, head that vanishes quite quickly leaving some nice lacing.
S: Caramel, Apricot, Spices, Hint of metal, Hint of grass.
T: Caramel, Fruit, Malt, Light spicyness, Minerals.
M: Very balanced brew with plenty of carbonation. Dangerously drinkable.
Not really that special but just so damn smooth and drinkable. Wish it would taste a bit more of everything tho. Nice!
434 characters
3.8
/5
rDev
+6.1%
look: 3.5 | smell: 3.5 | taste: 4 | feel: 3.5 | overall: 4
Coming in a fat 500ml clear bottle with a long neck, BB Nov. 09, served cool in a straight imperial pint glass.
A: pours a dark reddish amber, great clarity and moderate (slowly-ascending) fizziness, topped with a fluffy white foam that settles fast to a thin blanket.
S: the smell is... traditionally Shepherd Neame's, focusing on the Goldings hops with a slightly savoury-sweet edge of tangerine-ish fruits, yeasts, and plenty of pale malts. As the foam dissipates to next-to-nothing, other elements like apples, burned sugar, and Chinese dried hawthorn fruits all come to the fore. Overall, pleasantly fruity on a good malty platform, but not complex.
T: a delicious swallow of English Strong Ale's considerable pale malts is followed closely by the tangerine-ish fruits and dry-ish bitterness that expand with a savoury touch; also at presence is the prune-ish & hawthorn-fruit-ish salty-fruits, but only to the extent of complementing the main, malty-hoppy theme... An underlying flow of herbal bitterness creeps down the palate, finished rather chewy, lightly spicy (more like Styrian Goldings' spiciness) and semi-dry, likely attributable to the good bucketful of hops used in the brew.
M&D: slightly spritzy on the palate, but, as soon as the fizz settles, the flavour has no problem of manifesting itself fully. This medium-bodied and easy-to-drink ale is pretty akin to other stronger pale ales by Shepherd Neame (such as "1698") and even a bit like (Greene King) Morland's Hen's Tooth. Pretty traditional, and nothing X'massy about it, but the little presence of alcohol on top of subtle but lingering hoppiness make it an attractive choice to spend a session with.
1,678 characters
Shepherd Neame Christmas Ale (vintage 2008) from Shepherd Neame Ltd
Beer rating:
3.58
out of
5
with
7
ratings