Chet's Gold Golden Ale
| Port Townsend Brewing Company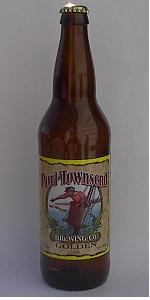 BEER INFO
Brewed by:
Port Townsend Brewing Company
Washington
,
United States
porttownsendbrewing.com
Style:
American Blonde Ale
Alcohol by volume (ABV):
5.60%
Availability:
Year-round
Notes / Commercial Description:
No notes at this time.
Added by BeerAdvocate on 04-21-2005
Reviews: 8 | Ratings: 13

3.81
/5
rDev
+3.5%
look: 3.5 | smell: 3.75 | taste: 3.75 | feel: 4 | overall: 4
Poured from 22oz bomber into a dimpled mug.
Appearance: medium-light golden hue with the tiniest touch of haze and a light effervescence. Head is a very thin layer of creamy white foam. Not too bad.
Smell: sweet and lightly malty with just a touch of citrusy hops. Quite nice -- rather like a cream ale without the corn.
Taste: much like the aroma. Sweet and relatively malty, with just a little bit of hop flavor and a low bitterness. Basically a non-corny cream ale, which I happen to quite like.
Mouthfeel: lightish body, but a big carbonation that makes up for it. Creamy as it needs to be!
Overall: a bit sweet for my taste, but still eminently drinkable. Perfect for a sunny day on the water.
703 characters

3.54
/5
rDev
-3.8%
look: 3.75 | smell: 3.5 | taste: 3.5 | feel: 3.75 | overall: 3.5
On tap at Empire Ale House in Mt. Vernon. This year's version is listed at 4.7% ABV, made with Pilsner malt and Hallertau hops.
Clear yellow gold in the pint shaker with a brief foamy cap. A little tart with a Pilsner sort of crispness. Plenty of carbonation in the mouth. Not much actual malt flavor, but a pleasant beery taste.
The hops are quite in the background, though a nice bitterish twang emerges later on. Not a very exciting beer, but quite adequate for this slacker category.
489 characters
3.75
/5
rDev
+1.9%
look: 3.5 | smell: 3.5 | taste: 3.5 | feel: 4 | overall: 4.5
Served in straight pint glass. Poured a very bright, clear yellow with bright white puffy head that faded at a medium pace, leaving more lacing than I expected.
A very pleasant, grassy malt aroma greets the nose. The flavors match the standards set by the aromas. Imagine drinking the freshly mown grass after a lawnmower session. That great scent coats the tongue making this perhaps the perfect lawnmower beer.
As this is a style that runs to the thin side, I was pleasantly surprised a substantial body on this brew. Extremely drinkable, this is a great beer for long days outside. Boating, golf, frisbee, hiking, biking, canoeing, playing fetch, outdoor sex, photography, baseball, grilling or just good old relaxing are just a few things that pair well with this beer.
775 characters
3.43
/5
rDev
-6.8%
look: 3.5 | smell: 3 | taste: 3.5 | feel: 4 | overall: 3.5
Another aquired while visiting port townsend. Appearance is light golden in color with a crisp head that dissapates quickly. Smell is lightly sweet with light malts. Taste has a light sweet citrus that is somewhat grainy that leaves a dry sweet finish. Mouthfeel light - medium with crisp carbonation. A good summer brew for an ale.
332 characters
3.42
/5
rDev
-7.1%
look: 3 | smell: 3.5 | taste: 3 | feel: 4 | overall: 4
I bought a bottle of Port Townsend Golden Ale in a grocery store on the Olympic Peninsula of Washington. Poured in to a pint glass.
Pours a pale gold color and is slightly hazy. A fizzy white head forms and dissipates quickly.
Smell is a malted cereal aroma. A lot of grain aroma with a litle hop fragrance.
The taste if also very cereal-like, with a mildy bitter very dry hop finish.
Mouthfeel is light, dry and crisp. The beer is mildly carbonated.
This beer is drinkable enough, but rather unremarkable. I'm not much on the style but this one seems like an average blonde ale.
594 characters
4
/5
rDev
+8.7%
look: 4 | smell: 4 | taste: 4 | feel: 4 | overall: 4
Pours a nice golden color, 1 finger white head faded rather quicky, but plenty of carbonation evident.
Wow, there is actually some complexity to this aroma. I was expecting something very mild on the nose, but i'm picking up on grass, barley, oats, lemon, some citrus fruit and even a hint of hops.
Goes down smooth and easy leaving some lacing behind, there is a bit of the citrus left on the tongue, but it wasn't overly sweet so I actually enjoyed it.
Overall a nice offering, and I'll keep this one in mind when spring rolls around again.
552 characters
4.4
/5
rDev
+19.6%
look: 4.5 | smell: 4.5 | taste: 4.5 | feel: 3.5 | overall: 4.5
A bright yellow, lemon gumdrop beer, densely unfiltered with a sunny disposition. Chet's is billed as a golden ale but has a pilsner-like aroma (from noble hops? Saaz?) and a light spiciness in the finish suggestive of Bavarian influence. The taste has a lemony accent with clean closure.
Chet's is graceful to the tongue with light carbonation, a lazy head, and a simple, smooth character. This is one of the best lawnmower beers I've ever had. Perfect for a summer's day.
Listed on the house menu at 4.3% ABV.
523 characters

3.43
/5
rDev
-6.8%
look: 3.5 | smell: 3 | taste: 3.5 | feel: 3 | overall: 4
I disagree with the previous reviewer as flavour didn;t exactly jump out at me. The beer was quite pale with little nose. The flavours were understated with that typical depowered golden profile. I found it very drinkable and well balanced but this is the weakest of this brewers offerings.
290 characters
Chet's Gold Golden Ale from Port Townsend Brewing Company
3.68
out of
5
based on
13
ratings.