Waterfront Brewing Co. India Pale Ale
| Shipyard Brewing Co.
BA SCORE
78
okay
11
Reviews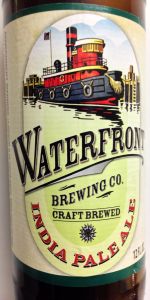 BEER INFO
Brewed by:
Shipyard Brewing Co.
Maine
,
United States
|
website
Style:
American IPA
Alcohol by volume (ABV):
5.75%
Availability:
Year-round
Notes / Commercial Description:
No notes at this time.
Added by KajII on 10-01-2013
Reviews: 11 | Ratings: 75

3.9
/5
rDev
+26.2%
look: 3.5 | smell: 4 | taste: 3.75 | feel: 4.25 | overall: 4
Undated bottle into pint glass. Pours a cloudy pale amber with a coarse off-white head. Initial impression is well-balanced pine, citrus, and grassy hops with some malt presence, but nothing dominates. Medium mouthfeel, medium carbonation - just about as good as it gets on both counts. Fairly dry finish, with slight lingering bitterness. Very refreshing. Good IPA.
★
372 characters

2.27
/5
rDev
-26.5%
look: 3 | smell: 2.25 | taste: 2.25 | feel: 2.5 | overall: 2
Bottle. Poured copper with a thin, off-white head. Aroma is a diacetyl bomb. Buttered toast, caramel and maybe some burnt out hop. Flavor is barely gulpable. Again, huge diacetyl flavor. Sweet caramel. IPA? Phuck Awf. This is not good. I think this is one of those beers that goes by a brewery pen-name to appease big grocery stores and create an illusion that they have their own stock brand in house exclusively. Lame.
★
420 characters
3.6
/5
rDev
+16.5%
look: 3.75 | smell: 3.75 | taste: 3.5 | feel: 3.75 | overall: 3.5
Poured from a 12 oz bottle into a pint glass.
Aroma- Has a hop and earthy aroma with some citrus tossed in.
Appearance- A dark amber color with a small off-white head.
Palate- A medium bodied beer with moderate carbonation. Has a smooth texture to slightly oily feel, not bad.
Overall- This is an average IPA.
★
312 characters
4.5
/5
rDev
+45.6%
Good solid IPA. Doesn't try to be unique just for the sake of being unique. It is on the mild side, but does every beer have to knock your socks off? Not in my book. It's totally drinkable without anything too funky in it. If you are a beer snob this beer isn't for you, but if you Enjoy beer, try it. It's my default beer when I've been hopped at too much.
★
362 characters
2.84
/5
rDev
-8.1%
look: 2.75 | smell: 3 | taste: 2.75 | feel: 3 | overall: 2.75
First off, twist-top? Are you for real? Bad sign out of the gate...
A - Hazy amber body with thin white head. Not a lot of retention but some lacing.
S - Floral and pine hop notes and deep sugar malts.
T - Like the smell, floral and pine hops upfront. Malts are not as strong, but earthy and smokey.
M - Medium/light body with moderate carbonation. Very slick and somewhat thin.
O - I'm glad Beeradvocate shed some light on this beer. I was about to accuse it of having the same off-taste I'm used to when drinking Shipyard beer, only to realize it's made by Shipyard. This beer features the same English hop flavor profile that I greatly dislike from all Shipyard brews. This is a personal opinion but one that I've heard from many friends. I just can't drink anything made by Shipyard. I always want to support local breweries and as long as there are others who enjoy their brews, great. But this, like all of their beer (especially Export!), is just not for me.
★
970 characters
2.83
/5
rDev
-8.4%
look: 3 | smell: 3 | taste: 2.75 | feel: 2.75 | overall: 2.75
Pretty disappointed with this IPA. The other Shipyard IPA's are much better. Has an astringent, soda water taste. Not terrible, but not good. Found it at the local grocery store and decided to give it a try, running low on my best brew. This will not be on my "buy list".
★
271 characters
2.26
/5
rDev
-26.9%
look: 3 | smell: 2 | taste: 2 | feel: 3 | overall: 2.5
Tasted funny - like moldy or something. No head. What kind of malt are they using? This has to be one of the worst beers I've had in a while - and I've been trying as many "craft brews" as I can lately. I'lm not a fan of products from Shipyard Brewing.
★
252 characters

3.44
/5
rDev
+11.3%
look: 3.5 | smell: 3.25 | taste: 3.5 | feel: 3.5 | overall: 3.5
Poured from a bottle into a pint glass.
Appearance: Darker amber with a thin off white head. No lacing on the glass.
Smell: Mild smell of pine and hops. Faint citrus.
Mouthfeel/Taste: Smooth medium bodied. Taste of bitter hops and pine.
Overall: This is an ok IPA. Just saw in the local market and decided to try it.
★
320 characters
2.41
/5
rDev
-22%
look: 3 | smell: 2 | taste: 2.5 | feel: 2.5 | overall: 2.5
Beer is a clear golden amber with a light head. Aroma is off somehow. The aroma is a mix of orange and hand lotion. I'm not sure how else to describe it. Taste is ok. Malty up front with a slightly astringtent citrus finish. Overall it's mediocre at best. Shipyard is hurting its brand with such a mediore product.
★
314 characters
3.31
/5
rDev
+7.1%
look: 3.75 | smell: 3.25 | taste: 3.25 | feel: 3.5 | overall: 3.25
From the 12 fl. oz. bottle. Sampled on October 18, 2013.
The color of the pour is handsome with its medium amber-mahogany color. The head lasts a minute than dissolves.
The aroma has a good dose of earthy hops and sweet malts. It almost reminds more of a brown on the nose but the taste throws that gut reaction out.
The body is light to medium with a decent enough creamy quality.
The taste begins with a vibrant blast of caramel malts but is quickly intercepted by the earthy hop quality. The finish is more sweet than sharp and not terribly long. Waterfront beers are brewed exclusively for grocery stores like the Hannaford chain of Northern New England. It does what it has to to fit into the style but little else. Still, drinkable.
★
743 characters

2.83
/5
rDev
-8.4%
look: 3 | smell: 2.5 | taste: 3 | feel: 3 | overall: 2.75
[Suggested Glassware: Tulip Glass]
The pour was a cloudy reddish amber with an average (1-2 finger) off white frothy head that was mostly lasting and reduced slowly, down to a thin cap and medium collar with really good streaky lacing.
The aroma was of a mild grain malt, pine and citrus hops and a soapy yeast with a touch of caramel and citrus (grapefruit).
The taste was very lightly malty with a mild caramel sweetness in the beginning, and then became moderately hoppy with a decent citrus peel bitterness towards the end. The flavor lasted a bit longer than average following the swallow, with a light citrus peel bitterness lying on the taste buds only for a short time.
Mouthfeel was just beyond light in body and mildly dry in texture with a medium carbonation.
Overall this was an IPA that I found to be almost average in taste. Although it was mildly hoppy with a light sweetness and a decent balance, it still was not what I would call a very enticing brew...
http://www.facebook.com/KAJIIsBeerReviews
★
1,020 characters
Waterfront Brewing Co. India Pale Ale from Shipyard Brewing Co.
78
out of
100
based on
11
ratings.